Atlantic Steel CD Case Collection
Atlantic Inc's portable CD Steel Case collection offers consumers a durable and attractive way to protect CDs, DVDs and CD-ROMs on the go. Available in three models, the cases are made of a hard plastic covered by metal casts in matte and glossy finishes to give them the look and strength of steel without the burdensome weight.
"The Steel Case collection is durable, stylish, and available in contemporary designs and colors, embodying the traits consumers know and expect from Atlantic," said James Dardashti, Vice President and General Counsel, Atlantic Inc. "The new cases offer consumers a rugged and stylish way to store media products, and most importantly, take them with them wherever they go."
More durable than competing soft wallets, the CD Steel Case line not only better protects CDs, DVDs and CD-ROMs from breakage and scratches, but its metallic finish deflects rays to prevent them from warping by the sun's heat, something that often occurs when CDs are stored in a car. The sleeves are attached to the case with a two-ring binder system that secures them in place while making them easy to remove so users can change the contents. A unique sliding lock system makes it easy to open the case to access CDs but ensures that it securely stays closed when needed.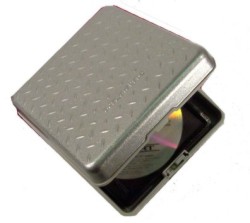 Available currently at consumer electronics stores, record stores and mass merchant retailers nationwide, the CD Steel Cases are available in two sizes, storing 24 CDs (12 with booklets) and 60 CDs (30 with booklets), in solid colors and combinations of blue, black and silver. The complete line, which features the Atlantic name embossed on the top of each case and raised dots on the bottom to prevent slipping, includes:
24 CD Steel Case - Classic. With simple and sleek lines, the Classic CD Steel Cases (MSRP $11.99) are available in black, blue and silver. The top of the case, which stores 24 CDs (12 with booklets), features raised lines and black trim.
24 CD Steel Case - Tailgate. The Tailgate CD Steel Cases (MSRP $11.99) are named for their textured surface, which resembles a truck tailgate with small, raised dashes. Holding 24 CDs (12 with booklets), the Tailgate models are available in black and silver.
60 CD Steel Case - Classic. A double version of the smaller Classic case, the Classic 60 CD Steel Case (MSRP $21.99) holds 60 CDs (30 with booklets). With the same look as the single version, the case is available in black, blue and silver, all with black trim. It also has a removable shoulder strap, making its easy to tote.
About Atlantic Inc.
For more than a decade, Atlantic Inc., has responded to the demand for fashionable solutions to media storage with innovative designer selections. Based in Santa Fe Springs, Calif., the company designs its attractive and durable products in sleek contemporary colors and materials, offering a variety of storage solutions for use at home and on the go. Presenting consumers with lifestyle solutions for multi-media storage, Atlantic's aesthetically pleasing products have universal appeal and functionality, storing CDs, DVDs and VHS tapes. The company and its designs have received numerous awards, including several Design & Engineering Showcase Honors from the annual Consumer Electronics Show (CES) Innovations Committee. For more information on Atlantic or its products, please visit the company's Web site at www.atlantic-inc.com .