Atdec Announces TH-1032-VFM Mount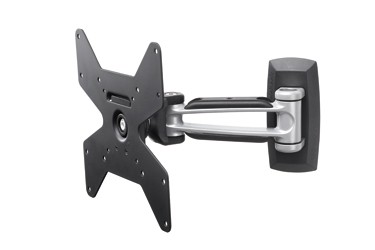 Atdec TH-1032-VFM Swing-Out Mount
Atdec has announced the latest in its innovative series of Full Motion monitor mounts, the attractive and versatile TH-1032-VFM.  The new mount provides users with full tilt and pan functions for displays up to 55 lbs, with a pre-assembled solution that brings stylish, contemporary cosmetics to any viewing environment.
The Atdec TH-1032-VFM is distinguished from the competition by its sleek, die-cast aluminum cosmetics and a host of convenience features that makes positioning easy for displays up to 32 inches. A ball-joint mechanism allows infinite adjustment of up to 20 degrees in any direction, which greatly simplifies installation and gives viewers the freedom to choose the precise viewing angle that's perfect for their environment. A simple tension adjustment allows both installers and consumers to optimize the viewing angle without the need to screw and unscrew numerous bolts, as is common with conventional mounts.
"Our new TH-1032-VFM mount is a perfect fit for situations where two ranges of monitor movement are called for. We've made pan and tilt functions effortless for the user and the mount looks beautiful no matter which position it's extended to. Atdec's comprehensive line of mounting solutions covers virtually any application with style and functionality; the new TH-1032-VFM is now another great Atdec answer in the installer's range of client offerings."
- Jerome Green, CEO of Atdec
In addition to its pan and tilt capabilities, the TH-1032-VFM allows selectable display orientations between portrait and landscape, with virtually complete 360 degree adjustment.  This feature is perfect for applications where the monitor needs to be re-positioned for fullest effect, such as digital photography, social networks and computer-assisted drawing (CAD).  To keep the viewing area attractive and uncluttered, the TH-1032-VFM features advanced cable management, so that unsightly wires are fed through the channels and secured using the cable covers.  A quick release mechanism with a security feature provides peace of mind and superior theft resistance.
The Atdec TH-1032-VFM will be available in mid-October with an MSRP of $109. For more information, please visit www.atdec.com.
About Atdec
Atdec is a leader in the visual display mounting industry committed to bringing to market best-of-breed visual mounting display products that offer the highest levels of innovation, ease of installation and quality. Unique features and product flexibility make Atdec's products ideal for a broad range of applications in various markets including: commercial space, POS, home entertainment, office, education, digital signage, healthcare, and the audio and visual marketplace. All Atdec products are Designed for Disassembly (DFD) which means they are made to be taken apart easily for recycling at the end of life. Atdec offers a free return policy at the end of product life.