Atari Announces Retro Atari Classics for Nintendo DS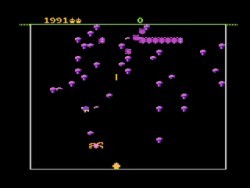 LOS ANGELES - Dec. 14, 2004 - Atari will revisit the roots of modern video games with a contemporary spin with its upcoming Retro Atari Classics for the Nintendo DS(TM). The game, expected to be available in March 2005, will reinvent 10 classic Atari titles with fresh graphics provided by world renowned graffiti artists. The game will also take advantage of all Nintendo DS(TM) innovations, including dual screen gameplay, touch screen controls and wireless play.
"Some of gamers' favorite classics are getting tagged for the 21st century by some of the most talented graffiti artists in the world," said Wim Stocks, Executive Vice President, Sales and Marketing, Atari. "With its blend of old school addictive gameplay and new school artistry and technology, Retro Atari Classics is the must have game for all Nintendo DS(TM) gamers, young and old."
Retro Atari Classics will feature 10 original Atari games, including Pong, Missile Command, Asteroids, Breakout, Centipede, Tempest, Warlords, Gravitar, Lunar Lander and Sprint. Each title will be playable in its original form as well as in the all new "Tagged" mode, featuring brand new looks from some of today's most popular graffiti artists, including REAS, Delta and Obey Giant.
The game will take advantage of all the technical innovations the Nintendo DS(TM) brings to gaming including touch screen functionality for tighter game controls, up-to-four player wireless multiplayer, dual screen gameplay for larger game environments and the ability to play head-to-head against another player on the same Nintendo DS(TM) in classic arcade fashion.
Developed by Los Angeles-based Taniko, Retro Atari Classics is expected to be available in March 2005 for the Nintendo DS(TM).
About Atari
New York-based Atari, Inc. (Nasdaq:ATAR) develops interactive games for all platforms and is one of the largest third-party publishers of interactive entertainment software in the U.S. The Company's 1,000+ titles include hard-core, genre-defining games such as DRIV3R(TM), Enter the Matrix(TM), Neverwinter Nights(TM), Stuntman(TM), Test Drive(R), Unreal(R) Tournament 2004, and Unreal(R) Championship; and mass-market and children's games such as Backyard Sports(TM), Nickelodeon's Blue's Clues(TM) and Dora the Explorer(TM), Dragon Ball Z(R) and RollerCoaster Tycoon(R). Atari, Inc. is a majority-owned subsidiary of France-based Infogrames Entertainment SA, the largest interactive games publisher in Europe. For more information, visit www.atari.com .