ASTRO MixAmp 5.8 Wireless Gaming Headphones Kit Debuts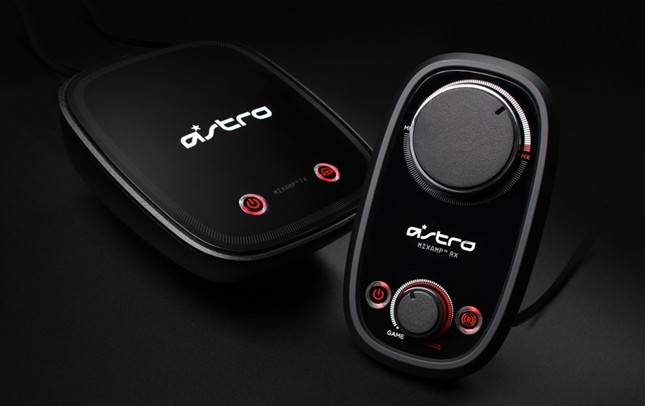 ASTRO MixAmp 5.8 Wireless Gaming Headphones Kit
ASTRO Gaming, creators of premium video gaming equipment for professional and hardcore gamers, announces two new products this Holiday season: the ASTRO MixAmp 5.8, a two part, wireless 5.8 GHz version of ASTRO's award-winning MixAmp, and the ASTRO A*STAR Series In-Ear Headset, a sleek and stylish pair of earbuds that delivers ASTRO Gaming's renowned audio and voice performance in a discreet, mobile friendly package.
"We're excited to offer both professional and casual gamers alike two exciting new products that will change the way they play at home and on the road. The ASTRO MixAmp 5.8 improves upon our award-winning MixAmp formula by delivering clear, lag-free audio and voice communication wirelessly with no interference by utilizing 5.8 GHz technology.  Our new ASTRO A*STAR In-Ear Headset gives mobile, smart phone and tablet gamers a critical lifestyle accessory, with tangle-free cables, a unique design and the unmatched audio quality and iconic design ASTRO Gaming is known for around the world."
- Aron Drayer, Director of Marketing, ASTRO Gaming
Features of the ASTRO MixAmp 5.8 include

7.1 channel Dolby Surround Sound via Dolby Pro Logic IIx decoding and Dolby Headphone Surround Sound output
5.8GHz Wireless:  this high-powered and secure connection operates on a spectrum relatively free from interference from other wireless devices
Point-to-Multipoint Pairing (PtMP):  pair up to 4 receivers (Rx) with 1 transmitter (Tx), providing support for up four simultaneous users with four independent voice streams on Xbox 360, and two independent voice streams on PlayStation 3
The 56374 DSP from Freescale allows full Dolby Digital, Dolby Pro Logic
IIx and Dolby Headphone processing on a single chip, offering one of the best
headphone audio experiences possible.
Bass Expander Mode: injects a subwoofer effect into the soundstage.
Tuned with ASTRO Audio technology to get the most out of games and other forms of media.
Compatibility: plug in any headset to use the ASTRO MixAmp 5.8 with both PlayStation 3 and Xbox 360 Consoles.
Both products will be available this November directly through the company website at www.astrogaming.com.  ASTRO MixAmp 5.8 customers can pre-order now for the introductory price of $99.95, or bundled with ASTRO A30 and ASTRO A40 headsets for $199.95 and $249.95 respectively. ASTRO A*STAR In-Ear Headset customers can sign-up to reserve black, white or silver units now for only $79.95, with pre-sales going live in mid-November and product shipping in early December.
About ASTRO MixAmp 5.8
The ASTRO MixAmp 5.8 retains the core features of the original award-winning ASTRO MixAmp while eliminating the wires.  While optimized for ASTRO's A30 and A40 headsets, ASTRO MixAmp 5.8 also turns any headset into a wireless surround sound experience.  Featuring 5.8 GHz wireless technology, the ASTRO MixAmp 5.8 provides crystal-clear audio and voice without interference from other home wireless devices and gives control of the mix levels to the player.
MinusTheBear posts on November 17, 2010 15:39
The ASTRO MixAmps have always been very popular amongst the gaming crowd.
Post Reply