Artison Releases MusicLites ML-1 LED Light Speaker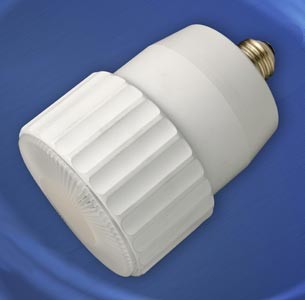 Artison MusicLites ML-1 LED Light Speaker
MusicLites, a collaboration between Artison and Osram Sylvania showcased its breakthrough product, MusicLites ML-1 at CEDIA 2010. The unique concept of a speaker and light combination was invented and patented in 1999 by Cary Christie, President and CEO of Artison. The product is the collective result of Osram Sylvania's expertise in LED solutions and Artison's creative dedication to state-of-the-art audio. MusicLites fits multiple applications in the commercial or consumer marketplace.
Equal in size to a conventional BR30 light bulb, MusicLites fit into any ordinary Edison Light Socket. MusicLites ML-1 will sell for a MSRP: $300 each.  Transmitters will be available for $120 each; and includes the the MusicLites remote; which controls audio settings as well as illumination levels for easy whole-house audio.
Combining State-of-the-Art Audio with Advanced Lighting

MusicLites' are unique, offering a one-step solution for bringing both high-fidelity audio and cutting edge lighting to any room. MusicLites combine an efficient 2.75 inch Full Range High Fidelity loudspeaker and a wireless audio receiver in a module that is compatible with most audio sources. MusicLites fit into either four, five or six-inch recessed cans fixtures, providing any room with a pleasing warm white light equivalent to that of a 65-watt reflector bulb. MusicLites have all necessary performance and control electronics built in, including wireless transceiver, LED light, microprocessor, amplifier, signal processor, speaker, etc.  The audio signal is transmitted via a proprietary 2.4GHz wireless transceiver which works with various audio sources, such as USB, Smartphone, and portable audio devices.
New Solutions for Custom Integrators
MusicLites give custom integrators access to places where installation of audio systems was not previously possible. They also eliminate the need for complicated and time consuming retrofit installations. The unique combination product makes bringing both audio and lighting to areas like kitchens, patios, hallways, etc. as simple as screwing in a light bulb, and an integrated system can easily be programmed for whole house distribution.
"We are excited to provide users with the ultimate experience in lighting and sound, made possible through our partnership with Artison. With the ease of screwing in a light bulb, consumers and businesses can experience a quality, custom sound system and the most energy-efficient lighting technology."
- Rick Leaman, President and CEO of Osram Sylvania
"MusicLites is the most revolutionary product that I have developed in my 40 years in the Consumer Electronics industry. With our combination of light and sound, anyone can now enjoy functionality and luxury in one package," commented Christie. "I am enthusiastic about the synergy of our companies working together and I am happy to see MusicLites become a reality."
About Artison
Artison was founded in 2003 with a commitment to the development of ahead-of-the-curve, lifestyle-enhancing home entertainment solutions. Led by renowned speaker designer Cary Christie, Artison has demonstrated its expertise with technological innovations and advancements that enhance consumers' home audio and video enjoyment and deliver a unique Total Involvement Experience. The company is headquartered at 774 Mays Boulevard, Suite 10-183, Incline Village, NV 89451, phone 775-833-4344, or visit the ARTISON Web site at www.artisonusa.com.