Artison Debuts Flagship Masterpiece Speakers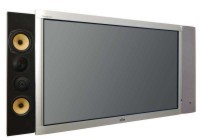 Incline Village, NV - June 19, 2006 - More and more families are choosing large flat panel displays as the focal point of their family or media rooms and until now were confronted with an unwelcome compromise between style and performance. Artison's new flagship Masterpiece LCR speakers with Patented DualMono Center Channel technology have made such compromises a thing of the past. Designed for flat panel displays 50" and above, these innovative speakers are cosmetically matched to the sleek lines of today's flat panel televisions and easily attach to the display for a seamless, aesthetically pleasing presentation.
Utilizing Artison's proprietary G-LCR Grille and new UMB (Universal Mounting Bracket), the Masterpiece speakers attach to virtually any flat panel monitor, matching its height precisely, resulting in a seamless, elegant look that will enhance any room's décor. Grilles are provided in complementary colors to each plasma model.
"Our new top of the line Masterpiece LCR speaker is the benchmark for plasma attachable high-end audio and home theater reproduction," said Cary Christie, president and chief executive officer of Artison. "Designed to accommodate the increasing trend towards larger flat panel displays, Masterpiece is the ideal solution for customers who expect high quality and performance from their audio system coupled with visual appeal. We've created a unique engineering and design solution that matches any monitor and room style without compromising either performance or aesthetics."
The Masterpiece builds on the success of Artison's two previous LCR speakers, the Sketch and the award-winning Portrait, resulting in a "good, better, best" range suitable for all applications, tastes and budgets. Each of the setups place all three front channels (LCR) in two slim attachable cabinets, rather than the conventional - and visually unappealing - three speaker box approach. This is made possible by Artison's DualMono™ Center Channel technology, which integrates center channel components into the upper portion of both the right and left speakers, eliminating the need for a separate center channel speaker enclosure and with the substantial added benefit of placing crisp, articulate dialogue in the center of the screen, rather than above or below it.
In addition to DualMono™ Technology, Masterpiece also boasts an innovative, side-firing Stage Tweeter, which widens the soundstage for a realistic, large-scale cinematic experience. Each Masterpiece speaker contains two front-firing adjustable Vifa XT Super Audio Tweeters, two 5 ¼" Kevlar Long Throw midrange woofers, and one 25mm Stage Tweeter, all housed in black anodized aluminum cabinets. The Masterpiece measures 27"H x 6"W x 3 ½"D without the grille.
Complementing the Masterpiece, Portrait and Sketch LCR systems, Artison also offers its LRS surrounds, available in on-wall and in-wall versions. A unique hybrid design, the LRS surrounds are monopole below 3 kHz providing great "steering ability" for action scenes and dipoles above 3 kHz where it is desirable that the source of the sound not be recognized as coming from a particular location.
Artison's Masterpiece LCR speakers are now shipping at an MSRP of $2,500.00 per pair, including the G-LCR Grilles and UMB Universal Mounting Bracket.
About Artison
Artison is dedicated to the development of new audio and video applications designed to meet the technology needs of the 21st century. Led by renowned speaker designer, Cary Christie, Artison demonstrates its expertise by developing technological innovations that enhance consumers' home audio and video enjoyment. The company is headquartered at 774 Mays Boulevard, Suite 10-183, Incline Village, NV 89451, phone 775-833-4344, or visit the Artison Web site at www.artisonusa.com .