ARCHOS Unveils First Digital Music Player with Color Video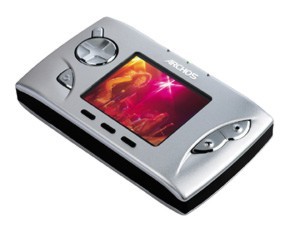 IRVINE, Calif. - Aug. 26, 2004 - ARCHOS(TM), Inc., the pioneer and technology leader in pocket-sized audio and video digital media solutions for mobile consumers, today announced the launch of the Gmini400, a revolutionary new hard-drive-based digital audio player that features the industry's first 2.2-inch color LCD screen and advanced features such as video playback, photo viewing and gaming for the ultimate portable entertainment experience. The Gmini400 is available today at major U.S. retailers, or at www.archos.com . ARCHOS is once again introducing true innovation to the portable audio player space with the launch of the Gmini400. The Gmini400 goes far beyond music to bring exciting new features such as superior video playback, color LCD display for viewing photos and videos, a built-in CompactFlash(TM) reader for transferring photos and data, and the ability to access and play games directly on the device.
The lightweight, ultra slim Gmini400 measures only 4.2 inches by 2.4 inches by .07 inches, making it one of the smallest portable music players available today, and allows users to record up to 300 hours(1) of music and play MP3, WMA and WAV music files. In addition, the Gmini400 gives consumers much more than a standard digital audio player, with the ability to store and view up to 200,000 digital photos,(1) play Mophun(TM) games(2) and play up to 80 hours(1) of MPEG-4 videos -- all on the color LCD or TV display.
"Archos continues to evolve its audio players to ensure consumers can enjoy far more than music on one compact device, and does so at an unmatched price for the general consumer," said Henri Crohas, chief executive officer of ARCHOS. "We have always been focused on providing customers with feature-rich products that allow them to take their favorite content with them, and this product is no different. The Gmini400 goes beyond the standard digital audio player by offering many compelling features on one device, providing the richest portable entertainment experience possible."
The Ultimate in Portable Entertainment
The new Gmini400 allows consumers to enjoy:
Pocket Music -- record, listen to and archive entire music collections (MP3, WMA, and WAV files) -- up to 300 hours(1), make a playlist directly on the device and organize music without the need for a computer.
Pocket Video -- play back MPEG-4 music videos and movies on the 2.2-inch color LCD screen, with 640x400 at 30 frames per second resolution. Consumers can also view video externally on a TV display or projector.
Pocket Photo -- store and view photos transferred from a digital camera or computer (PC or Macintosh), copy images from CompactFlash cards using the built-in CompactFlash reader, or use an optional adaptor for SmartMedia(TM), MMC, SD or Memory Stick(TM) and Memory Stick® Pro cards.
Pocket Games -- play popular Mophun video games, with one free game included with the Gmini400, and additional games available for download from the ARCHOS Web site.
Pocket Storage -- store all important data to take on the road on the 20GB hard drive.
Pricing and Optional Accessory Information
The Gmini400 has a suggested retail price of $399.95 and can be purchased at major U.S. retailers nationwide and at www.archos.com. Additional accessories include a 4-1 CompactFlash Adaptor, FM Radio and remote control, car charger and convenient carrying case. Product information and optional accessories are available at www.archos.com.
About ARCHOS
Established in 1988, ARCHOS is the technology leader in pocket audio/video products and has a long history of inventing state-of-the-art devices for people on the go. In 1999, ARCHOS opened the mass market of pocket-sized MP3 players based on a hard disk with the Jukebox 6000. In 2002, ARCHOS launched the first portable video player, the Jukebox Multimedia. The company's "AV" line of pocket-sized audio/video recorders and players has revolutionized how today's consumers enjoy their music, photos and videos anywhere, anytime. ARCHOS has offices in the United States, Europe and Asia and more information is available online at www.archos.com .
(1) 1GB = 1 Billion Bytes, the available formatted capacity is less
(2) Games must be downloaded from the ARCHOS Web site
The names of companies mentioned herein are the trademarks of their respective owners