Apple iPhones it in with iPad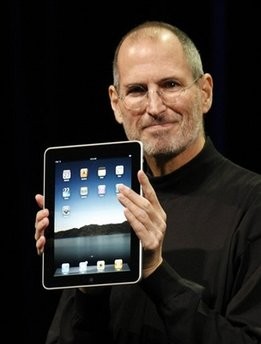 Apple's iPad - Not just for girls!
We know the drill by now. The hype starts months in advance of a "press event" from Steve Jobs and Apple. The media and blog-o-sphere begin piling high the hype and expectations on Apple's latest "Jesus-Gadget". Then the event happens, the new product is trotted out on stage by a black-pullover clad (and thankfully, a much healthier looking) Steve Jobs. Inevitably the Apple-fairy dust settles and we realize the seas may not have parted after all.
Apple iPad – The Goods
The best way to describe iPad is simply an iPhone or iPod Touch that's been upsized. The face of Apple's new tablet is dominated by a 9.7-inch touch-screen display with an iPhone-style Home key underneath. The sleek device is only a half-inch thick and weighs just a pound and a half.
With your iPad you get Wi-Fi, Bluetooth and some models will include prepaid 3G access exclusive to AT&T. Apple says the battery life will provide about 10 hours of active use. In keeping with Apple's commitment to a total lack of user-maintenance the battery-pack is built-in, so it's not user-replaceable. Apple engineers will tell you this allows them to create Apple's signature slim designs. User acceptance of non-removable battery-packs mean planned obsolescence is the norm – at least for the Apple faithful.
Apple says the iPad will run nearly every app in its App Store. The Safari browser on the iPad will let you view an entire web-page – but like the iPhone's browser, won't run Flash. For portable gaming there are a few new finger tricks you can perform with the device's touch screen. A couple of game demos, N.O.V.A. and Need for Speed, demonstrated new enhanced touch-screen controls. The new finger-tip controls include a three finger swipe to let gamers open doors, touch-enabled stick shifts and double-fingered taps to throw grenades. These have potential to create a more immersive portable gaming experience: But developers are still a long way from deciding Apple is the platform of choice for portable gaming. So, your Sony PSP and Nintendo DS are safe (for now) from any direct competition from iPad.
Apple has its sights on another aggregate market with its big-sized portable touch-screen; the burgeoning E-Reader market. It seems like a good fit for a tablet sized computer, so Apple opened a book store, iBooks. Early reports show the prices of many popular books through iBooks are curiously more expensive than the same book on Amazon's Kindle bookstore. If reading from a tablet sized device is your thing - iPad even has a newspaper reader app that lets you touch-scroll your way through electronic versions of popular print dailies including the New York Times.
The iPad price has surprised most of us with an unexpected reasonability. The lower-end, 16GB model can be had for a mere $499. A 32GB model runs $599 and the 64GB will cost you $699.
iPad Missing Features
The hype machine had been hard at work prior to the official announcement for iPad. Rumors had the iPad including everything from a TV subscription service to a built-in camera with face recognition. Apple users would have appreciated the flexibility of 3G network access through Verizon and Flash support would have been great too. But none of these high-end features came true.
The most important thing Apple left out isn't a feature at all – but a stunning User Interface that not only created buzz but carved a niche for its new tablet computer. Past forays into the tablet form-factor have proven it's an elusive market and Apple's biggest strength has been User Interface and its ability to find just the right fit for its products into the lifestyle of its user-base.
But this is what's missing with iPad. A jaw-dropping new and unique interface might have given the new tablet a unique identity in computing – instead of creating a new device that does little more than rides the success of iPhone.
So, if we already have a Mac for desktop computing, an iPhone for computing on the go and a Macbook in-between:
What is the iPad really for?
It's designed to fit the Internet into your hands during those uncomfortable moments between sitting upright in front of a desk and walking around town. Yes, those moments you're just lounging on the couch, bad posture and all. Now, iPad lets you lean over and share streaming media with a friend on the other side of the couch. This is the domain of the tablet's form factor.
Perhaps you're living like a sheik lounging on a Persian rug and few pillows and want to show one of your harem a cool web-page you surfed to via Wi-Fi. Now all you have to do is tilt iPad and two sets of eyes can graze the web from the same pillow without squinting. Maybe you're power-lunching with the execs, it would be ludicrous to try and show someone sitting across the table something on the diminutive iPhone or Blackberry screen – now you can play spin the iPad and give everyone at the table a look at a page from the Wall Street Journal on iPad's newspaper app.
It's no reach to say that the press has been unkind to iPad. Yes, its clumsy name brings to mind feminine hygiene or household cleaning products rather than cutting edge electronics by Apple. But it could take awhile for Apple to really find the tablet's niche. So far it looks like a missed opportunity for Apple to focus its real strength in User Interface and forge ahead with a new platform. Instead it seems to have simply upsized one of its past successes.
Recent Forum Posts:
AcuDefTechGuy posts on December 18, 2012 18:45
lsiberian, post: 934542
Since Amazon and Apple are in direct competition I'm not sure if that will happen or not.
Yeah, I'm just being wishful.
Or in denial.
I've been listening to music from my iPad to AirPlay/Apple TV and streaming Netflix on my Apple TV. Seems pretty good. 5.1 DD & 1080p. Great sound, pretty good HD video.
So I think the quality is there. But the channels (Amazon, Vudu, etc) are just very limited due to all this competition.
I was willing to pay $100 just for the AirPlay upgrade on my Denon AVP-A1.
zilla posts on December 18, 2012 14:09
lsiberian, post: 934542
Since Amazon and Apple are in direct competition I'm not sure if that will happen or not.
Yeah, it's iffy for sure. The revenue stream will probably win out though, in the end. Usually does haha.
lsiberian posts on December 18, 2012 12:32
AcuDefTechGuy, post: 934428
the Apple TV does not have Amazon Prime Video yet. It may have it in the future, but not now.
Since Amazon and Apple are in direct competition I'm not sure if that will happen or not.
AcuDefTechGuy posts on December 18, 2012 09:08
Well, since my $7500 Dennis AVP-A1 pre-pro doesn't have the AirPlay (which I love) that most $400 AVRs have these days, I decided to add the little black $99 Apple TV box to my AVP-A1 via HDMI.

Now I have the AirPlay (which I love) to stream music from my iPads.

The Apple TV also has Netflix playback. It also has Hulu. But unlike my $100 Panasonic BD player, the Apple TV does not have Amazon Prime Video yet. It may have it in the future, but not now.

Anyway, the weird thing with the Apple TV is that the volume level is 6dB less than my other sources on the Denon. So I had to increase the digital source level to +6dB for Apple TV. Now it's perfect.

I think SQ is excellent.
AcuDefTechGuy posts on December 15, 2012 21:49
I am officially a Desktop-PC & Mobile-iOS guy.

My workplace is the same.

It's funny how I mirror my career & my personal life. I bet a lot of people also mirror their personal usage with their workplace usage too.

For one thing, it gives us an excuse to buy new toys; in my place is the iPad.

The iPad also seems to have better games. In my case, I can't live without the game Metalstorm. I need to find a fellow Raven pilot to fly with on this game so I can get pass Wave 23.
Post Reply