Apple FaceTime App and iPhone 4 Announced at WWDC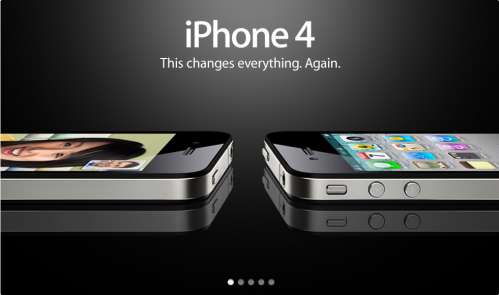 Apple iPhone 4th Generation
Today's WWDC keynote event held few surprises as Steve Jobs announced the newest 4th generation iPhone 4, dubbed, conveniently, "iPhone 4". The iPhone 4 features a new FaceTime app and an all-new thinner design that is similar to the iPod Touch in depth and is identical to the model procured by Gizmodo earlier this year. That little stunt is resulting in potential prosecution pending further investigation.
The new iPhone has several brand new features that really make it a major upgrade. We'll document them here in order of importance and significance:
New Design
The new iPhone is only 9.33mm thick. That makes it a full 24% thinner than the iPhone 3GS and more like the iPod Touch. The front and back sports a "flexible" proprietary aluminosilcate glass (remember "transparent aluminum" from Star Trek? - this isn't it, but it's nearly as cool), chemically strengthened to be 30 times harder than plastic. It is also more scratch resistant and more durable and both sides have an ol-resistance coating designed to reduce finger smudges. The new phone also features a stainless steel alloy band that wraps around the entire phone. What's unique about the band is that it is separated into sections and is used as part of the antenna system for the GSM, UMTS, Wi-Fi, and Bluetooth radios.

Retina Display
The iPhone 4 has what Steve Jobs referred to as a "Retina Display". This is a new, high-density IPS (in-plane switching) LCD display technology that comes in at 326 pixels per inch (PPI). Compare that to the current iPhone and iPod Touch's 163 PPI and you can see how this might be a big deal. Steve pointed out that the limit of the human eye's ability to detect pixels is around 300 PPI (for those of you creative enough we dare you to translate that into an actual 1080p distance for home theater!) Jobs described the new display as reading a "fine printed book." Since the new iPhone LCD screen is the same (3.5") size of the current 3GS, its resolution bump to 940 x 640 pixels and an 800:1 contrast ratio should make for an amazing experience.

A4 Chip
Apple's new A4 processor means that the new iPhone will be capable of HSDPA/HSUPA (high speed download/upload) speeds of up to 7.2Mbps down and 5.8Mbs up - far more than AT&T can currently support.

5-megapixel Auto-focus Camera
Apple's updated 5 megapixel camera will feature a 5x digital zoom and is capable of recording full 720p HD video at ("up to") 30 frames per second. What really blew us away, however, was the demonstration of the new iMovie for iPhone which lets you capture, edit and publish videos right on your phone. The new iMovie app will only cost $4.99 from the App Store.
Front-facing Camera with FaceTime App
One of the biggest announcements came when Steve brought up the new FaceTime app that will allow video calls to be made - for now just between Wi-Fi iPhones. The new app even allows you to switch easily between the front and back cameras to show the other party what you are looking at and then your own face. This is a huge advancement, in our opinion, and one that we cannot believe has taken so long to come to the iPhone (or any other Smart Phone for that matter). Apple says that it may be some time before FaceTime is compatible with 3G networks and AT&T due to network issues. Given AT&Ts network issues in larger markets like LA and NEw York it's no wonder they didn't want this added traffic on top of their system, regardless of any technical difficulties.

LED Flash
The new LED flash works for both still and video camera modes (where it stays on for extended use when needed)
Battery Bump
A larger battery is included that delivers 40% more talk time than the 3GS. Indeed, the battery is by far the largest component of the new iPhone 4.0.
802.11n Wi-Fi
Those wanting to connect to internal Draft-n networks will be able to do so with the new 802.11n wireless support. While we've had mixed results with this, if done correctly it should increase the potential upload and download speeds for Wi-Fi use.
Gyroscope
With the addition of an actual gyroscope, the iPhone is essentially a "6 axis" controller. What the gyroscope adds to the accelerometer is the ability for the phone to move in accordance with gravity, providing true and precise movement control for gaming and other applications. 
Noise Canceling Mic
There is a secondary microphone on the top of the new iPhone which is used for noise cancellation. This is a big step up in making the iPhone a better... well, phone.

Micro SIM
The iPhone 4.0 uses this smaller SIM standard and is now compatible with the new iPad standard. We're not sure if this means direct interoperability of a 3G data plan across the platforms (certainly the iPad cannot be used as a phone) but it at least reduces the size of the SIM card - and anything that gets smaller helps reduce the form factor of a device.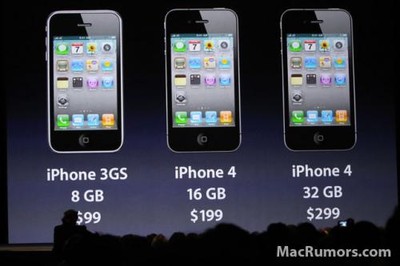 The new iPhone 4 model will go on sale on June 24 (just two weeks from the announcement) in the U.S., France, Germany, Japan, and the United Kingdom. In will cost $199 USD for the 16GB model and $299 for the 32GB model with a new 2-year contract. AT&T has reworked their upgrade timeline and will actually be offering an early upgrade special for current iPhone users in the U.S., bumping up the upgrade pricing a full 6 months earlier than normal.
roshi posts on June 09, 2010 17:04
Interesting how this article was missing the usual sarcasm directed towards Apple that I have come to expect from Audioholics.

In any way, I have a 3GS and a bunch of other Apple products and don't miss being in an "open" environment with windows, etc. at all. I think the big point that most people are not seeing when giving their arguments against apple is the fact that Apple products work so beautifully because they run in a closed eco system. With Apple it's all about the user experience, and so far I have not seen anything that comes close.

One thing I do love about Apple is the fact that they indeed are actually using and contributing to a lot of open source standards. The fact that they are making "face time" open source, so that other manufacturers can integrate it is just incredible. As far as I know Skype's software is not open source….

Anyways, my two cents.
Audioholics posts on June 09, 2010 10:51
I'm out of contract but I won't buy the new iPhone until I see some real time with it and reports… tired of reading about Apple products glitching after they introduce new form factors. With a new antenna, new body, and new software, I want to make sure it's well field tested…. and not just by guys who leave the phone in a bar late at night…
Warpdrv posts on June 09, 2010 09:47
Lets all keep in mind that the new Apple Iphone is NOT 4G network capable…. that is just the name of the phone in a progression of names - Iphone 2G, 3G, and 3Gs
I am waiting it out right now to see what comes down the pipe - my At&T contract is up next month and I'll likely be looking to hold out until the new Tegra 2 chipsets will bring to the phone market later this year (hopefully).
https://www.tegraphone.com/
I'd really like to move away from the restrictions of Itunes and go open source. The Iphone is a nice product and I'm sure the new one will be just as nice of an upgrade, but I can't stand Itunes. I have Jailbroken, so don't come back at me with that business. I've had the 3G for 2 years and its been a good phone but I'm ready for a change.
I've been looking at the Droid Incredible, but so far until something changes with the battery life aspect - I can't truly want to jump on board.
Hi Ho posts on June 09, 2010 00:25
I am so over the iPhone. I used to want one so bad I really wanted it to come to Verizon.

I picked up the Evo on Friday. I never thought I'd switch from Verizon but Sprint seems to have coverage everywhere Verizon does.

The Evo is one hell of a phone. I wouldn't even consider an iPhone after having this phone for only a few days. Real multitasking, no iTunes, amazing 4.3" screen, no Apple big brother saying what you can and can't put on the phone, and best of all, no AT&T.

I will sell my old BB Storm and maybe even my iPod Touch. I dont need the iPod anymore. The Evo has all the apps the iPod has plus many that one will not find on iTunes because Apple rejects them.

Oh yeah, the kick stand is awesome.

I typed this entire post on the Evo.

EDIT: Oh yeah, I don't have 4G coverage near my house or work but I did happen to be in a place last weekend where I caught some 4G goodness. I ran a speed test and measured 5.5 mb down and 700k up. That is significantly faster than 3G and web browsing was noticeably faster. I wasn't in that area long enough to know what impact it may have on battery.
krzywica posts on June 08, 2010 16:02
dkane360, post: 723930
Lol, I'd hardly call them news stories though. More like CNN wanting page visits so they title an article as Verizon iPhone Coming Soon and fill it with generalized speculations.
Yeah don't trust the journo's that's what I say!
Post Reply