Aperion Audio Unveils Verus Grand Speakers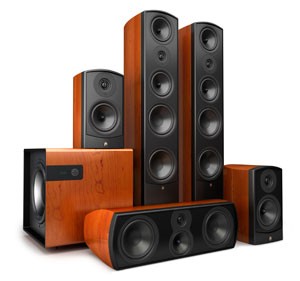 Aperion Audio Verus Grand Speakers
Aperion Audio today debuted the Aperion Verus Grand line of home theater speakers at the Rocky Mountain Audio Fest in Denver, CO. Aperion designed the Verus Grand speaker system, including a patent-pending tweeter, for authentic sound reproduction. The speaker was designed for a true-to-life sound and the company wanted to "spark an emotional connection that transports movie and music lovers into the performance, exactly as the producers intended." That's a pretty lofty, but understandable goal. The Verus Grand family is positioned as a high-end complement to the company's award-winning Aperion Intimus line of home theater speakers.
"The goal for the Aperion Verus Grand line was to create an accurate, uncolored, lifelike experience. To do that, our team built the entire speaker system from the bottom up, engineering each component for maximum sonic impact while keeping the cost in reach of most home theater audio buffs."
- Ken Humphreys, Aperion's lead speaker engineer
A key part of the solution is the company's new Axially Stabilized Radiator tweeter, which takes the burden of reproducing upper-mid frequencies off the mid-range driver. That allows each driver to do the job it does best. The result is wider dispersion for an expanded soundstage and lower distortion to boost clarity.
The audio enthusiast can configure a well-matched high-performance 5.0 home theater system by combining a pair of tower speakers, a center channel and a pair of bookshelf speakers for surrounds, all from the Aperion Verus Grand family. An enhanced 5.1 system is attained simply by adding an Aperion Bravus subwoofer. In addition to filling a room with sound, the Aperion Verus Grand family's curved cabinets in gloss cherry-wood veneer or piano-black lacquer lend elegance to any décor.
Key Features of the Aperion Verus Grand Tower
3-way, bass reflex design
1-inch Aperion Axially Stabilized Radiator™ silk dome tweeter
Two 5-inch woven Kevlar® mid-range drivers with aluminum phase plugs
Two 6-inch woven Kevlar® woofers with butyl rubber surrounds
Bi-ampable 5-way gold-plated binding posts
Furniture-grade gloss cherry wood veneer or gloss piano black finish
Curvilinear cabinet with compound angles and internal bracing
Acoustically transparent cloth-covered metal grille
Specifications of the Aperion Verus Grand Tower

Frequency response: (+/- 3 dB) 45-20,000 Hz; (+/- 6 dB) 35-22,000 Hz
Nominal impedance: 6 ohms
Sensitivity: 92 dB
Recommended power: 20-300 watts
Driver configuration: 3-way
Bass alignment: bass reflex (dual port)
Dimensions: 43.5 inches high by 8 inches wide by 12 inches deep
Weight: 65 pounds
Pricing, Availability and Warranty:
Pricing for the new Aperion Verus Grand line of home theater speakers is $1,798 per pair for the Verus Grand Tower; $699 for the Verus Grand Center; and $598 per pair for the Verus Grand Bookshelf. Pre-orders are now being accepted, and the system will ship on October 30, 2010. A 10-year limited warranty covers all defects in material and workmanship.
All Aperion Audio speaker products also include a risk-free 30-day In-Home Audition, free shipping and free lifetime customer support. For more information, visit AperionAudio.com or call 888-880-8992.
About Aperion Audio
Aperion Audio, a direct-to-consumer maker of award-winning home theater audio products, is focused on ensuring customers enjoy a lifetime of great sound. The company's primary storefront, AperionAudio.com, is a fun and informative home-audio shopping destination backed by "Home Theater Gurus" who provide generous support before and after purchase. At Aperion Audio, everyone from newbies to audiophiles can get the help they need to research and select an exceptional home theater speaker system or upgrade for their home audio environment.
gpzbc posts on October 17, 2010 11:21
Yes, I went to the Rocky Mountain Audio Fest in Denver and I was very impressed with the Verus Grand Towers.

First, They are beautiful! The finish on the cabinet is gorgeous, and the curved shape makes them look very aesthetically pleasing. (I am picturing a high wife acceptance factor.) It is about the same width as the 6T, a bit taller, and not as deep. I think the curvature of the cabinet makes it look smaller than it actually is. Very nice work in that regard.

My impression for how it sounds is great! When I hear a new speaker, I love to throw some Rusted Root at it. Their albums are great for testing out speakers. They have lots of varying volumes, aggressive drums, lots of female voices, flutes, acoustic guitars, etc. So I was pleased when the Aperion guys graciously offered to play my Rusted Root CD on the Verus Grand.

Once it started playing, I was very impressed. It handled the flutes and higher frequencies quite well. It handled the lower frequencies quite well too. Although, I think my preference would be to add a subwoofer to the picture. It wasn't that the Verus Grand underperformed on the lower frequencies, but I think a subwoofer could add a little bit if you are into that (which I am). I should also add that lower frequencies on the Verus Grand were very clean and tight.

Lastly, the area where I thought the Verus Grand really shined was the mid frequencies. The guitars and female voices were crystal clear and had a very wide sound to them. The way that the Verus Grand handled the mids left a lasting impression on me. I think Aperion got it right with their new tweeters and lower crossovers.

I should also add that I was very impressed with the sound stage of the Verus Grand. It was most noticeable when Rusted Root was playing multiple drums. It was as if you could pinpoint each drum to a different locations in the room. It was a real treat!

These are just my quick impressions. I wish I could have spent quite a bit more time with them in my own home, but overall I was quite pleased. Take my thoughts for what they are worth. I'm no expert, so I can only tell you what my ears tell me. I am anxiously waiting to read some professional reviews on the Verus Grand Towers.
sholling posts on October 17, 2010 11:19
They do look good.
browninggold posts on October 17, 2010 10:22
anyone make it to the show…..just wondering if anyone listened to the new 3-way.
jliedeka posts on October 16, 2010 18:18
They do look pretty cool and are reasonably priced if they perform well.

I'm not sure what they mean by having the tweeter take up the upper midrange. I don't see how a 1 inch tweeter could cross over at much less than 2 kHz at any reasonable power level.

Jim
its phillip posts on October 15, 2010 21:01
yes, those are some sexy speakers
Post Reply