Aperion Audio DROPS Price of Intimus Loudspeakers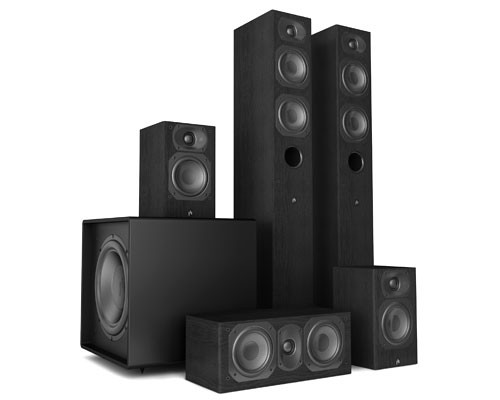 Aperion Audio Intimus Loudspeakers
We're used to loudspeaker manufacturers raising the prices of their speakers over time to combat increasing shipping and manufacturing costs. Sometimes manufacturers even begin experimenting with cheaper components in order to cut costs while simultaneously raising prices. But it is a rare day indeed when a manufacturer announces largely cosmetic changes to lower the price of their loudspeakers to make them more affordable. Aperion Audio apparently doesn't mind bucking the trend - and perhaps that;s why the Internet-direct company is wreaking havoc on their direct competition. The company announced this week that their new Aperion Intimus line of home theater speakers will feature a price drop of up to 20 percent across the line.
How do you do that in light of the rising costs of parts and shipping from overseas? First, Aperion replaced the large wooden base with cast aluminum feet. Secondly, they wrapped the cabinets in a premium-grade simulated wood finish instead of offering the piano gloss or wood veneers. Users who still want those types of finishes have the company's new Verus line which continues to offer premium finishes. Aperion also made the speakers slightly more efficient, so they can reach the same volume levels with less power. The net result is a slight performance boost in conjunction with a minimum of 15% saving across the entire Intimus line.
What truly surprised us was that the Intimus line utilizes neodymium magnets on their tweeters. Neodymium is facing a steep increase in prices per recent news reports:
CEDIA EXPO was abuzz with the rapid price increase of Neodymium: a rare-earth element used to make the magnets found in high-quality loudspeaker drivers. If speaker prices do increase, one should realize that in this instance, the reasons are primarily out of the manufacturers control: meaning their raw materials costs have skyrocketed. There are several reasons for the exponential rise in cost for Neodymium: the first is an increased demand for the element in other product categories such as electric vehicles and cell phones. Secondly, China (which supplies ~97% of the worlds rare earth needs) is steadily reigning in the supply of Neodymium, which has drastically driven up the cost of the rare earth element by 10-fold.
(Source: CEDIA Crosspoint)
Ken Humphreys, Aperion's lead speaker engineer and a 25-year-veteran of speaker and component design, said the Intimus changes were done to better address the economic realities present in this country. Changes included the removal of magnetic shielding - a cost that is rarely needed since most home theaters now use LCD or plasma TVs (which do not get distorted by loudspeaker magnets).
What's this mean to you? Using Aperion Audio's website, we were able to configure a complete 5.1 home theater system for less than $1,200. That included a pair of Intimus 4T tower speakers, an Intimus 4C center channel and a pair of Intimus 4B satellite speakers for surrounds. The subwoofer was the Bravus 8A. The Intimus 4T tower saves space with an 8-inch-by-8-inch footprint but includes dual 4" woven-fiberglass woofers and a 1" silk-dome tweeter in a front-ported enclosure. All Aperion Intimus speaker cabinets feature a curved-edge design and are available in high-quality simulated Medium Cherry or Black Ash.
Aperion Intimus Tower Features

Dual 4" woven-fiberglass mid-woofers
1" custom-designed silk-dome tweeter
Curved-edge design aesthetic and small footprint
Anti-resonant cabinet
Premium-quality simulated wood finish 

Aperion Intimus 4T Tower Specifications
Frequency response: (+/- 3 dB) 60-20,000 Hz; (+/- 6 dB) 50-22,000 Hz
Nominal impedance: 6 ohms
Sensitivity: 88 dB
Recommended power: 25-150 watts
Driver configuration: 2-way
Dimensions: 34 inches high by 5 inches wide by 7.5 inches deep
Weight: 19 pounds
Pricing for the new Aperion Intimus line of home theater speakers is $550 per pair for the Intimus 4T Tower; $130 for the Intimus 4C Center; and $220 per pair for the Intimus 4B Satellite. The 5-year limited warranty covers all defects in material and workmanship.
All Aperion Intimus speaker products also include the company's 30-day In-Home Audition, free shipping, lifetime customer support, and a free speaker care kit.
Check out the new pricing online at Aperion Audio's website.
zhimbo posts on November 05, 2011 12:25
The Verus Forte line and the Intimus line were kind of competing with each other; it makes more than a little sense to budget-ify the Intimus liine a bit.
alphaiii posts on November 04, 2011 21:46
zieglj01, post: 839638
This is one way, to make the Verus line more attractive - I will pass
on this price drop.
Yeah me too. The Verus line is MUCH more interesting anyway. They've received some very good reviews so far.
zieglj01 posts on November 04, 2011 21:15
alphaiii, post: 839284
So while I commend Aperion for dropping prices while EVERYONE else seems to be raising them, there were only able to do so by making some concessions will build quality and warranty.

This is one way, to make the Verus line more attractive - I will pass
on this price drop.
ski2xblack posts on November 04, 2011 15:06
scott911, post: 839567
Remarking that the making of the speakers "more efficient" as a definative good thing is a bit snake-oily if you ask me.
Not really, especially considering the mid-range AVR they will likely be paired with. If the price-point compromised amps within such AVRs have their load lightened via higher sensitivity speakers, it's a good thing. More music before clipping, and the amps work less hard in general. Still, it's kind of a marginal 'improvement', particularly when compared to cheapening the cabs and wrapping them in vinyl (yuck!).
scott911 posts on November 04, 2011 14:27
Remarking that the making of the speakers "more efficient" as a definative good thing is a bit snake-oily if you ask me.
Post Reply