Aperion Audio Announces In-Wall/In-Ceiling Speakers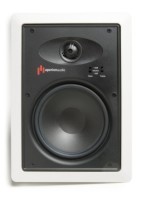 PORTLAND, Ore. - Jan. 24, 2006 - Aperion Audio, the first company to provide a totally risk-free in-home audition that includes free shipping both ways, today announced the new Intimus 632 In-Wall/In-Ceiling speaker line. Designed to voice-match the current Intimus line, the new In-Wall/In-Ceiling speakers invisibly deliver outstanding sonic quality at an affordable price.
The Aperion Audio 632 In-Wall/In-Ceiling Speaker line is built with Aperion's patent pending HD-X3(TM) crossover technology to flatten the impedance load and allow for long runs of speaker wire without loss of sound quality -- a very important feature for distributed audio.
"Voice matching box speakers to In-Wall/In-Ceiling speakers is extremely difficult," said Win Jeanfreau, CEO of Aperion Audio. "Our Intimus sound quality benchmark made us unwilling to compromise. Today we're bringing what we believe is an outstanding In-Wall/In-Ceiling speaker to the market at a price point that is consistent with what our customers expect from Aperion Audio."
The Aperion Audio 632 In-Wall/In-Ceiling Speaker Line features a 6.5" woofer and 1" aimable tweeter in a 2-1/2 way design. The woofer features dual voice coils and both the woofer and tweeter have bass and treble controls to adjust for room placement.
Prior awards for the Intimus Speaker Line include: Two CNET Editor's Choice Awards; Sound & Vision Approved Equipment Award; Designtechnica.com Editor's Choice Award Winner; Audiorevolution.com Top 100; DVD ETC. Top Choice Award; Home Theater Magazine Hot Ticket Selection; Audioreview.com Choice Award; Hometheatersound.com Reviewers(TM) Choice Award; and Unique Hardware Blue Ribbon Award.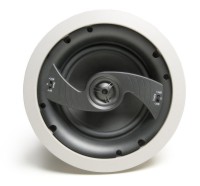 Features of the In-Wall/In-Ceiling Speaker Line
Aimable 1" Audiophile Grade Silk-Dome Tweeter
By using an aimable tweeter, the sound can be directed toward the listening position for optimal performance. Aperion uses a silk diaphragm for remarkable detail that is smooth and natural. The audiophile-grade 1-inch tweeter features Ferrofluid cooling for high power handling and smooth response.
Custom Designed Long-Throw Dual Voice Coil 6.5" Woofer
This woofer is made of strong and lightweight polypropylene offering a super fast and accurate response. The dual voice coil design allows the woofer to perform like separate midrange and bass drivers offering the performance of a 3-way speaker in a 2-way design.
HD-X3(TM) Impedance Leveling Crossover Technology
Patent pending HD-X3(TM) crossover technology levels the impedance load across the entire frequency range, creating a remarkably flat frequency response and eliminating the detrimental effects of resistance introduced by long runs of speaker wire. These in-ceiling speakers perform very well with long runs of inexpensive speaker wire, and customers can even use basic speaker selector switches without appreciably impacting sound quality.
Bass & Treble Equalization
Separate +/- 3 dB bass & treble equalization switches make it easy for these speakers to perform at maximum capacity, with the ability to overcome installation challenges while keeping uncompromising sound quality.
Gold-Plated, Spring Loaded Binding Posts
Each 632 In-Wall/In-Ceiling speaker comes standard with gold-plated spring loaded binding posts for easy installation. Simply strip the speaker wire, press to open, and insert the wire for a perfect connection the first time.
Paintable ABS Frame & Grille
The speaker frame is made of high impact, UV resistant ABS that is strong and lightweight. An aluminum perforated grille is included with each speaker. Both the frame and grille can be painted to match any decor.
Dog Mounting System
The 632 In-Wall/In-Ceiling speakers offer a simple dog mounting system. Simply use the template to cut a hole, insert the frame and tighten the dogs with a screwdriver.
Pricing and Availability
The Aperion Audio 632 In-Wall/In-Ceiling Speakers start at $149 each and are shipping 1/17. To place an order on the company website, visit http://www.aperionaudio.com or call 888-880-8992.
Totally Risk-Free In-Home Audition
All Aperion Audio products are sold direct and include the Totally Risk-Free In-Home Audition that allows every customer to audition the speakers in the space they will be used. Aperion Audio provides free shipping both ways, free technical support with live chat, email and toll-free calls, a free customer care kit including an SPL meter to properly calibrate your system, a comprehensive 10-year warranty, and a full-value one-year trade up program.
About Aperion Audio
Aperion Audio is an online direct-to-consumer speaker manufacturer for smart shoppers who are frustrated with the retail experience. Aperion offers a better value, meaningful information, generous service, and unlike other speaker retailers and manufacturers, is the only company to deliver an honest and Totally Risk-Free In-Home Audition.