An Environmental Issue We Can All Agree With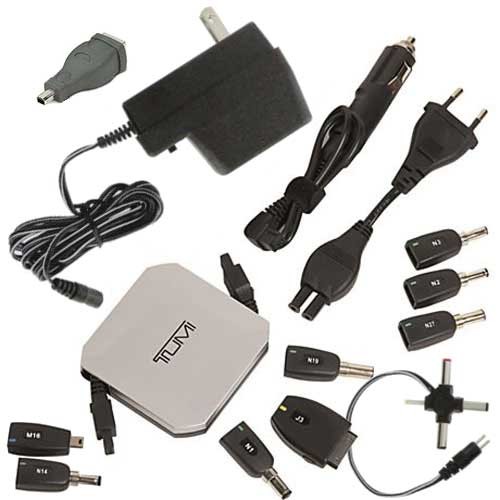 Too many power adapters?
My desk is messy, but I never really thought about why until I read this recent article on an industry group aiming to reduce the number of power adapters in the world through standardization. It seem that if consumers had the power, they'd banish most of the power adapters in their homes.
At least, that's the primary finding of a new nationwide survey, conducted by Synovate for Green Plug (www.greenplug.us), which revealed that more than 60 percent of American consumers regard the status quo in consumer electronics as "wasteful" or "frustrating." When "going green" meets "making my life easier and saving me money and hassle" - I actually start to pay attention.
In association with Chicago market researcher Synovate, Green Plug asked 1,000 online consumers about their attitude toward purchasing consumer electronics devices, which typically come with external power supplies that don't work with any other product.
According to the survey, conducted in April, 31 percent of respondents said they regard incompatible power supplies as "wasteful" and have many unused adapters just lying around, while 30 percent described the situation as "frustrating" — agreeing that forgetting to bring the right charger when leaving the house can prevent the use of an important device such as a laptop, cell phone, camera, or music player. Another 18 percent said that they never thought about the situation before, 13 percent said it doesn't really bother them, and 8 percent said it's "costly" -- and that they have had to purchase replacements when forgetting to bring the required charger to the office, school or on a trip.
"As our survey demonstrates so clearly, consumers want the power to be free of incompatible power supplies and adapters," said Frank Paniagua, Jr., CEO and founder, Green Plug. "If you laid the average consumer's power cords end-to-end, you might be able to reach the nearest landfill. That's where hundreds of millions of power supplies will end up this year, as they did last year and the year before that.
"Consumers have had enough," Paniagua said. "They want fewer devices, they want more efficient devices, they want convenience. And they want green devices. Underscoring our findings, Forrester Research recently revealed that 25 million U.S. adults are willing to spend more for gadgets that use less energy or employ environmentally conscious design. These 'bright green' buyers represent the vanguard of an emerging consumer electronics segment and are likely to attract innovative green products from manufacturers in the coming years."
I don't know if I'm willing to spend more, but it certainly makes sense that we can reduce the number of external power supply adapters to a handful of compatible units. After all, it's ridiculous to have to utilize so many different connections and voltages when a little engineering and forethought could bring harmony to the low voltage playing field.

Green Plug is one of the major sponsors of the Alliance for Universal Power Supplies conference, to be held at PG&E headquarters in San Francisco on June 13. For more information, visit www.allianceforuniversalpower.org.
Looking Closer at Consumer Attitudes
Green with Age. The older you are (and, perhaps, the more consumer electronics devices you've accumulated), the more concerned you are about waste. Nearly 43 percent of those in the 45-54 age bracket cited waste as their prime concern, against just 18.5 percent of those 18 to 24. By contrast, that youngest demographic is more concerned about cost than any other age group (14 percent). By a wide margin, 41 percent of those in the 25-34 age bracket called the situation "frustrating." Those 18 to 24 are least likely to have thought about the problem (23 percent) or be bothered by it (18 percent).
Affluent Consumers See Waste, Added Costs. Among income groups, those in the highest bracket (with annual incomes greater than $75,000) were most likely to consider the proliferation of power cords as wasteful (36 percent) -- a better than 10 point margin over those with incomes of less than $25,000. Interestingly, nearly 10 percent of those in the highest income bracket cited cost as a concern — a greater number than those in the lowest income group.
For Parents, Incompatibility = Frustration. For households with children, leaving the charger behind is a real issue, trumping concerns about waste and cost. Thirty-four percent of respondents with kids cited the frustration associated with not having the right power cord at hand, against 27 percent of those without children.
Southerners Greener than Most? On a regional basis, those in the South are most concerned about waste (34 percent), while for Midwesterners, frustration ranks first (also at 34 percent). Those in the Northeast and the Midwest are relatively less concerned about waste (27 percent). Southerners are relatively more concerned about cost (10 percent) than those in any other region.
Waste and Frustration on the Job. When employment status is factored in, those working part-time are most likely to consider the situation "wasteful" (39 percent), while 36 percent of those employed full-time cite the "frustration" involved in not having the right charger at the right time. Cost is a relatively bigger issue for the self-employed -- 12 percent, significantly higher than any other bracket other than those working full-time (10 percent).
Now the survey only included 1000 respondents, and judging from the age ranges it may not have been entirely scientific in its targeting, but it does yield some interesting information. I woudl say that it's fairly easy to agree that the ridiculous number of low voltage options could be reduced dramatically - and I'd get behind a sensible move to do just that.

The environmentally ugly status quo inspired Green Plug to organize a "What's Under Your Desk?" photo sweepstakes earlier this spring. The company asked consumers to literally shine a light on the mess of cables that lurks under virtually every desk and capture the scene digitally -- and received hundreds of responses from consumers nodding in agreement. The Green Plug "What's Under Your Desk?" photo posting blog is live through calendar 2008 at http://greenplugcontest.typepad.com.
To demonstrate consumers' desire for change, Green Plug has also launched a national petition drive calling on Washington to support a universal green power standard – a standard that would enable U.S. manufacturers to remain competitive in consumer electronics and save energy while preventing millions of toxic power supplies from being buried at landfills every year (/www.ipetitions.com/petition/Green_Plug/).
The Green Plug/Synovate survey has a margin of error of +/- 3 percent.
gsilas2007 posts on June 02, 2008 20:02
I also agree on the USB cable thing. My new cell phone came without it, and I have to say that I do miss it dearly.
Halon451 posts on June 02, 2008 13:19
kleinwl, post: 419149
Providing a standard MAY help the consumer and the cost of the product manufacturer… but it only helps if everyone does it. Since whomever DOESN'T do it has an advantage over everyone else… it almost certainly guarantees that we will not see a standard anytime soon.
I don't know - the consumer is what drives business in the first place. I'd wager a bet that if some kind of standardization came along that people felt comfortable with, the consumers would naturally gravitate towards products that adhere to said standard, which would in turn leave any company
not
holding to the stadard on the outside looking in. I agree, it would take a very concerted effort amongst many different manufacturer's to achieve this result, and with the number of up to date products on the market today that obviously only adhere to their own design principles (no standard) it will take years even if they agree to do it. All speculation of course…
kleinwl posts on June 02, 2008 12:40
A voltage regulator could be built in, thus allowing for standard voltage… but then you are in the same boat. You have increased your BOM cost and the size of your product… If you have and your competitors haven't then your at a significant disadvantage.

Nahh… a standard power supply (or even several standards) would be nice… but it's very unlikely due to the market forces at work. Providing a standard MAY help the consumer and the cost of the product manufacturer… but it only helps if everyone does it. Since whomever DOESN'T do it has an advantage over everyone else… it almost certainly guarantees that we will not see a standard anytime soon.
Halon451 posts on May 30, 2008 11:00
kleinwl, post: 418247
If people are willing to sacrifice their recharge time/battery life then I think reasonable compromises are possible. Personally though, I would rather have an extra 30min of use and lug around another charger.
I believe this could be negated by proper engineering of the internal components and configuration, even with a standardized voltage. Maybe I'm wrong though… :o
Halon451 posts on May 30, 2008 10:58
Clint DeBoer, post: 418239
I think it's likely that most CE products can use similar current draws and voltages if they are manufactured to a new standard. I'm not saying that's what's best, but there is a fine line between thinking 5V and 6V can't somehow be compromised on…
I would have suggested this as well, however I really don't see it happening anytime soon unfortunately. It would take a long time before the majority of devices in consumers' hands were of the new implemented standard. My question is why didn't this standardization develop in the first place? Some sort of proprietary stronghold amongst the various manufacturers? I agree, I think at the PCB, chip level it would not be a stretch to utilize either 5V or 6V DC - some go as high as 10-12VDC, but why?
Meanwhile we all continue to find creative ways to jam yet one more wall wart into an already packed surge protector…
I'd say, first standardize the V and I requirements on all CE devices - then come out with a self contained modular rail that can supply these standardized values to multiple devices at once, much like a power strip built specifically for low voltage DC devices.
Post Reply