Amphony Introduces Wireless Transmiiter-Amplifier System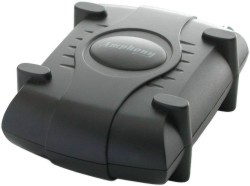 BERLIN, December 17, 2004 - Amphony will unveil at the 2005 Consumer Electronics Show its 5.8 GHz Digital Wireless Audio Transmitter / Amplifiers, Model 1520 and 1550, which are capable of transmitting audio to loudspeakers wireless and without any audio degradation.
"Both wireless amplifiers connect directly to any regular passive loudspeakers, such as the surround speakers within home theater settings and eliminate speaker wires between the DVD player and the speakers," said Gunter Fellbaum, Marketing Director at Amphony.
"Each wireless amplifier receives a 5.8 GHz audio signal that is transmitted in a digital format up to 150 feet away from the transmitter. Our technology provides true CD quality wireless audio at 5.8 GHz without any audio compression and is fully immune to interference from wireless devices using the 2.4 GHz frequency band. To minimize size and heat dissipation, we incorporated digital class-T amplification, which provides the power efficiency of conventional class-D digital amplifiers at a far lower audio distortion. Each wireless amplifier only measures 5 x 3.5 x 2 inches and is easily mountable to a speaker. The Model 1550 is rated at 50-Watts peak output power per channel, 0.005 % audio distortion, 92 dB signal-to-noise ratio and provides a frequency response of 1 Hz to 23 kHz. The Model 1520 is rated at 20-Watts peak output power and 0.03 % audio distortion."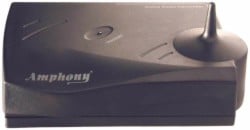 The 5.8 GHz Digital Wireless Audio Transmitter / Amplifier, Model 1520 set includes one stereo audio transmitter, which connects to either a line-level or an amplified speaker audio output and one wireless stereo amplifier. The set has a target street price of $129. The Model 1550 set includes one stereo transmitter and two wireless mono amplifiers and has a target street price of $199. Additional amplifiers can be purchased separately to operate from the initial transmitter.
About Amphony
Headquartered in Berlin, Germany, Amphony is a startup technology company that has become the leading provider of digital wireless headphones and audio transmitter products. Amphony specializes in the development of electronic products and technologies and is serving the consumer as well as the OEM market. In the U.S., Amphony products are sold by Amphony Corp., an affiliated Amphony company. For more information, please contact www.amphony.com .