Amazon Video on Demand in HD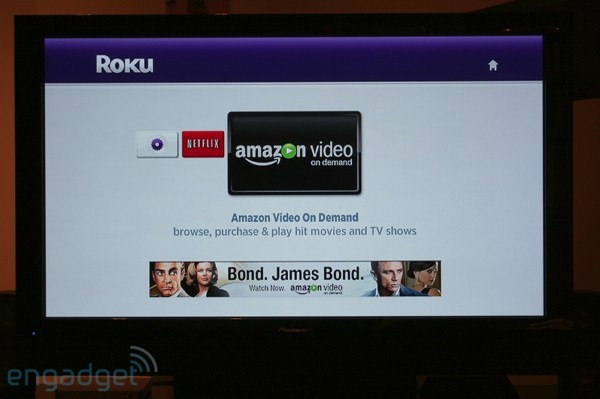 The options for HDTV movie viewing keep growing. Some might say it's been a long time coming but finally Amazon's Video on Demand service is offering some HD movie titles. The service goes out to several consumer devices including IPTV by Panasonic. 
Amazon's VoD service has launched up to 500 TV shows and movies in full HD glory with more to be added shortly. You can rent your Amazon vide HD features through your TiVo HD or Series 3 PVRs, Roku Digital Video Players, Sony Bravia Internet Video Link and those new Panasonic VieraCast IPTVs. HTPC users via Windows or Mac will also get the HD movie treatment via the Amazon.com website. 
No big surprise with pricing. It's a bar that's already been set with HD movie rentals running $3.99 or $4.99 depending on how recent a feature. TV shows purchases will cost $2.99 each. At this time HD movie purchases aren't available. 
Several studios have jumped on board including Warner, Sony Pictures, MGM, Paramount and Universal Pictures. The video resolution depending on your device will be up to 720P. The one drawback is that the audio is only 2.0 stereo. TiVo has said that a majority of titles will playback in Dolby Digital 5.1 sound its boxes. 
While this makes Amazon even more competitive against Netflix, for the fussy seeking movie perfection it's still far from the pristine quality you get from a Blu-ray disc.
See also:
Recent Forum Posts:
alexwakelin posts on April 26, 2009 15:08
HD movies are not currently available for viewing on your computer
I don't understand why so many of these services are only available through a special box which needs to be purchased. I already have netflix, but I would try the service at least once just to see how well it works. Sometimes if I want to watch something and I don't feel like waiting for netflix to deliver it I will still drive down to blockbuster. If I could watch it intsantly in hd, I might go that route, but not if I need to buy a special box that runs ~$100 to $200.
Adam posts on April 25, 2009 15:10
mtrycrafts, post: 558072
…and have 108p…
When your rockin' 108 lines, progressive is the only way to fly.
mtrycrafts posts on April 25, 2009 14:09
repdetect, post: 557580
I'm with you. $5 for second rate picture and bottom of the barrel sound. No thanks.
That is a lot for convenience, for me it is. I can schedule a run to Blockbusters on the way to some other destinations and have 108p and HD sound for the same price
Wayde Robson posts on April 24, 2009 21:00
GlocksRock, post: 557550
Let me know when the content is in 1080p with lossless audio, and no hiccups in the streaming of the playback and offered for a reasonable price, then I might be interested… until then I'm very happy with physical media.
I totally agree with you guys. I didn't want to knock it too hard but, man… Who is saying that downloads are going to be the death of Blu-ray?
Not while a pulse yet rattles in my eardrums is compressed two channel my HT audio of choice.
Phil Taylor posts on April 24, 2009 14:15
Does this Panasonic IPTV rollout include the BD60/80 or just VIERAcast TVs?
Post Reply