Altec Lansing inMotion iM5 Mobile iPod Dock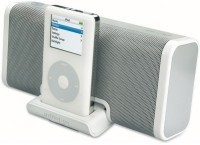 MILFORD, PA - Sept. 28, 2005 - If you and your Apple iPod are inseparable, here's a new way to keep the music playing. Altec Lansing's new inMotion(TM) iM5 is a travel-friendly mobile audio dock that adds out-loud listening powers to your iPod anywhere from your bedroom to your hotel room. You get big sound with special bass enhancement in a package small enough to tuck in a backpack or suitcase, plus a variety of updates to the original inMotion product that ranks as one of the best-selling accessories of the iPod economy.
The iM5 is a sleek pencil box-shaped unit with a striking new design dominated by a silver grille trimmed in iPod white. The mesh of the grille conceals a pair of specially engineered speakers, while a small white rectangle on the front of the case hides a docking station that slides in and out like a drawer. Push a button, and the iPod dock glides open to accept any dockable iPod or iPod mini; close the "drawer," and you have a flat surface for easy packing.
The speakers contain four full-range micro drivers powered by a highly efficient Class D amplifier, plus patented MaxxBass(R) technology that enhances the low frequencies without the need for a subwoofer. The system serves up rich, full-bodied sound that fills the room, and it automatically syncs and recharges the docked iPod when plugged into an AC power source.
Special features include:
Video connectivity for the iPod photo through a composite video output jack on the rear of the unit, allowing users to display their iPod photo albums on almost any television or supported projector while running background music through the iM5's high-quality sound system. The iM5 is the first inMotion travel model with this video pass-through capability.
The option to plug in a subwoofer through a subwoofer output connection on the back of the unit, for times when you want your favorite bass tracks to be loud enough to rattle the room. This is also an inMotion first.
AC or battery power, offering up to 24 hours of battery operation for complete mobility when no electrical outlet is available.
Connectivity to other devices through an auxiliary input port on the back of the unit, allowing use of the iM5 to enhance the audio from non-dockable iPods or other MP3 players, CD players, portable DVD players, laptops, TVs or VCRs. A headphone jack is also included for private listening.
Deluxe carry bag that includes four cushioned compartments for the iM5, the user's iPod, and the power supply and international plug set that come with the system. The bag, newly designed for the iM5, also includes a wrist strap for easy transport.
The iM5 also includes a shock-resistant frame built to withstand the bumps and bruises of on-the-go use.
Quick Specs
Advanced Class D amplifier for maximum power and more than 24 hours of battery life (4 AA batteries not included)
MaxxBass® technology for quality bass without a subwoofer
Built-in iPod docking station for data transfer and iPod recharge
Compact design folds to close for convenient mobility
Weight: 20 ounces (570 g)
Dimensions: Folds to close at 8.4" wide, 2.1" deep, and 3.8" high (213mm x 54mm x 96mm)
Input jack for second device connection, including CD & DVD players
Pricing and Availability
The inMotion iM5 Mobile Audio Dock is available now in consumer electronic stores and at http://www.alteclansing.com at an MSRP of $149.95. It weighs 20 ounces, measures just 3.8" x 8.4" x 2.1", and works with all dockable iPods including third-generation players with touch wheels and buttons, fourth-generation units with click wheels, the iPod mini, the iPod photo and the iPod Nano.
Each package includes a power supply with an international plug set, a 3.5 mm stereo cable for connecting other audio devices, and a protective carry bag. Four AA batteries (not included) are required for battery operation. More information is available at http://www.alteclansing.com .
About Altec Lansing Technologies, Inc.
Altec Lansing Technologies, Inc., has a rich legacy of blending art and science to stir the soul with high quality consumer and professional speaker systems. The market leader in Powered Audio(TM) Systems, Altec Lansing designs, manufactures and markets a wide range of computer and home entertainment sound systems and a line of headsets and headphones. The company's Professional division builds on the storied Altec Lansing name among sound system specifiers, contractors and installers in the fixed installation market. Headquartered in Milford, PA USA and privately held, Altec Lansing also has offices in Oklahoma City OK, Luxembourg, and Hong Kong. In addition, Altec Lansing has an ISO 9002 and SA8000 certified manufacturing facility in The People's Republic of China. The company employs about 1,500 people worldwide.