ADL GT40 USB DAC by Furutech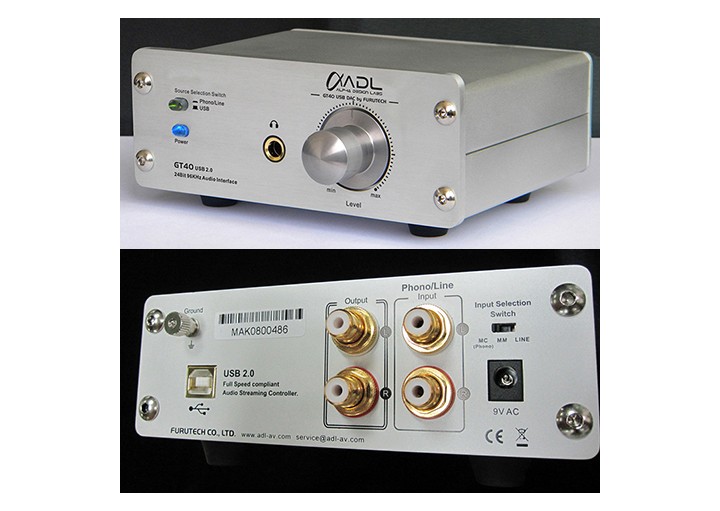 ADL GT40 24-96 USB DAC by Furutech
Furutech Co., Ltd., manufacturer of analog and digital audio and video cable plus a wide range of accessories, is debuting the ADL (Alpha Design Labs) DAC/Analogue Recorder. This is designed to be a high-quality product built to Furutech's Pure Transmission standards. ADL's first product release is the long-awaited GT40 24/96 USB DAC/Analog Recorder, which is now shipping (Editor's Note: No pricing info was available at time of release).
The ADL GT40 24/96 USB DAC/Analog Recorder
The designed in-house GT40 – stylish and compact – self-installs and dramatically improves computer-based audio from both speakers and headphones. It's designed for those with growing music collections on their computer hard drives that want (need!) High End sound and an easy way to archive LPs or other analog sources, a first in its product class.
The GT40 records vinyl and other analog sources at 16/44.1 or 24/96 using its bidirectional USB connection and switchable Line, Phono MM/MC analog inputs, plus it features L/R analog outputs, a separate headphone amplifier, gold-plated Teflon-insulated RCA jacks in a high-quality aluminum chassis with a beautifully machined volume knob. CD Redbook 16/44.1 and especially 24/96 files reveal a vivid, captivating sound unheard of at this price… wired with Furutech's Formula 2 USB cable of course!
GT40 Sound
The GT40 brings High End sound to your system in the following way: Recall any visit to a fellow audio enthusiast's home. As music plays you can immediately hear if the sound "sets up" in an audiophile way: A sense of spaciousness, imaging, out-of-the-speaker sound, open highs and an inviting midrange over tight bass. The ADL GT40 brings Furutech's signature sound of smooth, wideband, detailed clarity to desktop systems, especially with high resolution 24-bit/96kHz files, but music at 16/44.1 also sounds much improved. Your first impression will be that you've never experienced compute files sound so open!
GT40 Power Train
The heavily-shielded audiophile-grade GT40 features a trusted low-latency USB 2.0 ASIO audio driver* that plays and records up to 96kHz. It's completely plug-and-play; the operating system installs the GT40 as soon as the USB connection is made. While completely USB powered device might be convenient it simply won't develop the power required for high-resolution playback, so the GT40 sports an external supply to remedy the issue.
*Per an email from Graeme Coley of Furutech on 3/27/2013, the GT40 production units are actually not ASIO-compatible.
Just under six inches wide and two-and-a-quarter high means the GT40 USB DAC/Analog Recorder is easy to place and enjoy.
GT40 Specifications
Connectivity: USB B Connector Analog input/output RCA jack Digital Input/output RCA jack

USB Playback Resolution: 24-bits / 96kHz

USB Recording Resolution: 32kHz / 44.1kHz / 48kHz / 96kHz

Frequency response: 20Hz ~ 20kHz (40Hz: +0.5 dB, 15kHz: -0.5dB)

S/N ratio: -90dB (A-weighted)

Line Output Level: 1V RMS

Line Input Level: MC 0.4mV/MM 5mV/Line 1V

Phono Input Impedance: 47kOhms MM/MC

MC input to LINE output: [email protected] Hz plus 6dB Line level gain

MM input to LINE output: [email protected] Hz plus 6dB Line level gain

Maximum input level MC: 0.4mV RMS

Maximum input level MM: 5.0mV RMS

Maximum input level Line: 1V RMS @ 1K Hz

Recommended headphones impedance: 16 to 300 ohm

Maximum headphone power: 80mW / 32Ω

Power: External AC Adaptor

Dimensions: 150mm/5.9" (W) x 111mm/4.4" (D) x 57mm/2.25" (H)

Weight: 785g / 1.5lb

About Alpha Design Labs
Furutech is justifiably proud of its reputation for engineering, build quality and performance. ADL was created by Furutech to imbue its Pure Transmission Technology into carefully engineered innovative designs that everyone can afford for creating high-level computer-based sound. ADL components are made with the same dedication to total resonance control and refinement as all of Furutech's many cables and accessories.
About Furutech
About Furutech Furutech makes a wide variety of high performance 15A and 20A A/V cable and power connectors and parts, as well as distribution/filtering products including the 120Hz standard xv1.3 HDMI cable, GT2 USB 2.0 and GT3 USB 3.0 cables, Ag-12 Silver Tonearm Cable, The Silver Arrows Tonearm Cable, La Source Headshell Wires, Monza LP Stabilizer Weight, the new Lineflux and Evolution II series, Pure Power 6, e-TP4+4, e-TP609, e-TP615 and e-TP60 Power Distributors, and e-TP80 Power Filters, deMag Disc and Cable Demagnetizer, PC-2 Disc Pure Cleaner, and their own very special NANO Liquid Contact Enhancer, plus even more fine cable and OEM products.
Recent Forum Posts: