Acer Introduces New DLP Projectors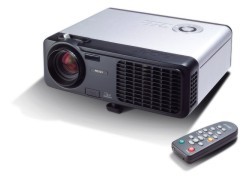 SAN JOSE, Calif. - May 9, 2005 - Acer America Corporation, one of the leading worldwide suppliers of IT solutions, today announced a new range of portable projection systems for SOHO and SMB environments. The new PD116P and PD525 digital projectors are based on DLP technology that delivers fantastic brightness and picture quality from lightweight, compact units, satisfying the needs of professional users everywhere. Easy to set up and operate, the Acer PD525 and PD116P are superb presentation tools for conference and meeting rooms as well as classrooms. Acer video projectors, which began shipping in other regions in early 2004, are renowned for their innovative technology, reliability and elegant design.
The Acer PD525 digital projector is a large screen XGA display solution delivering increased brightness, portability and high contrast ratio for the ultimate performance supporting the demands of the SOHO and SMB markets. Powered by DLP technology, the PD525 provides crisp data presentations and/or action-packed entertainment on the big screen in the comfort of your own home. With high brightness level of 2600 ANSI lumens and a contrast ratio of 2000:1, the Acer PD525 produces more consistent color imaging and crisper images over a longer period of time than competing technologies.
Featuring full compatibility with the latest digital equipment, plus integrated PiP (Picture in Picture) technology allowing multiple windows to be projected simultaneously on screen via different video sources, the Acer PD525 keeps total cost of ownership to a minimum, and dynamic visual impact to a maximum. Engineered within an elegant design to perfectly compliment a professional image, the PD525 design also compliments the latest range of Acer notebook solutions.
The Acer PD116P projector features an integrated innovative digital mirroring chipset which provides an optimized high contrast ratio of 2000:1 and integrated technology to deliver 2,100 ANSI lumens from a compact and robust chassis. The Acer PD116P also incorporates a range of connection possibilities including PlayStation, VHS, DVD, PC and TV tuners, allowing users to rapidly transform workable or standard presentations into an entertaining communication experience. Complete with a full set of easy-to-use functions including keystone correction, auto-focus and auto-synchronization, the whisper-quiet Acer PD116P projector is ideal for quick and effective presentations, allowing the audience to sit back and to focus on the bright results or be entertained without distraction.
All Acer digital projectors can work with 4:3 or 16:9 ratios to adapt to all presentation and entertainment needs.
Features of the PD525 Include:
DLP for smoother images and higher contrast.
2600 ANSI lumens
2000:1 contrast ratio
XGA (1024 x 768) resolution with 16.7 million colors.
3.0W Speaker
Remote control w/ laser pointer
Features of the PD116P Include:
DLP for smoother images and higher contrast.
2600 ANSI lumens
2000:1 contrast ratio
SVGA (800 x 600) resolution with 16.7 million colors.
3.0W Speaker
Remote control w/laser pointer
Pricing and Availability
Both systems are available immediately with pricing set for the Acer PD116P at $849 while the PD525 is priced at $1249.
Service and Support
The Acer PD116P and PD525 come with a standard one-year parts and labor limited warranty. Light bulbs in both systems are backed by a limited 90 day warranty. Additionally, all Acer projectors are backed by toll-free service and support. Online support is available at www.acersupport.com .
About Acer America Corporation
Established in 1984 as a subsidiary of Acer Inc., Acer America Corporation designs and markets client and server solutions for professionals who require reliability, enhanced productivity and greater value of ownership. Acer ranks among the world's top five branded PC vendors, designing and marketing easy, dependable IT solutions that empower people to reach their goals and enhance their lives. In 2000, Acer spun-off its manufacturing operation to focus on globally marketing its brand-name products: desktop and mobile PCs, servers and storage, displays, peripherals, and e-business solutions for business, government, education, and home users. Established in 1976, Acer Inc. employs 5,600 people supporting dealers and distributors in more than 100 countries. Estimated revenues for 2004 were US$7 billion. For more information about Acer America, please visit the website at: www.acer.com/us .