Accell Releases ProUltra HDMI Swivel Cables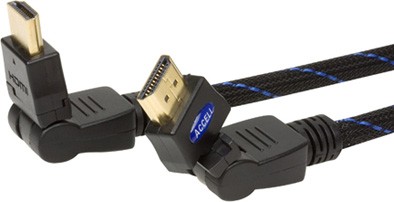 Accell ProUltra HDMI Swivel Cable with Ethernet
Accell announced a new ProUltra Supreme High Speed HDMI Swivel Cable with Ethernet. The new HDMI swivel cable is designed to eliminate signal degradation for improved audio and video reproduction, and features a patented swivel design on each connector that rotates both 180 degrees vertically and horizontally, making it ideal for use in hard-to-reach areas. The ProUltra Supreme High Speed HDMI Swivel Cable provides a data transfer rate of up to 10.2 Gbps and is ATC certified to be fully compliant to the High Speed HDMI specification. The swivel design reduces the length of the connector by up to half as compared to a typical HDMI cable.
Accell's ProUltra Supreme High Speed HDMI Swivel Cable with Ethernet features the following:
Two 180 degree swivel points

Up to 10.2 Gbps throughput for full support of 3D video

Supports all resolutions, including 1080p and 4Kx2K

Integrated Ethernet and Audio Return Channels

Supports Deep Color and x.v.Color technologies

Passes both DTS-HD or Dolby True-HD 7.1 digital audio

Designed in an UltraFlex jacket, the high-performance HDMI swivel cable provides increased cable protection. The cable features HDMI connectors with thick 24K gold-plating for a corrosion resistant connection. Available in lengths of 1m, 2m and 3m, Accell's ProUltra Supreme High Speed HDMI Swivel Cable with Ethernet will be available with an MSRP starting at $32.99.
For more information, please visit www.accellcables.com.
About Accell
Accell Corporation is focused on the design, manufacture and delivery of affordable, high quality accessories for the audio/video, mobile device and computer markets.  Accell produces high quality and innovative products by combining the low cost benefits of a global manufacturer and the design capabilities of a Silicon Valley based engineering and marketing team.  Accell is a member of CEDIA and CEA.
Alain Singapore posts on November 10, 2010 10:04
Just got one of those cables this afternoon. I have a HDMI Blue Jean cable coming out of the wall. It has too issues. First it is slightly too short to match the range of the Sanus mount and second it so stiff that the TV cannot retract flush to the wall. The swiveling part is very convienient and fit the back of my Sony TV perfectly. The cable is very flexible and does not interfer with the motion of the mount. I needed a female/female addaptor in between. I tested it up to 1080i with flying colors. Happy
j_garcia posts on November 09, 2010 13:13
Very cool.
caper26 posts on November 09, 2010 12:32
sweet. I actually had a HDMI (in wall rated) cable break on me because of the weight. I ended up with a free replacement (monoprice), and bought a swivel accessory. Good to see this encorporated into one unit. I am a fan.
Post Reply