4i Concepts Announces 4iThumbs2 Keypad Overlay for iPhone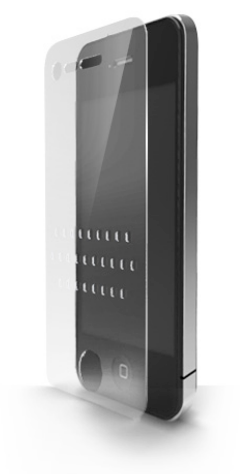 4i Concepts 4iThumbs2 Keypad Overlay for iPhone
4i Concepts, New-York based developer of unique iDevice accessories, will begin shipping the 4iThumbs2 this week, the only ridged overlay screen designed to guide typing on the iPhone.
Debuted at the Consumer Electronics Show in Las Vegas in January, the 4iThumbs2 is an invisible, removable screen that slips onto the face of the iPhone protecting the screen while providing tactile feedback similar to a QWERTY keypad. Compatible with the iPod Touch, and iPhones 3G/S and 4, 4iThumbs2 is available in both landscape and portrait versions, easily removed and stored on the back of the phone when not in use.
"In light of Verizon's recent announcement to start carrying the iPhone 4, we believe the 4iThumbs2 serves a growing niche in the smartphone market – customers who prefer typing on an actual keypad. As the only tactile ridged screen for the iPhone, 4iThumbs2 is sort of like training wheels for new iPhone users, making their transition to a touch screen comfortable and easy."
- Jerry Rosengarten, Founder of 4i Concepts
The 4iThumbs2 will be available on 4iconcepts.com with just the keypad (4iThumbs2, $12.95) or with a bumper compatible with the iPhone 4 to securely hold the keypad in place (4iThumbs2+, $24.95).
About 4i Concepts
Founded in 2009, 4i Concepts pioneers innovative accessories that maximize the functionality and user experience of Apple products. 4i Concept's product line includes 4iThumbs2, the only tactile ridged screen to guide typing on the iPhone, 4iTorq, a luxurious, jewelry-quality wristband for the iPod Nano, and 4iStrap, a stylish, multi-function elastic band designed to improve versatility when using the iPad.