Want 3D Without the Glasses? Just Blink Real Fast!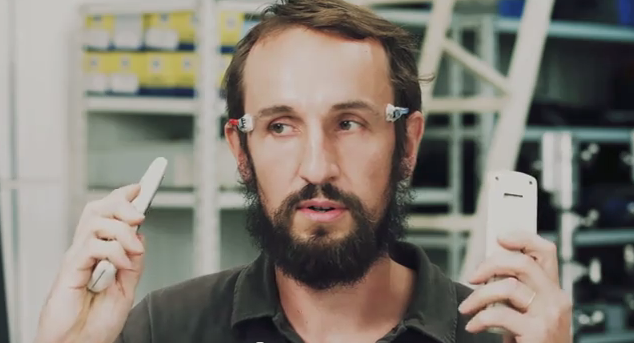 3D Without Glasses - Just Blink Really Fast!
OK, so some of you love 3D and hate it... but I think we can all agree that no matter how bulky glasses are or aren't, they are much preferred to hooking up electrodes to your head and forcing your eyes to flutter at 60 cycles per second... at least that's what I would hope you would say. In this YouTube video Jonathan Post showcases his new invention: a system that allows you to watch 3D TV without "glasses". He puts two small devices on the sides of his head, presumably electrodes with some kind of power supply - similar to those exercise electrodes used to cause small muscle spasms on purpose. The supposed electrodes than cause his eyes to blink in rapid succession, timed perfectly to the required frequency (we'd guess 60Hz) of the television. The big overhanging question of course, is whether or not this guy is simply a master blinker, or if this is truly the worst invention of 2011 - watch it and judge for yourselves...
Honestly, we don't whether to laugh or cry that there is a guy who would think, even for a second, that people will connect electrodes up to their head in order to watch 3D - or that people would trade one inconvenient apparatus for another. It's beyond stupid - but still entertaining video.
digicidal posts on February 11, 2011 01:16
I cannot put into words my hope that this catches on.
.
.
.
.
.
Because just watching this one guy made me LOL for nearly a full minute… and I think seeing my friends all gathered on the sofa looking like a choir of epilleptics at a rave would truly make my life complete.
morrone posts on February 10, 2011 17:37
Haha!

It isn't April 1st…artivle listed under "Industry news"…written pretty seriously…

I think you've fallen for the joke.
cwall99 posts on February 10, 2011 10:49
GranteedEV, post: 790904
Ahahahahhaah… poor fella looked like we was having a siezure.
He probably did … as soon as they stopped the camera.
Kennydee posts on February 09, 2011 22:08
TOO FUNNY!!! b.. b.. b.. but this must be a joke right? Right?!?!?!

Nahhhh… must be a joke.
gmichael posts on February 09, 2011 16:38
I think I'll pass.
Post Reply