3D TV Set Top Conversion Box Launched by DDD Group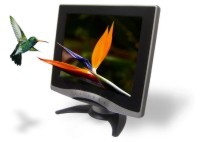 SANTA MONICA, CA - Oct. 18, 2005 - DDD Group plc, the 3D software and content company, today announces the introduction of the TriDef(R) Vision+ 3D set top box ('Vision+'). Vision+ automatically converts most popular consumer video formats to 3D as they are watched, allowing any broadcast, DVD and videocassette content to be presented in 3D on the latest 3D displays and projection systems.
The delivery of the Vision+ set top box represents the final milestone in a GBP 140,000 development agreement with Arisawa Manufacturing Co., Ltd. ('Arisawa'), announced in late 2004. By combining the real time 3D conversion capabilities of the Vision+ with the large 30" 3D LCD displays developed by Arisawa's optoelectronics division, Arisawa and DDD have delivered an efficient and effective solution for mass-market 3D television.
Using Arisawa's innovative 3D optics, the flat screen 3D televisions are capable of displaying conventional 2D pictures as well as 3D. When the viewer decides to watch in 3D, they simply activate the Vision+ set top box using their remote control and put on a pair of 3D glasses. The system then delivers 3D images from any viewing position in the living room with the same clarity and quality as the latest 3D digital cinemas.

In addition to the real time conversion feature, the Vision+ also supports the playback of specially made 3D movies. This yields an important in-home distribution channel for the latest generation of Hollywood 3D movies that are in production for the new 3D digital cinemas that are presently being opened around the United States.
The Vision+ is compatible with DVD, video and broadcast standards used in the United States, Japan and Europe. Vision+ also supports twin projectors allowing it to be used in trade show and professional/educational venues where big screen 3D is required for large audiences.
Both Arisawa and DDD are now actively engaged in presentations and discussions with leading flat screen display manufacturers with the goal of licensing the combined solution for mass-market 3D television.
"Vision+ represents another substantial achievement for our company," said Chris Yewdall, Chief Executive of DDD. "DDD's real time 3D conversion solutions have been instrumental in our recent agreements for PC and mobile telephone solutions while Vision+ now allows us to expand the 3D viewing experience into more popular consumer products including 3D flat screen television. We are very pleased with the visual quality that we have achieved in conjunction with Arisawa and we are now jointly focused on securing mass market licensees for our combined solution."
"We are excited by the recent reaction to the combined Arisawa/DDD 3D television solution," said Dr. Sanji Arisawa, President and Chief Executive Officer of Arisawa. "We are seeing increasing interest in consumer 3D television and we expect that this easy to use solution will demonstrate that the television market is now within reach for our prospective licensees."
About DDD
DDD, also known as Dynamic Digital Depth, is transforming the viewing experience with applications for glasses-free 3D displays. Its patented technologies enable 3D viewing without glasses; simple integration of computer graphics applications with 3D displays; supply of 3D content through 2D to 3D conversion; and 3D transmission over existing networks. DDD is quoted on the London Stock Exchange's Alternative Investment Market (AIM:DDD).
A new category of flat screen LCD and plasma displays are being developed and marketed by major consumer electronics companies that provide stereoscopic 3D images without the need for the viewer to wear glasses. Stereoscopic 3D images appear to have natural in and off-screen depth. 3D displays have already been included with mobile telephones in Japan and in desktop PC displays and notebook computers in North America and Japan.
In July 2005, DDD announced a two-year license agreement to integrate its DDD Mobile(TM) real time 3D conversion software with a 3D mobile telephone handset for one of the world's top five handset manufacturers.
In March 2005, DDD announced that it had extended the three-year license agreement with Sharp Corporation to include the TriDef DVD Player real time 3D conversion software with Sharp's latest Actius AL3D 3D notebook PC.
DDD's solutions provide an important bridge between conventional two dimensional (2D) applications and content and the new 3D displays. Normal 2D pictures, video and computer graphics images are manipulated by DDD's patented software enabling them to be displayed on 3D displays without requiring the content to be created specially for a 3D display. DDD offers automatic and operator guided 3D conversion solutions.
DDD licenses these software applications, marketed under the TriDef(R) and DDD Mobile (TM) brand names, to manufacturers for inclusion with the 3D display products supplied to end users. DDD also licenses the software directly to end users who already own 3D displays and through an international sales channel.
In July 2005, DDD announced a partnership with Jamster! International Sarl to convert Jamster's popular mobile phone content library to 3D for distribution to owners of 3D mobile phones.
DDD is currently expanding the product range to allow its content solutions to be used on future 3D display products including 3D digital cinema.
More information is available at www.DDD.com .
About Arisawa
Arisawa is a materials company with three divisions specializing in electrical insulating materials and industrial structure materials, electronics related materials and products and optoelectronics related material and products. Arisawa's optoelectronics division has been involved in the design and development of 3D optical materials and 3D displays since 1997. Founded in 1909, Arisawa has been listed on the Tokyo Stock Exchange since 1961. For the fiscal year ended 31 March 2005, turnover and operating income amounted to approximately GBP 288 million and GBP 49 million, respectively. More information can be found at http://www.arisawa.co.jp/en/index.html .
TriDef and DDD Mobile are trademarks of DDD Group plc. All other trademarks mentioned herein are the property of their respective owners. ARISAWA is a registered trademark of Arisawa Manufacturing Co., Ltd. All other trademarks mentioned herein are the property of their respective owners.