Is 2012 the Year of Super-Thin OLED Displays?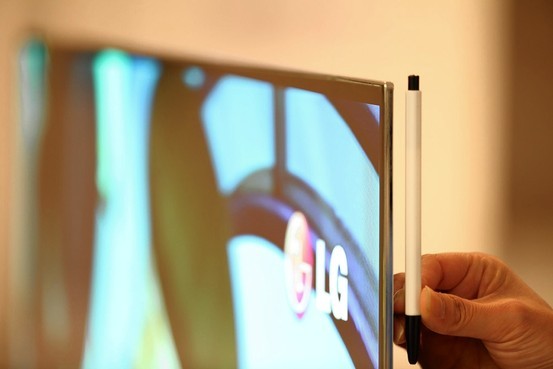 LGs Pencil-thin 55-inch OLED Display
It's no secret that televisions have extremely low profit margins. In fact, there seems to be very little differential between models as more and more products acquire similar features and move towards a convergence of thin, 3D, streaming media-centric devices. But what if there were a way to "apple-ize" the TV industry? What if OLED were finally to become a reality this year and television manufacturers were able to get a new technology to market that was both appealing and beneficial?
That seems to be happening - at least if reports are to be believed about LG Electronics and its pending 55-inch television that will measure a scant 3/16" thick and weigh just 16-1/2 pounds. That's pencil thin. And they're not alone. Samsung is making similar claims and both companies intend to announce - ANNOUNCE, mind you, not just show a proof of concept, OLED TVs this year at the CES Expo in Vegas. That's less than two weeks away. OLED isn't new to Samsung as the company is currently the largest OLED screen manufacturer and they put the technology into cellphones as well as their 7.7-inch Galaxy Tab AMOLED tablet.
Will it happen? We'll have to wait and see, but the advantages of OLED screens isn't just that they're thinner (which they most certainly are) but that they offer new advantages over LED like further dramatic power reduction, better black levels and a manufacturing process that could spell the beginning of an incredible wave of flat screens that could one day be printed using inkjet printers.
We don't believe OLED in and of itself will compel anyone to shell out the expected premium price for a 55-inch set, but the start of OLED production means that the technology will, as always, make its way to the early adopters first and then gradually get more affordable over time. After all, wasn't it only a decade ago that flat panel TVs cost $20,000? How fast might they drop? NPD DisplaySearch estimates $8000 as the starting price of the new LG 55" TVs which should hit the market around Q3 2012. By 2013, however, they expect the price to fall by half as volume increases and manufacturing costs drop accordingly.
Editor's Note: What's the Big Deal with OLED?
OLED screen work, presently, by using organic material that emits red green and blue onto a substrate through a fine metal mask. There is one mask used for each color and LG lines up the colors in a vertical pattern that is so dense it appears as a single pixel. As with LCD screens, a filter is then used to separate the color.

LG and Samsung have finally figured out the issue of getting the technology to work on a larger screen. Samsung's solution is more akin to how it does LCD now, but with a few adjustments to accommodate the requirements of OLED. With the absence of a backlight, displays get thinner and there is a step-up in efficiency since you don't need to allocate power to another system which solely produces light. OLED also has the potential to be brighter than LCD and also produce deeper blacks with natural per-pixel contrast (similar to plasma TVs) that far exceeds what's possible with a backlighting system today.
One thing is for sure: 3D televisions are not the draw manufactures thought they would be. Receiving the "ho-hum" award for 2011, 3D TVs captured only 8% of sales in North America. If you've ever seen a 3D TV in its glory, you'll understand why. They cost more and you're likely to only use the 3D every once in a great while. Any more and you're going to risk giving yourself a headache, or worse.
OLED is already used for screens in cellphones and car radios, but the challenge has always been getting the color right - a problem which seems to be solved sufficiently enough to begin the next phase of manufacturing for larger screens. SINCE OLED is also self-emissive, it doesn't require a backlight, which is the reason it can be so much thinner and require so much less power than LED or CCFL-based technology. Sony's experiment with OLED bombed fantastically a couple years ago and they have since abandoned it in 2010. It was too soon, too small, and too expensive.
Can LG and Samsung bring OLED to market? We'll have to see, but it looks promising. Very promising.
wiyosaya posts on January 10, 2012 09:49
One last post and I'll be quiet.
Samsung has announced their 55" OLED set
(warning, the link is full of marketing blather that is hopefully true ) and
it is set to go on sale in Q2 or Q3 of 2012
. No pricing details yet.
IMHO, this is good news. Hopefully, the competition between LG and Samsung will serve to bring prices down. I am not, however, counting on the price coming down to current 55" LCD / Plasma prices in the near term even though that would be nice.
wiyosaya posts on January 09, 2012 17:06
j_garcia, post: 856229
The Flexible one is actually the type of technology I bought the stock in because I thought it was a great idea.

SED was another technology that didn't go anywhere really once Cannon dropped it.
Flexible seems to have come a long way since then. It is unfortunate that your venture did not work out. Personally, I think it is still a great idea. People intent on the "thin" thing would probably like it as some current flexible OLED displays are about 1/4 of a millimeter thick.
I had my eye on SED for quite a while. The IP dispute behind it's demise is unfortunate. Poor decision on the part of the company who owned SED IP, IMHO.
j_garcia posts on January 09, 2012 15:57
The Flexible one is actually the type of technology I bought the stock in because I thought it was a great idea.

SED was another technology that didn't go anywhere really once Cannon dropped it.
wiyosaya posts on January 09, 2012 14:59
j_garcia, post: 856163
I agree, if it takes off, it will likely be adopted faster than LCD. LCD has been around for something like 30 years already though, and nearly all of the advancements in that technology are relatively recent in terms of its lifespan.
I am not so sure it is an IF as opposed to a "when". LG is certainly going through the motions to produce consumer OLED TVs - though they have not released yet as we all know.
Samsung has been talking OLED for a few years now; they were originally targeting 2014 - if I am not mistaken. LGs OLED activity may be forcing Samsung to market sooner.
Panasonic has announced that it is getting back into the business and
has ordered equipment for a gen 8.5 production plant
.
Flexible OLEDs are another application of the technology that is coming close to commercialization
.
As far as what I am aware of, the only thing on the table that might be considered a next-gen technology beyond OLED are
Quantum Dot OLED TVs
.
Certainly, neither of us can say what will happen in the future. I'll bet that display technology will be exciting the next few years.
BoredSysAdmin posts on January 09, 2012 14:54
Post Reply