2010 Mobile World Congress; Software over Bling

Barcelona, Spain was host to the 2010 Mobile World Congress (MWC) last week. MWC is like CES for cell phones – or mobile devices as they prefer to be called these days. This year's event carried the stamp of a tough 2009 for the tech industry, there were fewer announcements of flashy new hardware. But MWC 2010 demonstrated some big ambitions for the future. 
New mobile operating systems were it this year with key announcements from Microsoft, Samsung and a powerful collaboration between Nokia and Intel. Perhaps mobile tech pulled back in '09, taking time to circle the wagons and come up with plans for the future. This seems wise considering many companies just didn't have the resources to put into developing new hardware that can stream a piping hot bacon and egg breakfast through a GSM Internet connection. 
Samsung; naïve or optimistic? 
The Korean electronics giant presented a sophisticated new touch-screen handset called Wave. You could call it an iPhone competitor or - cough…cough…clone. But it's not just Apple's hardware Samsung is trying to emulate, it's Apple's mobile market eco-system.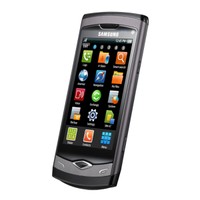 When the Samsung's Wave splashes down in coming months, it'll run on the company's brand new operating system: Bada (Korean for ocean). You can add Bada to the growing list of mobile operating systems vying for your attention. But Sumsung isn't stopping at the OS. Through Bada, Samsung wants to compete in the mobile apps business. 
Taking on iTunes will be no small feat. Even Microsoft has had to relent in its quest to topple iTunes. Does anyone even remember PlaysForSure aka DRM 10? Great, we're not looking forward to another app store or another brand-name DRM to complicate the simple concept of who owns your purchased media.
It's easy to criticize Samsung's efforts to take a bite out of Apple's market. But Wave, Bada's flagship device shows promise. It sports a 1GHz processor that can push pixels across its high res, 3.3-inch screen like an unwelcomed step-child. Its AMOLED video screen has an amazing display resolution of 800x480. That's about the equivalent to standard definition video on a 3.3-inch screen! 
AMOLED (Active Matrix OLED) may be the foreseeable future for OLED display technology. The relatively new form of display consumes far less power than even standard OLED. This makes it perfect for battery operated mobile devices. 
Samsung Wave captures video at 720P HD-lite resolution, a rare feature in a digital camera let alone a cell phone. HD video decoding options include Xvid and Divx at 720P. Its digital camera is 5 Megapixel and includes 2GB of internal memory but also has a microSD slot for easy storage upgrade. 
Moblin and Maemo unite 
In keeping with the mobile operating system theme of this year's MWC, Nokia and Intel introduced MeeGo. The two companies have merged their Linux based Operating Systems, Intel's Moblin and Maemo by Nokia, into a one – MeeGo (not to be confused with the short-lived late-90s sci-fi TV show, Meego.) 
Between Nokia and Intel there is a lot of clout to build a new mobile device platform. But there is also considerable competition from Apple, Blackberry, Microsoft, Google and now Samsung. But if existing (Intel) Moblin-based devices are any evidence of what to expect, MeeGo might find a niche in Netbooks and the up-and-coming Tablet form factor rather than Smartphones. 
Microsoft Windows Phone 7 
Microsoft's new PC OS, Windows 7 needed a new mobile companion. At least that's what the folks at Redmond, Washington believe. Based on how well current iterations of Windows Mobile stack up against the competition, an upgrade certainly couldn't hurt – to put it politely, Win-Mo has been showing its age.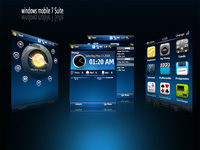 Stand back! Windows 7 is slick, fast and stable – and now it's mobile! Windows Phone 7 was introduced at MWC and has earned considerable buzz in mobile media circles. 
Windows Phone 7 is essentially the latest version of Windows Mobile. But Microsoft needs more than just a new version of its failing mobile OS. Windows Mobile has been losing ground to the likes of Apple, Blackberry and newcomer Android. Analysts have put the market-hit Microsoft took in the last year at 13%, that's considerable loss to the competition. So, Microsoft has put the future of its mobile market share on the line for Windows Phone 7. 
Microsoft says its Win-Phone 7 team collaborated with the team responsible for the critically acclaimed Zune HD, to create a complete redesign of the Windows Mobile experience. It's too early to tell, but anyone attending Microsoft's demonstration of its new mobile OS has provided positive feedback. 
It seems the new Windows addresses a lot of new consumer demand for social media apps and integration. Some say Microsoft is finally "getting it" by including slick, quick-launch apps to online entities that aren't their own. Microsoft CEO Steve Ballmer demonstrated real-time integration between Microsoft Office and the usual suspects in social media - including Facebook, Flickr and Twitter and of course Microsoft's own Bing. 
But the biggest challenge for Microsoft will be to rope-in the social and media-hungry consumer market without alienating the corporate needs of its Enterprise users. 
What's in it for an Audioholic like you? 
We're still a long way from putting a digital audio/video source into your pocket that stacks up to your Oppo universal disc player. This year's MWC was about software and operating system announcements. Since there weren't a lot of new hardware devices being launched this year, there aren't a lot of exciting new mobile-media products to prepare for in 2010. 
It'll be interesting to see how Microsoft and Windows Phone 7 evolves and integrates with Media Center for desktop PCs. Zune HD is a fine pedigree from which to build a rich, media-based mobile platform. But I'm still looking forward to a near-future when I can stream 720P video and multi-channel audio from a cell phone to a home theater system.
Recent Forum Posts: