17" Widescreen LCD Monitors from Westinghouse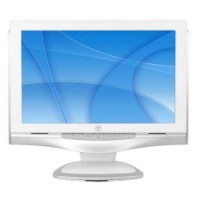 CITY OF INDUSTRY, CA - June 23, 2005 - Westinghouse Digital Electronics, a leading North American LCD TV and monitor provider, today announced the availability of its 17-inch wide LCD monitor, offering a product that moves monitors into convergence with consumer electronics.
Westinghouse Digital is bringing its flat panel TV experience into the computer monitor industry with the introduction of the 17-inch-wide, highly stylized monitor, featuring a clean white chassis with silver trim. The new LCD HD-Grade(TM)(a) monitor has the ability to allow consumers to use one product to meet their needs, including desktop work on spreadsheets, drafting e-mails, surfing the Internet, watching DVD movies or TV (when used with a PC), playing HD-video games and more.
"Our new HD-Grade 17-inch monitor offers faster response times, wider viewing angles, brighter images and higher contrast ratios compared to the typical computer monitor," said Douglas Woo, president of Westinghouse Digital Electronics. "Westinghouse Digital will continue to shape the LCD industry by introducing innovative products that meet consumers' demands for style, function and affordability."
The 17-inch-wide monitor represents the latest in contemporary electronics stylizing and is ideal for use in the kitchen, bedroom and home office. Consumers can watch DVD movies and HDTV on the computer monitor with a 16:9 screen or take advantage of the screen's wide display by playing HD-video games. The monitor is quite versatile because users can easily view documents and multitask on another project because the screen size allows for many windows to be open and read simultaneously. Having an LCD, flat-panel saves valuable desk space and provides the clearest and truest picture.
Westinghouse Digital LCD monitors offer increased resolution, brightness and contrast ratios for a high-quality picture for viewing documents, e-mail exchanges, movies, video games, Internet surfing, digital photos and more. The 17-inch monitor features a DVI input for a clearer display than traditional monitors, 1280x768 WXGA resolution providing more than 16.2 million True Colors, 400-cd/m2 display, and 600:1 high-contrast ratio for crisp and vibrant images. The monitor is currently available for an estimated $299.
"Our new 17-inch widescreen monitor is just another example of how Westinghouse Digital continues to provide our customers with products that combine the latest in design and technological advancements, at the most affordable prices," said Woo.
Product specifications include:
Screen size: 17-inch

Native resolution: 1280x768

Aspect ratio: 15:9

Brightness: 400 cdm2

Contrast ratio: 600:1

Viewing angle: 170-degree (horizontal) 170-degree (vertical)

Response time: 10-15 ms

Display Colors: 16.2 million True Color
The LCM-17w7 is available at retailers nationwide for an estimated price of $299. To locate a specific retailer, please visit http://www.westinghousedigital.com .
About Westinghouse Digital Electronics
In continuing the 100-year-old Westinghouse tradition of producing quality products, Westinghouse Digital Electronics is bringing the venerable American brand to consumers of all ages with new technology products, making it easier for mainstream consumers to experience the latest in digital entertainment. Through superior technology, dependability, performance and design, the company offers consumers LCD TVs and monitors that are reliable, easy to use and deliver the best value in digital entertainment devices. Westinghouse LCD TVs and monitors are available nationwide at more than 2,000 consumer electronics retail stores and other resellers. For additional information, or to purchase accessories such as Westinghouse Decor(TM) frames and mounts, please visit http://www.westinghousedigital.com .