128GB BDXL Blu-ray - Extra Large, Extra Incompatible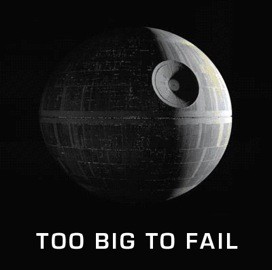 BDXL - Too big to fail
On Friday the Blu-ray Disc Association (BDA) announced the finalization and release of the specifications for BDXL, the new multi-layer recordable Blu-ray Disc format with up to 128GB of capacity. Rather than a new movie format, it is targeting commercial segments such as broadcasting, medical and document imaging enterprises with significant archival needs. BDXL will be offered as write-once and rewritable 100GB (triple-layer) discs, and write-once 128GB (quadruple-layer) discs. 
On the consumer side, applications include the capture and playback of HD broadcast and satellite programming. That's only really applicable, however, in markets (like Asia) where set-top recorders are more common.
Of course it's completely incompatible with existing players. That's right, the new BDXL specification is going to require new hardware to play back or record BDXL media. Earlier this year Sharp Corp developed a blue-violet semiconductor laser for Blu-ray Disc (BD) recorders whose optical output is as high as 500mW under pulsed operation. It has an oscillation wavelength of 405nm and a capability of writing at 8x speed on triple- and quadruple-layer Blu-ray discs. The company already started volume production of a blue-violet semiconductor laser with a 320mW pulsed output about a year ago.
The only saving grace is that, since the new media specifications are extensions of current Blu-ray Disc technologies, future BDXL capable recorders can at least be designed to play back existing 25GB and 50GB Blu-ray Disc formats.
What strikes us as odd is the reason for designing an optical or disc-based archival system at all. I mean, why not simply wait for solid state storage to increase and eliminate the need for fragile and unreliable (in our opinion) optical-based storage. With capacities at just 128GB, BDXL is hardly a boon for archival and in fact is trumped dramatically by existing hard drive storage solutions (even on a cost-per-gigabyte level). That leaves only space - and solid state is sure to trump that, including cost, within the next several years.
The completion and approval of the specification allows manufacturers to obtain licensing information and license applications needed to begin production of the high capacity write-once and rewritable discs and hardware. 
We'd call this a non-starter, though we're sure there will be some hardware support. With how delicate we've seen optical media be in the past, there's no way I'd want to trust 128GB of critical info to am optical storage device anytime soon. As for home consumers, shaking up the current "standard" with a new format this early in the game also seems counter-productive, even for Asian and other markets that seem to jump all over new technology faster than we get it in the west.