Yellowjackets: Yellowjackets (1981)
Yellowjackets: Yellowjackets (1981)
by
stanton
—
December 07, 2006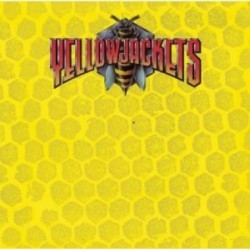 Label: Warner Brothers (3573-2) Introduction
The Yellowjackets are what I call one of the jazz super-groups of my generation. Their success has been both critical and commercial (they've won multiple Grammy awards), and their longevity (over 20 releases in over 20 years) is nearly unparalleled. There has basically been three versions of the Yellowjackets' "band" over the years, all anchored by Russell Ferrante on keyboards and Jimmy Haslip on bass. This debut release includes Ricky Lawson on drums and Robben Ford on guitars (an original member of Tom Scott's LA Express), and was essentially an outgrowth of Ford's band in the late 1970's.
Track List
1) Matinee Idol
2) Imperial Strut
3) Sittin' In It
4) Rush Hour
5) The Hornet
6) Priscilla
7) It's Almost Gone
Audio Quality
The audio quality on this CD is outstanding, which isn't surprising considering the production talents of Tommy Lipuma and the fact that this was one of the first all-digital recordings ever made (considered experimental at the time). The Yellowjackets are joined by a series of first-call studio sideman, again not surprising considering the core members have also enjoyed successful careers as studio musicians. Not only does this CD not have a weak track, I've never really been able to pick a favorite. Maybe it's the smooth groove of Matinee Idol , or the boogie-woogie piano in Imperial Strut , or the bass/guitar doubling on Sittin' In It . Or maybe it's the fine guitar work in Rush Hour , or the tight horn arrangements and beautiful Flugelhorn solo by the great Jerry Hey in The Hornet . But I really think it's the contrasting melodies and grooves of Priscilla and wonderful keyboard work in It's Almost Gone . Trivia fact: unless you were an avid liner notes reader (like me) at the time, you would have never known that Jerry Hey (and much of the horn section on this CD) was behind all those great horn arrangements for the likes of Michael Jackson, George Benson, and Earth, Wind & Fire (to name but a few).
Summary
This version of the Yellowjackets band also appeared on Casino Lights (a live recording from the Montreaux Jazz Festival) around the same time, and airplay from the two releases propelled their careers into overdrive (the remastered version from the 1990's is worth owning if only for the two great Yellowjackets tunes it contains). Almost everywhere you turn, there's something great on this CD. I plan on writing other reviews of other great Yellowjackets CD's following the evolution of the band, but this first one holds up really well, and I seem to always come back to it for a listen even after all these years.
Confused about what AV Gear to buy or how to set it up? Join our Exclusive Audioholics E-Book Membership Program!