Yellowjackets: Politics (1988) CD Review
Yellowjackets: Politics (1988) CD Review
by
stanton
—
December 07, 2006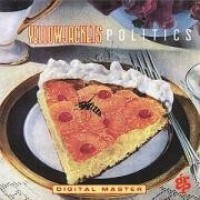 Label: MCA Records (MCAD 6236)
Introduction
Politics won the Yellowjackets a Grammy for "Best Jazz Fusion Performance". The "new" band had finally settled in featuring originals Russell Ferrante (keyboards) and Jimmy Haslip (bass) along with newcomers Marc Russo (sax) and William Kennedy (drums). Ironically, considering the award category, you could say the stylistic transition from fusion jazz to "something beyond" that had begun with the previous release ( Four Corners ) was completed with Politics .
Track List
1) Oz
2) Tortoise & The Hare
3) Local Hero
4) Galileo (for Jaco)
5) Foreign Correspondent
6) Downtown
7) Helix
8) Avance
9) One Voice
10) Evening Dance
Audio Quality
Audio quality is outstanding throughout, continuing the Yellowjackets early trailblazing in the digital master business. This CD could have won the Grammy for audio production as much as it did for musical excellence. I just can't say enough about the "ring" of William Kennedy's snare drum or the "liveness" of Jimmy Haslip's fretless bass. Two of my all-time favorite Yellowjackets' tunes are right off the top: Oz and Tortoise & The Hare . These also have the distinction of being two of the most difficult songs to play/reproduce live; the Yellowjackets' often play a live version of the latter that is a lesson in proper technique. Local Hero was later recorded (with words) by Michael Franks; for reasons unknown he renamed it as well (to The Dream on Dragonfly Summer ). Galileo and One Voice are beautiful ballads with the former featuring a great bass lead. Foreign Correspondent and Downtown are a bit "outside" and my least favorite tracks on the CD. The remaining tunes are all good compositions with solid performances.
Summary
Politics deserved the Grammy it received back in 1988 for "Best Jazz Fusion Performance". There was a period of a few years in the 1980's where nobody could match the musical cohesiveness of these guys as a group. I sometimes flip through the audio surround-sound modes (a rarity for me) when listening to Yellowjackets CD's because it actually sounds BETTER coming through all four speakers due to the outstanding separation they achieve in the recording process. After years of listening to this CD, it's still one of my all-time favorites.
Confused about what AV Gear to buy or how to set it up? Join our Exclusive Audioholics E-Book Membership Program!