Yellowjackets: Blue Hats (1997) CD Review
Yellowjackets: Blue Hats (1997) CD Review
by
stanton
—
December 07, 2006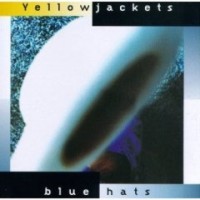 Label: Warner Brothers (9 46333-2)
Track List
Capetown
With These Hands
Prayer For Peace
Statue Of Liberty
Coal Minor Blues
Savanna
New Rochelle
Coquimbo
Angelina
Introduction
The Yellowjackets were into what I call their third "band" by the time of this release, having added the great Bob Mintzer on sax and woodwinds (replacing Marc Russo). The core rhythm section of Russell Ferrante on keyboards, Jimmy Haslip on bass and William Kennedy on drums, remained intact, and their musical virtuosity shows. Everything on this CD was written, arranged and produced by various members of the Yellowjackets.
Audio Quality
Audio quality is outstanding throughout, and the Yellowjackets approach to recording basic tracks "live" as a band (as opposed to layering and over-dubbing) captures a unique feeling of spontaneity. This is a very strong set top-to-bottom, and there isn't a single track I don't like; in fact, most cuts are just degrees of excellence. One of my all-time favorite Yellowjackets tunes is With These Hands, with it's haunting melody and beautiful bass solo. Prayer For Peace features some nice brushwork behind an old-time jazz ballad feel. Checkout the great bass work interplaying with a fast-fingered piano/sax line on Statue Of Liberty. In fact, anyone lucky enough to see the Yellowjackets play live might have heard them pull this one out of their "bag" near the end of the night. Coal Minor Blues is a nice straight-ahead blues in three (3/4 time). Savanna is another one of my all-time favorite Yellowjackets tunes. There's an incredible counter-point going on between the bass and drums, and for some reason the synthesizer backgrounds (behind the haunting bass chorus) sound great on a surround-sound (four speaker) setting. There's a rolling groove behind a nice sax solo on Coquimbo followed by the jazz ballad Angelina to round out the set.
Summary
While I like nearly everything the Yellowjackets do, I think this may be their best CD from the decade of the 90's. It seems like everything "fits", from the writing to the ensemble playing to the great solo work. Unfortunately, this was their last really good studio work for a few years, but they've recently picked back up where they left off; I plan on reviewing one those releases in the future.
Confused about what AV Gear to buy or how to set it up? Join our Exclusive Audioholics E-Book Membership Program!