Rodney Lee: The Satellite Orchestra (2006)
Rodney Lee: The Satellite Orchestra (2006)
by
stanton
—
December 07, 2006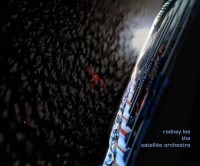 Track List
Atmosphere
Sky Islands
Nu Dimension
Electric Smile
Meteor Shower
Soul Habitz
Human Race
Quiet Space
Moon Rider
Blue Orbit Transfer
Escaping Gravity
Weird and Wonderful
Introduction
You could say this is the review I've been waiting over 20 years to write; I've known Rodney Lee since the day we walked into our first Jazz Ensemble rehearsal at the University of Texas in Austin, TX. We became close friends and college roommates; Electrical Engineering was our curriculum, but music was our passion. With Rodney on keyboards (and often on pedal organ/bass) and myself on drums/percussion, we shared the stage hundreds of times in multiple bands on Austin's famous Sixth Street throughout our college days. While I was lucky enough to hear (and see) Rodney's musical composition talents grow over the years (he always kept me "stocked" with new music), most everyone else had to wait until now. From smooth jazz to funk, from instrumental to vocal, The Satellite Orchestra is the most accessible collection of music he has yet to assemble. Although Rodney has toured extensively as the musical director and/or sideman for such artists as Jody Whatley, B-Sharp Jazz Quartet, and Chris Standring, this is only his second solo CD effort.
Audio Quality
This CD is a testament to the high production quality that can be achieved by independent artists in the new millennium. Acknowledging that keyboardists typically leverage extensive electronic and sampled sounds, Rodney points out that this release includes a mix of real and virtual instruments. In the "real domain", he used such classic keyboards as a Mini Moog, Prophet 5, Clavinet, and Korg Triton. In the "virtual domain", he incorporated software synthesizers like the ABSYNTH 3, Reason, B4, and Albino 2, all running on a Mac G5. However, for you purists, ALL of the Rhodes piano parts were played on his trusty Fender Rhodes 73. Since Rodney generally dislikes the sound of programmed percussion parts, he brought in a live percussionist on about half the tracks for a looser and funkier feel (try guessing which is which). Similarly, he brought in a live bass player to replace some of the synthesized bass parts. He intended on doing the same with drums, but discovered that it was difficult to reproduce the sampled drum sounds on a live kit; for that reason, only one cut features live drums (Sky Islands). Being a drummer, I tend to prefer live drums, but I really think Rodney nails the drums/percussion grooves to the point where I don't mind it. With tongue-in-cheek, Rodney states that all string arrangements are performed by the "Satellite Orchestra"; in reality, it's a Miroslav Vituous (yes, THE Miroslav Vituous) string library triggered by the EXS Sampler with Logic Audio, all complimented by live flutes and bass clarinets. Vituous put together an extensive orchestral sample library years ago, and has probably made a mint off of it (for a change)!
Track Highlights
This CD features both instrumental and vocal tracks, all arranged and produced by Rodney Lee. The first cut, Atmosphere , captures the essence of this CD: funky grooves, tasteful synthesizer work, haunting string arrangements, all grounded by the sound of a Fender Rhodes. The only cover tune on the CD is Larry Dunn's (Earth, Wind, and Fire alum) Sky Islands . Two out of the three lead vocal tracks are some of my favorites: Human Race (featuring CC White) and Electric Smile (featuring Wade 3). In fact, I think the former could easily be a charting single if this release had major label backing. My other two favorites (and two of the earliest tunes I remember from the demo samples) are Escaping Gravity and Soul Habitz . A couple of what I would call "smooth jazz" offerings are Nu Dimension and Quiet Space . For some reason, Moon Rider reminds me of one of my favorite jazz artists: keyboardist/composer/arranger/producer Bob James. Meteor Shower and Blue Orbit Transfer are both excellent examples of "electronic music", featuring interesting synthesizer effects.
Summary
Rodney worked on this release in his own studio (off and on) for about a year, using a MOTU 896HD audio interface and Logic Untior 8 MIDI interface to his 2GHz dual-processor Mac G5. The entire CD was recorded at 24 bits, and then later dithered down to 16 bits in the mastering stage (remember, audio CD's are basically 16-bits @ 44kHz PCM). He also makes extensive use of a couple of TC Electronic products with VST plug-ins for effects and mastering. The Powercore PCI MkII is a PCI card with dedicated (hardware) DSP's for running VST FX; this provides all the reverbs in addition to compression and equalization (EQ) on the main instruments (like the Rhodes, bass, vocals, etc.). The Powercore MasterX3 and Powercore Dynamic EQ plug-ins were used in the mastering process. The final mix was done using Yamaha NS-10M and Mackie HR824 speakers. Rodney released this CD on his own as a true "indie", allowing complete musical freedom without interference from a major record label. Checkout his website , where you can listen to samples from ALL of the CD's he's worked on as well as ordering links for the same. Trust me when I say this CD only scratches the surface of Rodney's musical talents.
Confused about what AV Gear to buy or how to set it up? Join our Exclusive Audioholics E-Book Membership Program!