Porcupine Tree Deadwing Concert Review
Porcupine Tree Deadwing Concert Review

7:30 PM , October 11, 2005
Park West, Chicago
Steven Wilson - Guitars, vocals
Richard Barbieri - Keyboards
Colin Ed win - Bass
Gavin Harrison - Drums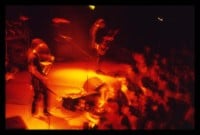 I was introduced to this band about three years ago by my brother who had discovered them through association with Robert Fripp of King Crimson. Fripp contributed to a No Man album, one of Steve Wilson's, who is the original band member of Porcupine Tree and many other projects. Delving further lead to Porcupine Tree, a band that is commonly considered progressive hard rock.
The origins of Porcupine Tree are in a personal joke between Steve Wilson and a friend about a long lost 70's group. An elaborate history was fabricated and Wilson began recording songs by himself. Originally added to play gigs, Porcupine Tree coalesced into an actual band in 1996 with the addition of Richard Barbieri, formerly of Japan, Colin Ed win, and Chris Maitland. By 2002, Chris Maitland had left and Gavin Harrison was added to complete the current line up. For the last several tours, guitarist and singer John Wesley has accompanied the band during live shows.
Last May, Porcupine Tree came through Chicago to play at the Park West. Unfortunately, at the time, I was unable to attend the show. This time around, I was able to attend, with the bonus that the concerts at the Park West were being filmed for an upcoming DVD release due out in 2006.
We arrived a few minutes before scheduled opening to find Robert Fripp already playing one of his sound scapes which he finished shortly. After he left, stagehands began rearranging until about 8:00 PM. At that time, the fact that the show was being filmed was announced to the general audience.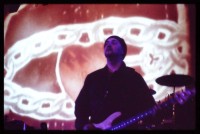 The band took the stage to introduction music and the start of the multimedia show, projected onto three screens hung above, around the stage. The show started directly with "Open Car" from the latest album, "Deadwing".
After the show got underway, Steve Wilson mentioned the DVD filming and that the show would include many songs that Porcupine Tree had not performed in a while or were not released on the main albums. True to his word, the set list did delve back into history. The set list included:
Open Car - Deadwing
Blackest Eyes - In Absentia
Lazarus - Deadwing
Hate Song - Lightbulb Sun
Don 't Hate Me - Stupid Dream
Mother and Child Divided - Deadwing DVD-A
Arriving Somewhere but not Here - Deadwing
So Called Friend - Deadwing B-side
Heartattck in a Layby - In Absentia
Start of Something Beautiful - Deadwing
Halo - Deadwing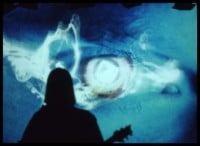 Throughout the show, the music was performed with a high level of musicianship, the band hung together well through tempo and style changes, from song to song and within songs. Some live shows suffer when it becomes clear that the band needs the studio to make there music sound like you recall from their recordings, or to even sound like a band. Such is not the case here. Porcupine Tree's music is layered and volatile; all of this retained its integrity and energy during the performance. Nor was the show a simple mechanical recreation of the album, but within artistic license of a live performance, everything that was familiar and expected from the albums was present in the live show.
The multimedia presentation was used throughout the show, imagery that is familiar from album artwork and elsewhere. The presentation is a collage of images, old photographs, and artwork that shares mood with the lyrical content of Porcupine Tree's music. There is a poetic abstraction in the lyrics that is extrapolated to this imagery. For those interested in a sample, see the following link ( Porcupine Video Clip ), to a file on the Porcupine Tree web site. The file is 19MB in size.
The show closed and the band was applauded to three encores:
The Sound of Muzak - In Absentia
Radioactive Toy - On the Sunday of Life
Trains - In Absentia
I found the show to be quite enjoyable. My only disappointment lies in the short appearance of Robert Fripp that apparently occurred before the show was scheduled to start; and also, I had hoped that as Porcupine Tree's special guest, he would play with them, at least on one song. That would definitely have been something to see.
If the reader finds Porcupine Tree to taste, it is definitely worth the time to see them live. I am looking particularly forward to the DVD release. For me, it is not just an abstracted reminder of a show I attended, it is that show.
For those who are interested in knowing more, visit: http://www.porcupinetree.com/ .
Confused about what AV Gear to buy or how to set it up? Join our Exclusive Audioholics E-Book Membership Program!