Mike Stern: Upside Downside (1986) CD Review
Mike Stern: Upside Downside (1986) CD Review
by
stanton
—
December 07, 2006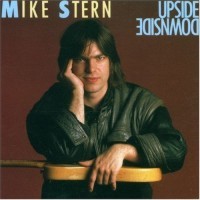 Label: Atlantic Records (7 81656-2) Introduction
Mike Stern's debut CD launched a successful solo recording career that continues to this day (and I have every one of his releases). His instantly recognizable playing style is only matched in virtuosity by his talented composition skills. I am constantly amazed at his mastery of both up-tempo (fusion) and down-tempo (ballad) musical styles, of which he always seems to have an equitable balance. I once had the pleasure of meeting Mike Stern (as a sideman on tour with the great Michael Brecker), and his quiet personality belies his absolutely electrifying playing; I would leap at the chance to see him play live again.
Track List
1) Upside Downside
2) Little Shoes
3) Goodbye Again
4) Mood Swings
5) After You
6) Scuffle
Audio Quality
Mike Stern typically assembles a band for each release; in other words, he doesn't have a different set of musicians (with a few exceptions) on every track. A rare production turn by noted guitarist Hiram Bullock resulted in some of the finest audio quality available at the time for all-analog recordings (this CD was never digitally remixed/remastered). The basic band here is: Dave Weckl (of Chick Corea Electric Band fame) on drums, Mark Egan (member of the first Pat Metheny Group) on bass, Mitch Forman on keyboards, Dr. Gibbs (a top jazz session man for much of the 1970's and 1980's) on percussion, and Bob Berg on saxophones. However, it's the one "alternate band" cut that makes this CD so famous: Mood Swings was one of the last studio recordings by the late, great Jaco Pastorius, here joined by drummer Peter Erskine (both of Weather Report fame). You can tell there's something special going on as soon as Jaco plucks his first chord (that's right: he plays the bass like someone else would play a standard guitar). Mood Swings is one of my all-time favorite tunes, and it features the patented Peter Erskine driving half-time swing. As if that wasn't enough, the opening (title) and closing tracks absolutely rock. Typical of Mike Stern releases, a couple of tasteful ballads- Goodbye Again featuring David Sanborn on alto sax and After You -are mixed in among a absolutely knockout set.

Summary
Upside Downside continues to be one of my all-time favorite jazz fusion guitar CD's.
An interesting trivia fact: Mike Stern's publishing company is also called Little Shoes , so named because he thinks he has small feet! The music is so good, I encourage you to pick-up this release in whatever format you can find (even the LP sounded pretty good); luckily, this was only the first in a long line of outstanding releases by Mike Stern that continues to this day.

Confused about what AV Gear to buy or how to set it up? Join our Exclusive Audioholics E-Book Membership Program!