Michael Franks: Skin Dive (1985) CD Review
Michael Franks: Skin Dive (1985) CD Review
by
stanton
—
December 07, 2006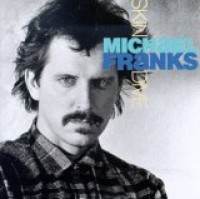 Label: Warner Brothers (25275-2)
Introduction
For all the great releases Michael Franks had up to this point, Skin Dive really put him on the map. This CD spawned his first Top 40 single ( Your Secret's Safe With Me ) as well as video, and became Frank's biggest seller to date. It was also the middle effort from a trio of titles produced by Rob Mounsey (who had previously contributed both his keyboard and arranging talents to Steely Dan), all of which where both critical and commercial successes.
Track List
1) Read My Lips
This track is about as loud and raucous as Michael Franks gets, and it's no surprise considering it features Marcus Miller on "in your face" bass and Hiram Bullock on "super-electrified" guitar. I always thought THIS should have been the single off this release.
2) Let Me Count The Ways
Michael Franks is good at taking common phrases and sayings in our culture (track #1 and #2 on this release) and making catchy songs out of them. This track does that with a pounding refrain featuring long-time studio bass player Will Lee and drummer Chris Parker.
3) Your Secret's Safe With Me
This was the lead single from this release, and I have to admit it's one of my all-time Michael Franks favorites. There's some excellent bass work by Neil Jason and a classic guitar solo by the great Steve Khan.
4) Don't Be Shy
The only song with a co-writer (Rob Mounsey), this is probably the weakest track on the CD, but with a nice David Sanborn sax solo.
5) When I Give My Love To You
Every once in awhile, Michael Franks will have a vocalist (typically female) join him in a duet, and he picked a good one for this track: Brenda Russell. A multi-talented writer/performer/producer, Russell's harmonies and counterpoint vocals took a good song and made it great.
6) Queen Of The Underground
A second single from this release, this foot-stomping, hand-clapping track was not your typical Michael Franks tune. Starting off with acapella vocals, it features another screaming guitar solo from Hiram Bullock. Once again, Will Lee (bass) and Chris Parker (playing an electric type of drum set called "Simmons Drums" that were featured often on this CD) did a more than adequate job of driving the beat. Trivia fact: Michael Frank's has said this song was written for Laura Brannigan, who died suddenly in 2004 at the too-young age of 47.
7) Now I Know Why (They Call It Falling)
This is a wonderfully simple track with interesting vocal interplay and another nice sax solo from David Sanborn. While Rob Mounsey played what's called a synth bass in addition to keyboards, drummer Danny Gottlieb (part of the first Pat Metheny Group) started a string of three different drummers in three tracks. Trivia fact: electric+acoustic guitarist Jeff Mironov was a first-call studio musician who played the rocking guitar solo on Maynard Ferguson's top 10 charting Gonna Fly Now (Theme from Rocky) in the 1970's (no, he was never a member of Ferguson's band)!
8) Please Don't Say Goodnight
This track (and the next one) are those jewels it seems you can only find on a Michael Franks CD. It combines catchy lyrics with beautiful music and tops it all off with outstanding musical performances. Fretless bass work from Mark Egan (also part of the first Pat Metheny Group), soulful drumming from Andy Newmark (one of the first white drummers with Sly and Family Stone), tasteful percussion work from Manolo Badrena (of Weather Report fame), topped off by Jeff Mironov on guitars and Rob Mounsey on keyboards. Need I say more?
9) When She Is Mine
Reminiscent of old-time big-band jazz, this track features the great Ron Carter on bass (started with Miles Davis), Steve Gadd on drums (one of my favorite drummers of all time), Warren Bernhardt on piano (played in groups like Steps Ahead and toured with Steely Dan), and the great Michael Brecker with one of my two most favorite sax solos of his (the other was on Donald Fagen's Maxine from The Nightfly ). As if that isn't enough, it's all topped off with a wonderful horn arrangement by Rob Mounsey.
Audio Quality
While this release was well produced and has exceptional audio quality for an all-analog recording, the CD transfer doesn't quite measure up in our all-digital world, resulting in an "Audio Quality" rating of 4. Typically, Michael Franks' releases have excellent production quality, but I always thought he was late in the game on transitioning to the digital process. However, musical composition and performance talents are never lacking, and Skin Dive is no exception.
Summary
Michael Franks was literally a music teacher/professor who got a break in the early 1970's in the form of a recording contract, and never looked back. Anyone who's seen him perform live can tell he has a kind, quiet personality, and I don't think he'll ever be accused of having a great (albeit unique) voice. From the beginning, he simply knew how to write great music and find the best producers and musicians to bring it to life. Michael Franks is one of the only vocal artists whose music catalog I own in its entirety, and that's a big admission from a jazz guy who basically doesn't like vocals!
Confused about what AV Gear to buy or how to set it up? Join our Exclusive Audioholics E-Book Membership Program!