Michael Franks: Dragonfly Summer (1993)
Michael Franks: Dragonfly Summer (1993)
by
stanton
—
December 07, 2006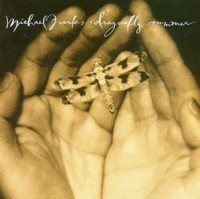 Label: Warner Reprise Records (9 45227-2)
Introduction
Michael Franks was in top form for this release: catchy, cynical lyrics and great music from great musicians. By the time he got to the 1990's, Michael Franks was basically assembling different bands for groups of tracks on each release, and Dragonfly Summer was no exception. There are three distinct producers/arrangers (follow the asterisks) on this CD: longtime keyboard player Jeff Lorber*, jazz super-group the Yellowjackets** (in this case founders Russell Ferrante and Jimmy Haslip), and two jazz legends: Gil Goldstein*** and Ben Sidran****. As is now the norm, Michael Franks executive produced and wrote or co-wrote all the songs with one exception: the classic I Love Lucy .
Track List
1) Coming To Life*
This is a great tune to open the CD: catchy and energetic with the "Jeff Lorber rhythm section" (personal favorite John Robinson on drums, Alec Milstein on bass, Paul Jackson, Jr. on guitars, and of course Jeff Lorber on keyboards). Uncharacteristic for a Michael Frank's release, there's an excellent uncredited flute solo; I wish I knew who it was, because it's definitely not Lorber on a flute synth patch!
2) Soul Mate*
Another favorite on the CD. Trivia facts: not only does John Robinson show up on most of Jeff Lorber's solo CD's, but he was a first-call session drummer in the 70's and 80's who provided the beat behind such artists as Michael Jackson and George Benson in addition to his regular work with Rufus & Chaka Khan; Paul Jackson, Jr. went from being a big time session guitarist to a noted producer of jazz artists like Boney James and Norman Brown (among others).
3) Dragonfly Summer**
This was the first of two consecutive tracks basically featuring the Yellowjackets (and a couple of additional horn players) backing up Michael Franks on vocals. This one has a lazy latin feel with a nice Bob Mintzer soprano sax solo.
4) Monk's New Tune**
This track is almost a throw-back to straight-ahead small group jazz, complete with some nice brush work by drummer William Kennedy. It too features a nice Bob Mintzer solo, this time on tenor sax.
5) Learning What Love Means*
A slow groove and another favorite, checkout the low-end backing vocals.
6) I Love Lucy***
While I'm sure this is a nice touch for Lucille Ball lovers, it's my least favorite cut on the CD.
7) Practice Makes Perfect*
This is one of my all-time favorite Michael Franks tunes, and the last one on this CD featuring the "Jeff Lorber rhythm section". With a very hip groove and great chorus, I thought this one could have been a single, but then again we're talking about Michael Franks! Checkout the sax work by the great Dave Koz.
8) String Of Pearls**
Another Yellowjackets-backed tune, this tune flows really nicely with some great bass work from Jimmy Haslip. It also has a nice message if you stop and think about the words.
9) Keeping My Eye On You****
The first of two duets (this one featuring the unique voice of Dan Hicks) produced and arranged by Ben Sidran, it has that straight-ahead jazz thing going on with some nice brush work (this time from Weather Report great Alex Acuna).
10) The Dream**
While I loved the original (instrumental) version of this tune when the Yellowjackets did it, I've never been able to listen to it with vocals. For those of you keeping score, the original was actually called Local Hero and can be found on Politics (don't ask me why they changed the name)!
11) You Were Meant For Me****
Another duet (this one with the great Peggy Lee), the chorus is a unique harmonic blend of their two voices. There's also some nice acoustic guitar work from the great John Pisano. The two Ben Sidran produced tracks are almost like listening to "a night with the all-stars". Trivia fact: John Pisano played on tons of old Peggy Lee albums (no wonder), and was a part of Herb Alpert's original Tijuana Brass.
12) How I Remember You***
This is just a beautiful tune, and nice way to close the CD. Tender lyrics and a wonderful string arrangement (by Gil Goldstein), there's some nice acoustic guitar work and an out chorus that you wish would never end.
Audio Quality
Even though Michael Franks STILL hadn't gone all-digital by this time, the audio quality had improved from even his 1980's releases. Even with the outstanding production talents (outlined earlier) that contributed to the CD, I still can't rate it above a 4; it just seems to lack a bit of punch compared to other CD's of the era. At least it never impacts the "enjoyment quotient" for this CD, and certainly doesn't detract from the absolute stellar line-up of musicians.
Summary
Michael Franks has enjoyed a long, successful career for a vocal artist without ever really having what you call a "hit". I'm still amazed at how many people talk about his early (1970's) releases without even knowing what he's done since then. While his musical output has slowed down quite a bit the last few years, he had three really good CD's in the 1990's. I still look forward to that next release with the knowledge that it will "fill me up" for years' to come.
Confused about what AV Gear to buy or how to set it up? Join our Exclusive Audioholics E-Book Membership Program!