Jimmy Buffett Music by Latitude
Jimmy Buffett Music by Latitude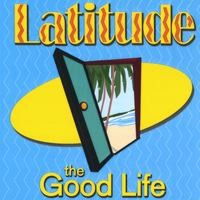 Label:
Latitude Music
Michelle Becker : Vocals, Keyboards, Keyboard Synthesizer
Tom Becker : Vocals, Acoustic Guitar, Electric Guitar, Mandolin, Drum Programming
Produced by: Tom & Michelle Becker

Latitude is humorously self-described as "just two people trying to be a band." A local group here in Myrtle Beach , South Carolina specializing in Jimmy Buffet music, Island Rock and Beach Music, Tom & Michelle Becker play their flavor of Jimmy Buffett-style island music all over the Grand Strand (and around the country for that matter.)
Track List:
1. The Good Life
2. Take it to the Marketplace
3. Is Everybody Happy?
4. Waialea Bay
5. Sailor
6. Wasted
7. I Wanna Go
8. Any Way the Wind Blows
9. Sailor Cowboy
10. Do What You Gotta
11. The Man Song
12. Dreaming
The guitar playing half of Latitude is no stranger to music. As a member of the "New Christy Minstrels", the group that launched the careers of John Denver and Kenny Rogers, Tom Becker toured the world, demonstrating his unique brand of music and homespun humor. After leaving the "Christies", Tom went on to a solo career whose highlights include opening for such artists as Willie Nelson, Jerry Jeff Walker, Jerry Lee Lewis and Ray Charles. Michelle has opened for Motown's Coasters, Drifters, and Platters. Country music fans may have seen her performing with Brenda Lee, Loretta Lynn, Louise Mandrell, Lee Greenwood, Jim Ed Brown, Larry Gatlin, or as a performer on the Grand Old Opry. She has opened for comedian Bill Cosby, has appeared in several TV commercials and music videos, and her voice can be heard on a variety of radio jingles.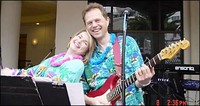 The music of this CD is simply fun and upbeat. You can't be in a bad mood while listening to Latitude - it's just not possible! While we prefer to listen to Tom and Michelle live in Murrells Inlet while eating fried pickles at Creek Ratz, this CD allows others who may not be in the area to experience some of the fun that this group has to offer.
Track one is called "The Good Life" and sets the whole tone of the disc, making sure you realize this is about living life and having some fun in the process (quite possibly Latitude's motto!). Tom's vocals are reminiscent of today's contemporary country (mixed with a little Jam es Taylor) and the song does a good job of crossing genres in a way that is natural and vibrant.
Tracks 2, 6, 8 and 10 have a more Jimmy Buffett island music sound - something that Latitude is famous for - with steel drums and a casual care-free lyric line and melody. Track 10 in particular is a neat story about various mid-life crises and going for it - hey, I can almost relate!
Track 9 is a hoot that brings back visages of old 50's bonanza shows with a full compliment of harmonic female backing vocals. Let's also not forget "The Man Song". This arrangement is hilarious and is only diminished by an artificial and tinny laugh track that should have been left on the cutting room floor. Live, this is one of the funniest tunes you'll hear from Latitude.
The last track on the disc is titled "Dreaming" and really highlights Michelle Becker 's excellent vocals. This woman can sing . Her lead is honest and expressive and really takes this song home.
Overall, this is a great CD that would do well at parties or whenever you want some fun, care-free music to lift your spirits. The technical aspects of the CD are a bit lacking, including input distortion during some vocals, a rather compressed and thin mix, and some fairly mediocre drum samples, but this isn't meant to be a reference disc - it's made with the same fun-loving attitude that goes into the songs. This CD is meant to be listened to, and as far as I'm concerned everyone should have a copy in their collection, especially if you're a Jimmy Buffett fan!
Buy online from LatitudeMusic.net or CD Baby
Confused about what AV Gear to buy or how to set it up? Join our Exclusive Audioholics E-Book Membership Program!