Fourplay: X (2006)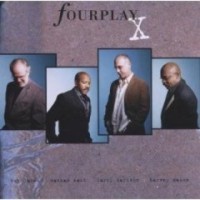 Label: Bluebird (82876 86388-2)
Track List
Turnabout
Cinnamon Sugar
Eastern Sky
Kid Zero
My Love's Leavin'
Screenplay
Twilight Touch
Be My Lover
Sunday Morning
Introduction
Fourplay X may be their strongest release in over 10 years, and is a welcome relief after their previous weak outing (Journey). It's nice to see this jazz super-group still going strong at ten CD's, even if a couple of them include a "Greatest Hits" and a Christmas-themed release. In fact, they just seem to get better with age (all are now in their 50's and 60's-with most closer to the latter)!
Audio Quality
Produced collectively by Fourplay and engineered by long-time collaborator Ken Freeman, the audio quality is without reproach. More than usual, the writing credits are evenly distributed with each member contributing two original tunes to the CD; the ninth track is a cover of Steve Winwood's My Love Is Leavin' (from his multi-platinum Back In The High Life) featuring the great Michael McDonald on lead vocals. While it's probably my least favorite track on the CD, at least it gets them some much deserved radio airplay. It just so happens that my two favorite tracks are both penned by guitarist Larry Carlton. Cinnamon Sugar is a finger-snappin' groove with a catchy melody that I just can't get enough of, and Be My Lover is an equally infectious groove with a catchy chorus featuring a nice background vocal. My next two favorites are penned by Harvey Mason, but are polar opposites as far as tempo goes. Kid Zero is (another) classic Mason toe-tappin' groove with a Nathan East bass/vocal solo like only he can do it, and Twilight Touch is silky-smooth with nice atmosphere and some very tasteful solos. Keyboardist Bob James also contributes a couple of contrasting tunes: the up-tempo Turnabout with some nice synth-horn arrangements, and the pseudo-swing Screenplay . All that leaves are Nathan East's two compositions, with his brother Marcel East co-writing Eastern Sky . If you look back at previous Fourplay CD's, you'll see that Marcel East has contributed several good tunes (often with the name "East" in them) to the band's repertoire. Sunday Morning is a nice ballad that doesn't really do much for me, but Eastern Sky is an orchestral like groove featuring a haunting piano/vocal melody and tasteful bass/vocal solo.
Summary
From the moment you press "Play", the grooves on X are dead-on. Drummer/percussionist Harvey Mason is unique in his ability to play just what's necessary for any given track, and ex-Crusader Larry Carlton continues to display the amazing solo talents that made him a first-call session guitarist with groups like Steely Dan way back in the 1970's. The accompanying CD booklet contains individual pictures of the artists perfect for autograph purposes (I always take liner notes like these along to concerts), earning the liner notes a "5" in my book. The only reason this CD gets an overall rating of "4" is due to the fact that there's only 45 minutes of music total; forgetting the fact that most CD's nowadays have 60 minutes or more of music, there's probably a list a mile long of folks who would love to land a song on a Fourplay CD. Overall, I can't recommend Fourplay X enough, especially if you liked this jazz super-group's early offerings.
Confused about what AV Gear to buy or how to set it up? Join our Exclusive Audioholics E-Book Membership Program!