Fourplay: Fourplay (1991) CD Review
Fourplay: Fourplay (1991) CD Review
by
stanton
—
December 07, 2006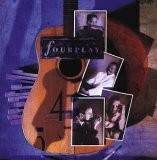 Label: Warner Brothers (26656-2)
Introduction
The jazz super-group Fourplay was born out of a collaboration first appearing on Bob James' Grand Piano Canyon , and consists of the following accomplished musicians: Bob James (keyboards), Lee Ritenour (guitars), Nathan East (bass and vocals), and Harvey Mason (drums and percussion). Individually, these guys need no introduction, and collectively, they've enjoyed more critical and commercial success than almost any jazz group in the last 10 years.
Track List
Bali Run
101 Eastbound
Foreplay
Moonjogger
Max-O-Man
After The Dance
Quadrille
Midnight Stroll
October Morning
Wish You Were Here
Rain Forest
Audio Quality
There's so much good music on this CD, I guess it's easiest just to start with what I didn't like: Bali Run and After The Dance (featuring El DeBarge on vocals). To be fair, the latter cut got a lot of airplay due to El DeBarge's popularity at the time, but I just don't enjoy vocal tunes taking the spot of what could be another great instrumental jazz tune (and if you talk to the artists, they will more often than not tell you it's the fault of the record company). Conversely, my very favorite tracks are the upbeat 101 Eastbound and ballad Foreplay . For some reason, 101 Eastbound has the best sounding bass and drums on the whole CD. That's not to say the overall production isn't top notch, it's just that this track sounds great "cranked". I think the title track (notice the spelling change: the group name was based on the double entendre of interplay within a quartet) really defines the signature sound and mood for this wonderful group of musicians. Another favorite is the upbeat Max-O-Man . If you like the biting acoustic sound of Lee Ritenour, you should checkout some of his GRP releases from the 1980's (remember, this CD came out back in 1991); October Morning also has a nice groove and similar guitar sound.
Summary
This CD, along with the follow-up Between The Sheets , spent many months on the jazz billboard charts, resulting in a couple years' worth of almost non-stop Fourplay fever. If you want to see these guys "in action", their DVD release An Evening of Fourplay contains many of the same tunes and is an excellent way to experience their intricate interplay and outstanding musicianship (each take extended solos). While I always look forward to the next Fourplay CD-and there are many good ones-it seems I'm always comparing it with this one. In fact, several Fourplay CD's are on my "relax and fall asleep" list, and this one is at the top.
Confused about what AV Gear to buy or how to set it up? Join our Exclusive Audioholics E-Book Membership Program!