Dave Weckl: Master Plan (1990)
Dave Weckl: Master Plan (1990)
by
stanton
—
December 07, 2006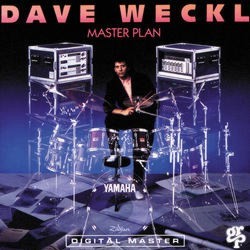 Label: GRP (GRD-9619)
Introduction
From the time Dave Weckl burst on the scene as the drummer in Chick Corea's Electric Band, you could tell he was something special. It wasn't just his technical virtuosity, or his integration of electronic triggers into his acoustic setup, or his unique phrasing or counterpoint grooves: it was the way he did everything within the context of the music. I truly believe that this debut CD, like many that have followed it, contains tunes that NO other drummer can play let alone conceive. Most of the compositions on this CD were done in collaboration with long-time friend and keyboard player Jay Oliver.
Track List
1) Tower Of Inspiration
2) Here And There
3) Festival de Ritmo
4) In Common
5) Garden Wall
6) Auratune
7) Softly, As In A Morning Sunrise
8) Master Plan
9) Island Magic
Audio Quality
Typical of many GRP releases at the time, the production audio quality of this CD is outstanding; I even think this CD set the standard for multi-track drum and percussion recording that Weckl upholds to this day. There is so much good music on this CD, it's tough to pick a favorite, but there are definitely a couple that fall into that "hard to reproduce" category: Auratune and Island Magic. It doesn't matter how many times I've tried to learn/follow these tracks on drums, I just can't seem to get the feel right (and I'm sure I'm not alone)! The title track not only features the great Steve Gadd trading licks on drums (the person I think Weckl's playing most emulates), but is penned by mentor Chick Corea. Both Tower Of Inspiration and Festival de Ritmo feature catchy latin beats and a screaming "Tower of Power" like horn arrangements from the great Jerry Hey (trumpet). Here And There is a funky half-time shuffle. Both In Common and Garden Wall are light jazz-rock offerings featuring excellent sax work from Eric Marienthal and the great Michael Brecker, respectively. Just to show you he can play straight-ahead swing with the best of them, Weckl added a cover of the standard Softly, As In A Morning Sunrise; with the exception of an excellent acoustic piano solo, I probably could have done without this one.
Summary
Dave Weckl has enjoyed a long and successful recording career both as a leader and sideman; in addition, he has produced a series of instructional drum books and videos. I was lucky enough to see him on tour a few years ago in a drum clinic environment (no band accompaniment), and he's as amazing in person as he is on disc. There are times when, if you close your eyes, you could imagine as many as three percussionists on stage creating the music (and he was doing this while listening to a recorded backing band through headphones). If you just can't get enough of Dave Weckl (and you have all of his CD's), you might want to checkout some of the old Chick Corea Electric Band CDs: he's all over them.
Confused about what AV Gear to buy or how to set it up? Join our Exclusive Audioholics E-Book Membership Program!