Dave Weckl Band: Synergy (1999)
Dave Weckl Band: Synergy (1999)
by
stanton
—
December 07, 2006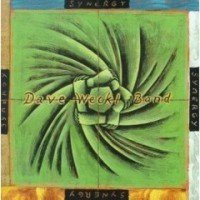 Label: Stretch Records (SCD 9022-2)
Track List
High Life
Panda's Dream
Swunk
A Simple Prayer
Cape Fear
Wet Skin
Synergy
Where's My Paradise
Lucky Seven
Swamp Thing
Cultural Concurrence
Tower '99
Introduction
Dave Weckl's fifth CD would have been just another good one in a string of many save one thing: the addition of guitar great Buzz Feiten to his usual outstanding rhythm section of Tommy Kennedy on bass and Jay Oliver on keyboards. Feiten's playing and writing talents lifted this release to a level not quite achieved since, giving the whole set an electric edge you can both hear and feel. This CD was recorded on the heels of an extensive tour, and I can only imagine the on stage excitement and creativity that led to such an outstanding musical set.
Audio Quality
Audio quality is outstanding throughout, driven by Weckl's accomplished studio techniques and penchant for perfection. High Life is signature Dave Weckl, with an African-inspired drum groove over a tight rhythm section ending in a ridiculous drum solo. Panda's Dream is one of those Buzz Feiten tunes that makes this CD unique; it features a rock groove and guitar lead that makes this one of my all-time favorite Dave Weckl tunes. Swunk features a kind of half-time driving swing famous among drummers (and made popular by Weather Report) for how fun it is to play; checkout the full-blown straight-time swing under a good sax solo. A Simple Prayer is a Feiten ballad featuring a dreamy acoustic guitar. Cape Fear is an interesting groove with a haunting guitar melody, but nothing prepares you for the killer bass solo that ends the tune. After an opening bass solo, the title cut (Synergy) makes you want to get up and dance, and is also one of my favorites on the CD. Where's My Paradise is a second ballad written by Feiten and Oliver featuring some nice acoustic guitar work. Swamp Thing is another rocker featuring Buzz Feiten with a great horn lead, and quickly became one of my all-time favorite Dave Weckl tunes. If you're keeping count, that's two (2!) tracks off of one CD that made my "all-time favorite" list, and both are either written or co-written by Buzz Feiten featuring solos by the same. The last two cuts are really throw-aways for me: Cultural Concurrence is the obligatory Dave Weckl triggered drum solo, and Tower '99 is a re-work of Tower Of Inspiration off of his first CD (Master Plan). It's a nice groove, but I recommend checking out the original that features a killer horn arrangement.
Summary
There are a lot of solid cuts on this CD, comprising almost 70 minutes of music! Excellent liner notes along with some nice band pictures elevate the "features" rating to a 5 for this release. This is one of my two or three favorite Dave Weckl CD's, and I always find myself hoping for the return of Buzz Feiten to his recording band.
Confused about what AV Gear to buy or how to set it up? Join our Exclusive Audioholics E-Book Membership Program!