Dave Grusin: Migration (1990)
Dave Grusin: Migration (1990)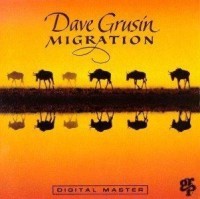 Dave Grusin: Migration (1990)
Label: GRP (GRD-9592)
Introduction
One of the great composers/arrangers/producers of his time, this CD represented one of the last releases of completely new and original Dave Grusin material. That's not to say that he hasn't had others since then, but as a hugely successful TV and movie composer (remember the theme from TV's Baretta or hit movies like Tootsie ) and one-time owner of his own record label (the "G" in GRP Records stands for Grusin), he's been afforded the opportunity to basically do whatever he wants, and putting out original jazz releases obviously hasn't topped the list. At least Migration was one of his best.
Track List
Punta Del Soul
Southwest Passage
First-Time Love
Western Women
Dancing in the Township
Old Bones
In The Middle Of The Night
T.K.O
Polina
- 14. Suite From The Milagro Beanfield War
Audio Quality
The one thing that really hits you with this CD (other than the fantastic musicianship), is the outstanding recording quality. In fact, I would say this CD remains one of the best bass and drum/percussion recordings I've ever heard. A couple of tracks consistently "bottom out" my speakers if played at excessive volume: the deep bass of First Time Love or the drums on Old Bones . Granted, that's not a good thing, but typically this is something I've only experienced with heavy 5.1 channel movie sources (like The Incredibles ). This CD will definitely give your amplifier/speaker combination a workout. Equally impressive were the outstanding performances by some of the best bass players and drummers in the business: Harvey Mason and Omar Hakim (drums), and Marcus Miller and Abraham Laboriel (bass). All are long-time first call session players dating back to the 1970's (with the only exception being Omar Hakim-who will blow your mind if you've ever been lucky enough to see him play live). In addition, Marcus Miller wrote T.K.O. , which features screaming solo performances from himself as well as Omar Hakim and Brandford Marsalis (tenor sax). Finally, I usually hit "stop" when it gets to track #10 and pretend that the CD ends there.
Summary
While I rate this CD a "5" for audio quality, the reason it only receives a "4" overall rating is due to the inconsistency of the writing (and the absolute waste of tracks 10 thru 14). This remains one of my all-time favorite CD's, and probably my favorite Dave Grusin release second only to Mountain Dance (which is so old I only have it on LP). Dave Grusin (along with the "R" in GRP, Larry Rosen), was one of the first to record in the digital medium, experimenting with what used to be called "direct-to-digital" (two-track) releases in the 1970's, a pre-cursor to the "Digital Master" policy of GRP records (seen on the front of almost every GRP CD) that drove high-quality digital production in the 1980's as CD's replaced LP's.
Audioholics Ratings Scale
5 - Outstanding: Far exceeded expectations and previous experience - Very highly recommended
4 - Above Average: As good or better than other products/performances - Highly recommended
3 - Average: Met expectations, may include some moments of brilliance offset by small flaws - Recommended
2 - Below Average: Did not meet expectations, some obvious flaws - Some may enjoy
1 - Very Poor: Why did they even bother? Obvious flaws abound, monumental problems - Not Recommended
Review Ratings

| | |
| --- | --- |
| Audio Quality | 5 |
| Features (liner notes) | 4 |
| Overall | 4 |


Reference Equipment
Yamaha DSP-A3090 Natural Sound A/V Amplifier (Stereo Mode)
Sony DVP-S7700 Reference DVD Player
Polk Monitor 10B Speakers (x2)
Confused about what AV Gear to buy or how to set it up? Join our Exclusive Audioholics E-Book Membership Program!