CD/SACD/LP Demo Material to Evaluate High Fidelity Audio
CD/SACD/LP Demo Material to Evaluate High Fidelity Audio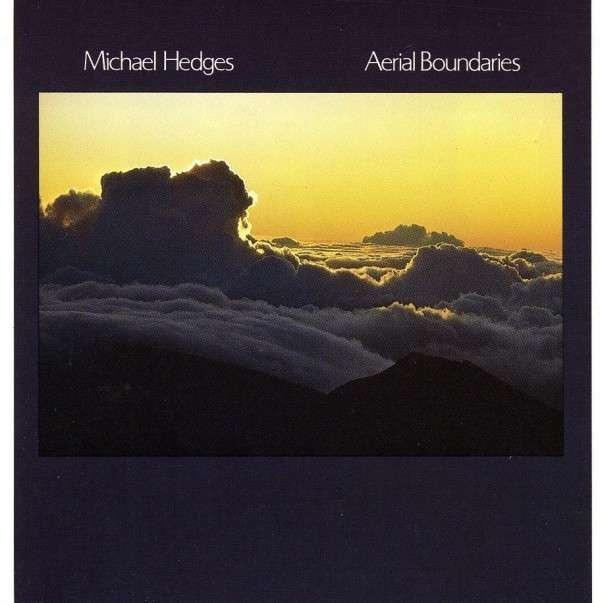 Michael Hedges Aerial Boundaries
These Are a Few of my Favorite…Audio Demos
An eclectic collection of great-sounding audio gems, assembled over the past 35 years
I couldn't add up all the demos I've done, from my decade as a high-end audio salesperson in the '80s, to trade show demos as a manufacturer, to demos for dealers, and many more for friends and family. I always seem to come back to certain albums, songs, or even passages, and I'm constantly adding new favorites that demonstrate a system's ability to reproduce sound accurately. Industry veteran John Kellogg's mantra used to be "Demo or die!" and I wholeheartedly agree.
These entire albums, individual selections or fragments are from my personal stash. The artistic value of the music ranges from dubious to spectacular, but they all sound great and they'll show how good (or bad)  your system is. I've tried to avoid the obvious Diana Krall stuff, even though I like her, and instead list some forgotten or obscure tracks that have exquisite sound. I've also left out overblown bass tracks like "Flight of the Cosmic Hippo," even though it, too, is great music. Alas, I have also omitted my extensive library of 12th century Peruvian fertility chants…
Michael Hedges, "Aerial Boundaries"
Windham Hill Records WD-1032, CD or vinyl LP
Michael Hedges was my favorite acoustic guitar player up until his untimely death in 1997. Almost all Windham Hill recordings are extremely detailed without a hint of harshness, and this is one of the better ones. The first cut; the title song, "Aerial Boundaries," may be the most dramatic and dynamic offering on the album. A good system will reproduce the sharp transients of this song with no hardness. I have this album on vinyl and CD, and both were mastered similarly. While I hear a subtle sonic difference between the two versions, with a touch more immediacy on the CD, both are excellent. This only points out, once again, that the main difference in sonics between CDs and records is probably the difference in mastering, not the format. We'll revisit this topic later with an album that sounds shockingly different on CD compared to the vinyl record. In any event, everything ever produced on the Windham Hill label has pristine, natural sound.
Left Pic: Chicago Pro Musica; Right Pic: Jennifer Warnes

Chicago Pro Musica, Walton: "Facade Suite," etc.
Reference Recordings RR-16 (CD) or RR-2102, HDCD
As superb as Reference Recordings HDCDs are, I am recommending the older standard CD version of this collection. The first thirteen selections are short; mostly under 2:00 each; with sharp detail that can be offensive on a system that isn't first-rate. The selections I recommend most highly are the last three: "Till Eulenspiegel Einmal Anders!," "Waltz in A-Flat," and "Serenato In Vano." The instruments in the small chamber orchestra seem to float in space, with very natural overtones and great imaging front to back and left to right. This may be my favorite classical recording.
The reissue of this CD done in HDCD also sounds very good, but in my opinion, not quite as good. It has a bit of bloat to the sound, as if it's been re-equalized with more bass, and the audio level is quite a bit higher. That said, you may want the HDCD reissue (RR-2102) because it contains an excellent version of Stravinsky's "The Soldier's Tale," as well as an addition HDCD with a variety of pieces which are also extremely well recorded.
Jennifer Warnes, "The Hunter"
Vinyl or CD
All cuts on this album are very good, although the entire album is bass heavy. Balancing out the big, full bottom is lots of delicate percussion with bells and triangles, and the masterful Vinnie Colaiuta on drums on a few tracks. As with all Jennifer Warnes productions, the songs are beautiful and her simple vocals are sincere and nuanced.
Left Pic: Paul Simon; Right Pic: Holly Cole

Paul Simon, "Graceland"
Vinyl or CD
While the entire album is good both sonically and musically. The a capella portions of "Homeless" and "Diamonds on the Soles of Her Shoes" are stunning. Imaging of the chorus is wide and deep, and the voice reproduction is pristine and enveloping. On a really good audio system, there is an absence of hardness and glare in the voices.
Holly Cole, "Temptation"
CD
Holly Cole makes Rickey Lee Jones sound like Karen Carpenter. Let that sink in. Her music makes it sound like she's had a hard life. This is a sparse, upfront recording with strong acoustic bass, clean and detailed percussion, and vocals that float in space between your two speakers. "Jersey Girl" and the haunting "Train Song" are my two favorites. This is one of those very intimate, close recordings that possesses stark realism.
Lincoln Mayorga, Volume 2, Sheffield Lab Recordings
Vinyl LP, direct-to-disc
When I mentioned to Lincoln Mayorga years ago that I owned four copies of this record, two of which were unopened, he opined, "Sell those and you can put a kid through college."
The program material here is hard to describe, being an odd combination of jazz, classical, show tunes, and rock, but all played with excellent musicianship. The session was done in a fairly dead studio, and the realism of the close-miked instruments can be startling. Strings and percussion sound as if they're right in front of you in your room.
What is a direct-to-disc record?
Direct-to-disc (or as some refer to them, "direct disc") records were very popular with audiophiles in the early '80s, and they were considered to be the finest quality vine-yule. After the musicians were ready, they would cut an entire side of an album, without stopping. The signal from the control room wouldn't go to tape (other than a tape backup), but it would go directly to the cutting lathe, and the master lacquer was cut in real time. The record stampers were then made from the master. Because of this there could be no do-overs and no editing or overdubs, and on occasion you can hear a clinker, a bumped microphone, rustling sheet music, or shuffling feet. But the fidelity of a properly executed direct-to-disc record is the apex of vinyl reproduction. 
The Sheffield Drum Record, Sheffield Lab Recordings
CD and vinyl LP, direct-to-disc
The vinyl record features drum icon Jim Keltner on one side, and Elvis' old drummer Ron Tutt on the other, each playing rather laid-back solos. The drumming is nothing spectacular, but this recording is meant to show the big open sound of a kit more than just musical content. It's truly a demo record. There's lots of empty space and big open tom rolls, with a bit of bravura pyrotechnics thrown in for good measure. The drums and cymbals are close-miked, and very clean and full.
This is also a direct-to-disc recording, and the grooves on the record are hot and wide, with only 6:11 minutes on one side and 7:23 on the other. Your turntable must be set up properly to track some of the big bass drum whacks, and you might want to crank the stylus pressure on your tonearm up to 2 grams so the needle doesn't mistrack or jump out of the grooves.
The CD sounds as good as the vinyl version, but in a different way, with more punch. Also, the CD includes "The Sheffield Track Record." It's from the tape backup of another direct-to-disc recording featuring rock/funk tunes with James Newton Howard, Nathan East, Carlos Vega and others.
Left Pic: Sheffield Drum; Right Pic: Fleetwood Mac
Fleetwood Mac, "Rumours"
Vinyl LP, CD not recommended
I'm including this record partially because as good as it sounds, the CD is almost horrible. The difference in mastering is the suspected culprit, because the studio recording is fine; detailed and clean. The CD was mastered hot and it has a glare and hardness that renders it nearly unlistenable. "Never Going Back Again" is excellent on the vinyl version, and it's actually annoying on the compact disc. I tend to attribute the considerable difference in sound to how each was mastered. My vinyl copy is the Nautilus half-speed master.
Minnesota Orchestra, Rachmaninoff, "Symphonic Dances"
Reference Recordings HDCD, RR-96
This is an excellent classical recording featuring full orchestra. The microphone placement allows for a good blend of instruments, but still some detail of individual players. Nearly everything on the Reference Recordings label is at least excellent at worst, and at best, spectacular. I recommend the entire library.
Left Pic: Rebecca Pidgeon; Right Pic: Roger Waters

Rebecca Pidgeon, "The Raven"
CD, SACD
Twenty years ago, you would hear these songs floating out of every audio demo room at every trade show, especially CES. The album is gentle and benign to the point of almost being wimpy, but most of the songs are lovely, and well-sung in a Spartan style by actor/singer Rebecca Pidgeon. My favorites are the lilting "Kalerka" and the classic "Spanish Harlem." The recorded quality of the vocals is sweet, clean, and very natural, and all (mainly acoustic) instruments are presented in a nice ambient setting.
Roger Waters, "Amused to Death"
CD
While the fidelity is good, it isn't exceptional, and the midrange can get pushy. I believe this to be the definitive Roger Waters album, and the music is bizarre, powerful, and complex. There are so many little snippets in the mix; a baby crying, a telephone ringing, a television in the background, an old man speaking…and it all adds up to a rich aural landscape. This is one album that must be listened to in Pro Logic II, no matter how much of a 2-channel purist you might be. Waters does goofy things with phase in the mix, and in PLIIx Music Mode, this album sounds like true quad, with discrete sounds coming from the sides and rear. It's lots of fun when played loud. Turn it up to hyperspace…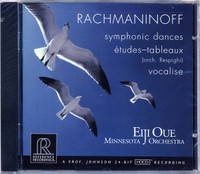 MA on SA, various artists, MA Recordings
CD and SACD hybrid
This is truly a unique recording. It's a hybrid SACD that contains two layers, each of which has different music, for a total of more than three hours of program material on a single disc. One layer is 74 minutes of Redbook CD in PCM stereo, while the other layer is 108 minutes of SACD.
All the recordings appear to have been done in a big, clean, ambient space, utilizing a single-point stereo microphone placement. Both layers contain eclectic acoustic music ranging anywhere from heavenly to somewhat annoying. As a hardcore audiophile, I think most of us would find more than half of the selections very worthwhile. The fidelity is as good as anything I've heard, especially (and surprisingly) on the Redbook CD layer. The audio quality of the SACD layer is the equal, but it does not exceed the quality of the CD. Again, I see differences between CD and SACD as differences in mastering; not format. You are more than welcome to disagree.
My favorite selection is "In Your Voice," (track 10 of the CD layer) performed by the Peter Epstein Quartet, apparently in a 13/8 time signature. The percussion and bass from 5:35 – 6:35 is jaw-dropping good, with great transients, clean bass, and a real feeling of musicians playing in a live space. I've been playing the same one-minute passage a half dozen times a day for four months, and I never fail to shake my head in disbelief.
Andreas Vollenweider "White Winds"
Vinyl or CD
This is the quintessential New Age recording, with interesting and intricate compositions, meticulously assembled, and masterfully played. The transients are amazing, and this recording has some of the best light, detailed percussion you'll ever hear. I haven't heard the record in decades, but the CD is quite nice.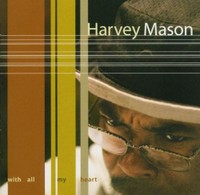 "With All My Heart" Harvey Mason
CD
This CD is a compilation of piano trio recordings, all of which feature Harvey Mason on drums. Piano giants include Herbie Hancock, Chick Corea, Mulgrew Miller, Dave Grusin, Kenny Barron, Bob James, and more. The bass players are just as impressive, including Ron Carter, Charlie Haden, Eddie Gomez, George Mraz, and a few others. As a longtime jazz lover, I've never seen this quality and quantity of bass players and pianists on any other album.
The recording is a closely-miked studio session, and all the instruments are in-your-face, as if they're playing in your living room. Bass is extended and strong, piano is full and natural, and the drum sound is as good as I've heard, with full toms and stunning shimmer and ping on the cymbals. The only flaw is something only another drummer would notice; the drum channels are reversed in the mix. I had to check and make sure Harvey wasn't a lefty, in which case, the channels would have been correctly oriented. Puzzling…
This collection is soft, thoughtful, cerebral jazz, and I've found that non-jazzers can't appreciate it, and even hate it. I love it, and the recording is superb…so beat it, punk. Neener.
Well, that's my collection of eclectic favorites. I hope to hear what some of your best audio demos are in your comments on our forum!
Reference Equipment
The final evaluation of these selections was done on the following 2-channel system:
Lyngdorf TDAI-2170 integrated amplifier (1962 McIntosh tube MX110 and MC240 alternates)
Lyngdorf CD-2 CD player
Vintage Luxman (built by Micro Seiki) PD-121 turntable, ADC tonearm, Adcom MM cartridge
Fosgate Signature tube phono preamp
Triad Gold MiniMonitors
Straight Wire interconnects and speaker wire
Confused about what AV Gear to buy or how to set it up? Join our Exclusive Audioholics E-Book Membership Program!
Recent Forum Posts:
Ponzio posts on March 13, 2019 13:31
Nice and some good tunes to boot.
djreef posts on August 27, 2018 17:59
Dynamic Range
Album details

Artist
David Bowie
Album
Let's Dance
Year
2003
Album DR
13
Min. track DR
12
Max. track DR
15
Track DR
13 12 13 13 13 13 13 15 (might not be in original order)
Codec
Other lossless codec
Source
Unknown
Label
EMI Records
Label code
Catalog number
543 3192
Bar code
07243 543319 2 3
Country
Europe
Comment
foobar2000 1.3 / Dynamic Range Meter 1.1.1
log date: 2013-12-29 02:09:01 ——————————————————————————– Analyzed: David Bowie feat. Stevie Ray Vaughan / Let's Dance (1) David Bowie / Let's Dance (2-8) ——————————————————————————– DR Peak RMS Duration Track ——————————————————————————– DR13 -3.98 dB -19.13 dB 7:37 03-Let's Dance DR12 -4.87 dB -18.65 dB 4:49 01-Modern Love DR13 -5.12 dB -19.06 dB 5:33 02-China Girl DR13 -4.21 dB -19.90 dB 3:09 04-Without You DR13 -3.53 dB -18.90 dB 5:13 05-Ricochet DR13 -3.92 dB -19.27 dB 4:24 06-Criminal World DR13 -3.77 dB -18.09 dB 5:09 07-Cat People (Putting Out Fire) DR15 -2.88 dB -19.49 dB 3:50 08-Shake It ——————————————————————————– Number of tracks: 8 Official DR value: DR13 Samplerate: 2822400 Hz / PCM Samplerate: 352800 Hz Channels: 2 Bits per sample: 24 Bitrate: 5645 kbps Codec: DSD64 ================================================================================
Algorithm
I dunno, I'm still liking my copy of Let's Dance Thomoz.
DJ
everettT posts on August 27, 2018 16:09
GaryReg, post: 1266019, member: 86291
**Try "The Greatest Invention" by the Harley Card Quintet. This is another great recording to admire your systems performance. Some of the best sounding guitar, both electric and acoustic, saxophone, piano, bass and drums, recorded masterfully at Inception Studios, it features some of the new Jazz virtuosos coming out of Toronto Canada!
Unamplified instruments, preferably no more than 3, and a female voice. Keep it simple.
GaryReg posts on August 27, 2018 15:38
**Try "The Greatest Invention" by the Harley Card Quintet. This is another great recording to admire your systems performance. Some of the best sounding guitar, both electric and acoustic, saxophone, piano, bass and drums, recorded masterfully at Inception Studios, it features some of the new Jazz virtuosos coming out of Toronto Canada!
Jeffrey S. Albaugh posts on September 04, 2016 23:03
Paul Scarpelli, post: 1080675, member: 4869
I must stress that the demo selections in the article were picked because of their superior sound quality, and not necessarily the musical content, although most of them are good. The purpose of this list of music is to provide excellent sounding material for doing a demo or evaluating audio gear. If the article had been "My Favorite Music," the list would have been different.

I hope some of you post your favorite audio demo material here. It will be helpful to me and others, and I'm curious as to what you like.
Paul: May I suggest that you look at my post under: My Music in Surround Sound.
Post Reply