Burning for Buddy (Rich): Volume I (1994) and II (1997)
Burning for Buddy (Rich): Volume I (1994) and II (1997)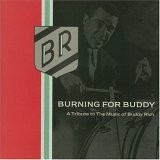 Burning for Buddy (Rich): Volume I (1994) and II (1997)
Label: Atlantic/Anthem Records (82699-2 and 83010-2)
Introduction
Buddy Rich was one of the most famous drummers of all time. Along with Gene Krupa and Louis Bellson, he was also one of the great big band drummers of his era. It may sound cliché, but even as a young performer you could see they definitely "broke the mold" when they made Buddy Rich. The fact that his band is still playing and recording after his passing (much like Woody Herman and Count Basie) is a testament to his longevity and contribution to the big band jazz idiom. Luckily, the success of Volume I allowed us to enjoy a Volume II.
Track List (featured drummer)
Volume I
Dancing Men (Simon Phillips)
Mercy, Mercy, Mercy (Dave Weckl)
Love For Sale (Steve Gadd)
Beulah Witch (Matt Sorum)
Nutville (Steve Smith)
Cotton Tail (Neil Peart)
No Jive (Manu Katche and Mino Cinelu)
Milestones (Billy Cobham)
The Drum Also Waltzes 1 (Max Roach)
Machine (Rod Morgenstein)
Straight, No Chaser (Kenny Aronoff)
Slo-Funk (Omar Hakim)
Shawnee (Ed Shaughnessy)
Drumorello (Joe Morello)
The Drum Also Waltzes 2 (Max Roach)
Lingo (Bill Bruford)
Ya Gotta Try (Marvin "Smitty" Smith)
Pick Up The Pieces (Steve Ferrone)
Volume II
Moment's Notice (Steve Smith)
Basically Blues (Steve Gadd)
Willowcrest (Bill Bruford)
In A Mellow Tone (Gregg Bissonette)
Time Check (Dave Weckl)
Goodbye Yesterday (Simon Phillips)
Groovin' Hard (Dave Garibaldi)
Big Swing Face (Kenny Aronoff)
Standing Up In A Hammock (Marvin "Smitty" Smith)
Take The "A" Train (Joe Morello)
One O'Clock Jump (Neil Peart)
Them There Eyes (Steve Arnold)
Channel One Suite (Buddy Rich)
Audio Quality
Audio quality throughout is excellent. This is a fully digital multi-track recording that was not over-produced or over-mixed. Big band recordings are often done the old-fashioned way, with one or two strategically placed microphones, but that doesn't always do the drums and percussion justice. On these releases, we get to hear everything the drummers are doing--and trust me, it's a lot. There's rock drummers playing jazz grooves (Steve Smith from Journey, Neil Peart from Rush), jazz drummers playing rock grooves (Omar Hakim), jazz drummers playing jazz grooves (Steve Gadd, Dave Weckl, and Billy Cobham), and rock drummers playing rock grooves (Bill Bruford from Yes). There's also some outrageous double bass drum work (Simon Phillips) and excellent drum/percussion collaboration (Manu Katche and Mino Cinelu). In addition to a resurrected cut featuring Buddy Rich (which is one of the weaker tunes), these CD's also feature icons of modern drumming: Ed Shaughnessy (of Tonight Show fame), Joe Morello (featured with Dave Brubeck) and Max Roach (featured with Art Blakey but played with so many famous jazz artists of the last century you'd have to Google him to believe it). Incredibly, both Morello and Roach are featured on these CD's playing well into their 70's! With all the amazingly tight ensemble work delivered on these CD's (including amazing solo work by long-time Buddy Rich sax man Steve Marcus), it's easy to forget the arrangers and composers who made it all possible. Names like Don Menza, John LaBarbara, Sam Nestico, and Bob Mintzer (also of the Yellowjackets), have been associated with some of the greatest big band jazz music of the last half-century; I remember playing some of these guy's arrangements in the 1970's.
Summary
While I typically prefer to PLAY big band jazz rather than listen to it, I find myself revisiting these two releases more often than I ever thought I would. Where else can you find a collection of some of our era's greatest drummers backed by top-notch jazz musicians, playing top-notch big band arrangements, recorded in top-notch digital recording facilities? As much as I like my old (Pablo label) Count Basie LP's, the audio quality just doesn't come close to these well produced (by Neil Peart) CD's. Plus, there are tons of liner notes and classic photos. Pick one (or both) up and get ready to do some SERIOUS stomping and swinging!
Audioholics Ratings Scale
5 - Outstanding: Far exceeded expectations and previous experience - Very highly recommended
4 - Above Average: As good or better than other products/performances - Highly recommended
3 - Average: Met expectations, may include some moments of brilliance offset by small flaws - Recommended
2 - Below Average: Did not meet expectations, some obvious flaws - Some may enjoy
1 - Very Poor: Why did they even bother? Obvious flaws abound, monumental problems - Not Recommended
Review Ratings

| | |
| --- | --- |
| Audio Quality | 5 |
| Features (liner notes) | 5 |
| Overall | 5 |


Reference Equipment
Yamaha DSP-A3090 Natural Sound A/V Amplifier (Stereo Mode)
Sony DVP-S7700 Reference DVD Player
Polk Monitor 10B Speakers (x2)
Confused about what AV Gear to buy or how to set it up? Join our Exclusive Audioholics E-Book Membership Program!