Bob Katz recording of 'Out of Season' Jazz CD
Bob Katz recording of 'Out of Season' Jazz CD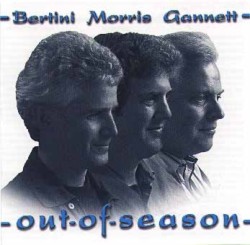 Out of Season - Bertini, Morris, Gannett
The Bob Katz recording of the 'Out of Season' Jazz CD
Label: AppleJazz Records
Catalog #: AJCD0595
Charlie Bertini : trumpet, cornet, flugelhorn
Randy Morris: piano, acoustic guitar, accordion, ukulele, vibes
Dave Gannett: helicon (tuba)
Orlando Sanchez: percussion
Produced by: Charlie Bertini
Recorded, Mixed & Mastered by Bob Katz
Introduction
I've known Charlie Bertini and his label, AppleJazz Records for over 5 years now and have always enjoyed listening to his excellent quality jazz recordings which are known in the industry for having better than average recording quality. Most of the sound, including the overdubs was recorded by Bob Katz using the famous Blumlein microphone technique which uses two microphones in figure-8 patterns oriented 90 degrees from each other. The left facing microphone faces the left side of the source instrument (or ensemble) and the other mic faces the right side. At the point where these two polar patterns overlap, their sensitivities are down -3dB. Therefore, signals in the center are recorded equally by both microphones, and are appropriately balanced when played back on stereo monitors. This technique generally yields an excellent stereo image and depth, while the rear lobes of the figure-8 patterns capture the ambience of the room. For this recording, you'll note throughout that Charlie Bertini 's trumpet is located on the right, Randy Morris' piano on the left, and Dave Gannett's tuba in the middle. More information on the recording process is included in the liner notes.
The Bertini, Morris and Gannett trio had traditionally gotten together and made musical "Christmas Cards" for friend and family that eventually evolved into a couple of best-selling albums titled: "Christmas Cookies" and "Fresh Batch" (both of which I highly recommend). Well, this album sort of came along as a way to get the sound of the trio "out of season" so to speak. We're glad they decided to do so.
This CD doesn't waste any time in getting to the good stuff. Beginning with a fairly overt helicon (tuba), the mix for track 1 "In a Mellow Tone" warms up as it progresses, eventually entering into a playful combination of piano and trumpet lines and ending with a peaked crescendo of Bertini's bellowing trumpet. Bob Katz made this recording so honest and intimate that you really feel like the trio is playing directly to you - alone.
Randy Morris' sense of rhythm and movement is wonderfully displayed by track 2's "This is All I Ask" and is has become of my favorite piano pieces. This short track will show you what a truly gifted pianist can do in terms of timing and applying feeling to a piece of music.
"Skylark" is another favorite of mine on this album with its almost sultry trumpet and complementary piano melodies. It is a tune that takes you to a place that scarcely exists today - of dimly lit rooms and manned spotlights. Mike Hammer could step out of the shadows at any moment...
Be sure to listen to the softer, but upbeat melodies of "Here's that Rainy Day" where Randy Morris' classic guitar skills are put to good use. Bob close-miked the guitar which I felt helped contribute to the track's honest feel - string noises and all.
To hear a blues progression turned on its head, check out track six "The Blues Walk" which takes the 12-bar pattern to a new place - one that is much more fun and vibrant!
There's so much to like about this recording it's hard not to comment on every track. One thing to note is that the recording is fairly dry with very little added effects. Bob Katz preferred to allow the intimacy of the performance itself come through unfettered, Listen to 3:02 into track 8 and you'll hear someone cough in the background. During the tuba solo you can hear a combination of Dave Gannett's intake breathing (a quick "sss-vvt" sound), and the spit "buzzing" at his embouchure where his lips touch the ring of his mouthpiece - now that's honest recording.
Queue up tracks 10, 13 & 14 you'll experience some diverse, fun performances. And of course the Dudley Do-Right tracks are just gems, including the hilarious track 16 outtake.
Summary
This CD is a great intimate recording of some very talented musicians. If anything it is guilty of being too honest or human in the recording process with unedited takes which include breaths, coughs, etc - though I think this is some of what gives this disc such a personal feel. Bob Katz really did a great job of capturing the essence of these performances. Adding this CD to your collection would be a good decision for any fan of real jazz.
Buy online from AppleJazz Records
Audioholics Ratings Scale
5 - Outstanding: Far exceeded expectations and previous experience - Very highly recommended
4 - Above Average: As good or better than other products/performances - Highly recommended
3 - Average: Met expectations, may include some moments of brilliance offset by small flaws - Recommended
2 - Below Average: Did not meet expectations, some obvious flaws - Some may enjoy
1 - Very Poor: Why did they even bother? Obvious flaws abound, monumental problems - Not Recommended
Review Ratings

| | |
| --- | --- |
| Audio Quality | 5 |
| Features (liner notes) | 3 |
| Overall | 4 |
Confused about what AV Gear to buy or how to set it up? Join our Exclusive Audioholics E-Book Membership Program!