Bob James: Urban Flamingo (2006)
Bob James: Urban Flamingo (2006)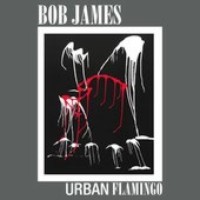 Bob James: Urban Flamingo (2006)
Label: Koch Records (KOC-CD-9979)

Introduction
It's been four years since the last Bob James CD, the longest he has ever gone between releases. There's a bit of nostalgia here, both in the selection of side musicians (like the great Earl Klugh, whom he won a Grammy with back in the 1970's), and the feel of the music. However, at the end of the day, it's all keyboardist/composer/arranger/producter Bob James-and that's a good thing!
Track List
Choose Me

Niles A Head

Skidaway

Urban Flamingo

Lay Down With You

Fresh Start

Make It More Blue

Bobary Coast

Endless Time

Wingapo
Audio Quality
There's a LOT of music on this CD-literally. Although there's only 10 tracks, there's almost 65 minutes of music; several of the tracks are 7+ minutes long! That means lots of great solos, all of them recorded with the outstanding quality common to nearly all Bob James release going back to the 1970's. There's only two tracks I can't listen to (both vocal tunes): Lay Down With You, and Endless Time. Anyone who knows me, knows I just can't understand why great jazz artists feel compelled to include (bad) vocal tunes on instrumental CD's, taking space from what could be other great music. Granted, many times it's at the producer's (or record label's) insistence, but in this case Bob James IS the producer and (basically) the record label! Of course, both vocalists are near and dear to him (one is his daughter Hilary and the other is a Fourplay member Nathan East), but I would still rather hear more great jazz. My favorite tracks are Niles A Head and Skidaway, but Urban Flamingo and Wingapo are not far behind. Long-time Bob James & Earl Klugh fans will love Fresh Start, the first collaboration by the Grammy-winning pair in over a decade. There's also some nice electric guitar work by Perry Hughes, who is actually a past member of Earl Klugh's recording and touring band. The rhythm section work of Al Turner on bass and Ron Otis on drums (both past members of Earl Klugh's touring and/or recording bands) is solid throughout, but I think the pairing of veteran James Genus (acoustic bass) and Billy Kilson (drums) on Niles A Head warrants a special mention.
Summary
I have to say I'm amazed at the ability of Bob James to turn out consistently high quality music (nearly all of it original compositions) at this point in his career (he's in his 60's). You also have to remember he's a driving force behind the jazz super-group Fourplay, and they've been busy as well. As has always been the case, James is generous with his sidemen, always giving equal solo opportunities to both established veterans and young newcomers. I give this CD an overall rating of "4" only because of the high standards he has set over the years (and the exception quality of his previous two releases), but a "5" on the liner notes because I love it when artists include pictures (take that, iTunes). Bob James' profound musical success couldn't happen to a nicer guy.
Audioholics Ratings Scale
5 - Outstanding: Far exceeded expectations and previous experience - Very highly recommended
4 - Above Average: As good or better than other products/performances - Highly recommended
3 - Average: Met expectations, may include some moments of brilliance offset by small flaws - Recommended
2 - Below Average: Did not meet expectations, some obvious flaws - Some may enjoy
1 - Very Poor: Why did they even bother? Obvious flaws abound, monumental problems - Not Recommended
Review Ratings

| | |
| --- | --- |
| Audio Quality | 5 |
| Features (liner notes) | 5 |
| Overall | 5 |


Reference Equipment
Yamaha DSP-A3090 Natural Sound A/V Amplifier (Stereo Mode)
Sony DVP-S7700 Reference DVD Player
Polk Monitor 10B Speakers (x2)
Confused about what AV Gear to buy or how to set it up? Join our Exclusive Audioholics E-Book Membership Program!