Bob James: Joy Ride (1999)
Bob James: Joy Ride (1999)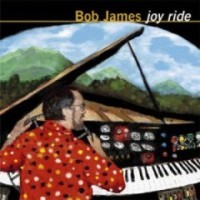 Bob James: Joy Ride (1999)
Label: Warner Brothers (9 47355-2)
Track List
Take Me There
Raise The Roof
It's All Right
Swingset
Joy Ride
What's Up
Fly By
The First Time
Strollin'
Sweet Talk Me Now
Trade Winds
Bisso Baba
Introduction
Bob James only had a total of four solo CD's in the 1990's, and while they're all good, this one just seems to stand out. As usual, James contributes his writing, arranging, and producing talents in addition to his keyboard talents. However, I think it's contributions from all the other great writers, arrangers, and producers (like Chuck Loeb and Michael Colina) that make this CD so special.
Audio Quality
Like almost every Bob James' CD (or album) ever produced, the audio quality on this one is outstanding. Right off the bat is two of my all-time favorite Bob James tunes. The slow groove Take Me There features Kim Waters on soprano sax and the up beat Raise The Roof features the great Boney James on tenor sax. James continues his habit of generous guest solo appearances with the only appearance of Grammy-winning guitarist Norman Brown (who I actually shared the stage with back in Kansas District and State Jazz Bands) on a Bob James release. Brown contributes a great solo in addition to doubling the melody on It's All Right , and this track actually swings harder than some straight-ahead tunes. The title cut ( Joy Ride ) features guitar great Lee Ritenour, but is not one of my favorites on the CD; in fact, there's something about the way this one sounds (both in style and recording quality) that makes me think it was left-over from an earlier recording session (and maybe even by a few years). Then come two all-time favorites right in a row (again). What's Up is just a "happy groove" with a finger-snapping chorus. As a huge fan of drummer Harvey Mason, I can understand why I dig Fly By (which he co-wrote with his son) so much: it's got a slammin' bass and drum groove with another catchy chorus. Of the last several tracks, the only one I really don't like is Bisso Baba . Checkout the nice muted trumpet work by Chris Botti on the laid-back Strollin' . Fans of guitarist Jonathon Butler will love Trade Winds (and Bisso Baba ), but it's just an OK tune to me. For those of you who've read some of my other reviews, the shocker of this set is that I actually like the vocal tune Sweet Talk Me Now , featuring Rasheeda (that's it: just one name). It has a nice groove, a nice chorus, and catch the Fourplay (Bob James' jazz super-group) reference during the electric piano solo.
Summary
For those of you counting, that's a total of four (!) of my Bob James all-time favorites on one CD. I've probably listened to Joy Ride from top to (almost) bottom a hundred times, and I still love it. It's amazing that someone whose career has spanned almost four decades can still put out music this refreshing.
Audioholics Ratings Scale
5  - Outstanding: Far exceeded expectations and previous experience - Very highly recommended
4 - Above Average: As good or better than other products/performances - Highly recommended
3  - Average: Met expectations, may include some moments of brilliance offset by small flaws - Recommended
2  - Below Average: Did not meet expectations, some obvious flaws - Some may enjoy
1  - Very Poor: Why did they even bother? Obvious flaws abound, monumental problems - Not Recommended
Review Ratings

| | |
| --- | --- |
| Metric | Rating |
| Audio Quality | 5 |
| Features (liner notes) | 4 |
| Overall | 5 |
Reference Equipment
Yamaha DSP-A3090 Natural Sound A/V Amplifier (Stereo Mode)
Sony DVP-S7700 Reference DVD Player
Polk Monitor 10B Speakers (x2)
Confused about what AV Gear to buy or how to set it up? Join our Exclusive Audioholics E-Book Membership Program!