Bob James - Ivory Coast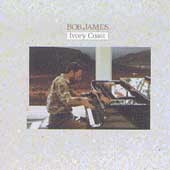 Bob James - Ivory Coast
Label: Warner Brothers
Track List
Rosalie
Orpheus
Moodstar
Ashanti
Adult Situations
Yogi's Dream
Introduction
Produced and arranged by Bob James in 1988 this fabulous CD was dedicated to Bob's wife. The legendary Kirk Wallum plays saxophone on two of six tracks. This is a very melodic and progressive jazz CD, which unfortunately, artists today tend to shy away from in favor of "smooth jazz", or as I like to refer to as "jazz-ac".
Sound Quality
This CD is an excellent source to be used in determining how well a pair of speakers can faithfully produce very subtle nuances. There are so many instruments playing in the background that only a decent set of speakers will let you hear. "Rosalie" is a soothing passage that makes your tweeters come alive and engulf you with wonderful sound. The percussion in this song is a good midrange tester and will easily help you determine if the speakers you are listening to have any weak points in this area. "Orpheus" is a really nice jazz piece with a heavy influence of classic piano. This song has excellent bass content and has a very deep and tight sound. If you are not hearing the bass on this song, than your amp or speakers are not producing it. "Moodstar" is a very tranquil song. The electric piano in this song will seduce you into closing your eyes and will place you in an unconscious state.
I recommend this CD more because of its fabulous musical content rather than its above average sound quality . This CD is a must for Bob James fans.
Audioholics Ratings Scale
5 - Outstanding: Far exceeded expectations and previous experience - Very highly recommended
4 - Above Average: As good or better than other products/performances - Highly recommended
3 - Average: Met expectations, may include some moments of brilliance offset by small flaws - Recommended
2 - Below Average: Did not meet expectations, some obvious flaws - Some may enjoy
1 - Very Poor: Why did they even bother? Obvious flaws abound, monumental problems - Not Recommended
Review Ratings
| | |
| --- | --- |
| Audio Quality | 4 |
| Features (liner notes) | 4 |
| Overall | 4 |


Reference Equipment
Yamaha DSP-A3090 Natural Sound A/V Amplifier (Stereo Mode)
Sony DVP-S7700 Reference DVD Player
Polk Monitor 10B Speakers (x2)
Confused about what AV Gear to buy or how to set it up? Join our Exclusive Audioholics E-Book Membership Program!