StudioTech DP-2 Stand Usage and Conclusion
StudioTech DP-2 Stand Usage and Conclusion
Optional Display Mounting Pillars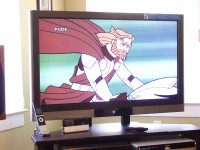 If you are using this component rack with a flat panel TV you owe it to yourself to make use of the metal pillar mounting system (wish it had a cooler name). The basic idea is that these pillars slide through the back of the unit and allow you to "float" a plasma or LCD TV above the top of the stand. The effect is awesome and I much prefer this to simply setting a display on top. The pillars work with any plasma or flat panel mounting system and all you need to do is attach the panel mount to the pillars at two point using screws. The pillars themselves are attached at the bottom of the DP-2 via 2 3/8-inch bolts and kept from tilting by way of being inserted through the top of the DP-2 itself. StudioTech sells an assortment of plasma and flat panel mounts which can be used with this system.
When installed, the television will appear to float over the DP-2 with only the very bottom of the two pillars exposed. The pillars both have very generous cable routing ingress and egress points which allowed me to run two DVI-D cables, and HDMI cable, two component video cables and power without any difficulties (and plenty of room to spare). This option alone is what I think really sets this unit apart and makes it a phenomenal product when installed in the home.
Practical Use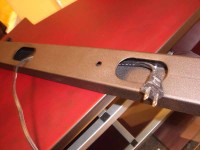 There were several things about the DP-2 that really attracted me during use and installation of my equipment. The extra shelf depth was a wonderful thing to experience. I've never had quite so much reach in a closed-back cabinet design before. Utilization of the second mounting position for the glass, in my opinion, is mandatory and should not be given up. The metal display-mount pillars, as I mentioned, held a ridiculous amount of cabling and do well to hide anything from view. The result is a very clean look that will give your flat panel that "on-the-wall" look lots of people look for with these displays- all without the hassle of an on-wall installation (which is not for the faint of heart). Casters actually rolled easily over our wood floor and test carpet. I did not test for pile carpet, but would not recommend casters for that anyway since you can pretty much slide objects over pile with ease. The center of the top glass should not be used to support anything over 50 pounds in weight. Instead, try to distribute weight towards the left and right sides as evenly as possible. I never felt like the glass was "flexing" or in danger of breaking, but it's best practice to simply spread weight around when possible – and put your heavier items on the bottom. The additional 2-inches of clearance make this almost automatic anyway.
Suggestions and Recommendations
There isn't much to complain about with respect to the DP-2. It is innovative, attractive and highly functional – and I don't typically ask for more than that from furniture manufacturers. The only thing I'd love to see form StudioTech in the future would be an upgrade option for real wood. I'd gladly pay more for the ability to have wood that can better take a lickin' in daily use. With veneer, scratches quickly show through to the lighter material underneath and even minor dings become very noticeable. Premium options are always welcome and I think people will gladly pay for it.
Conclusions and Overall Perceptions
My experience with the DP-2 is that this is a perfect unit for corner placement of any system. You have ample room for up to four (4) full-sized components – and much more if you have low profile products. I found the depth of the shelves to be particularly noteworthy – this is NOT something easily found in many other systems. Being able to get behind an AV receiver is worth its weight in gold. Add to the optional locking caster that let you move the unit easily to get behind and connect new equipment and you've got one flexible and well-thought-out component system. Highly recommended.
The Score Card
The scoring below is based on each piece of equipment doing the duty it is designed for. The numbers are weighed heavily with respect to the individual cost of each unit, thus giving a rating roughly equal to:
Performance × Price Factor/Value = Rating
Audioholics.com note: The ratings indicated below are based on subjective listening and objective testing of the product in question. The rating scale is based on performance/value ratio. If you notice better performing products in future reviews that have lower numbers in certain areas, be aware that the value factor is most likely the culprit. Other Audioholics reviewers may rate products solely based on performance, and each reviewer has his/her own system for ratings.
Audioholics Rating Scale
— Excellent
— Very Good
— Good
— Fair
— Poor
| Metric | Rating |
| --- | --- |
| Build Quality | |
| Ergonomics & Usability | |
| Ease of Setup/Programming/Integration | |
| Features | |
| Fit and Finish | |
| Performance | |
| Value | |
Confused about what AV Gear to buy or how to set it up? Join our Exclusive Audioholics E-Book Membership Program!