StudioTech DP-2 First Impressions and Build Quality
StudioTech DP-2 First Impressions and Build Quality
Studiotech-DP-2-angled.jpg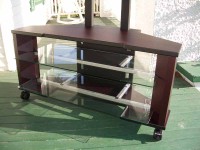 When you get that piece of upgraded equipment you've always wanted there's typically that follow-up feeling of "man that makes my old furniture look really bad!" It has certainly happened to me on several occasions. When I first went from a 32-inch CRT to a flat panel display I wasn't simply content to use the same furniture to house my newly acquired piece of equipment. For the main thing, the very nature of a flat panel demands that it be shown off in your viewing room. It's a thing of beauty. I mean, if you're planning on hiding away your new LCD or plasma TV, why didn't you just save some money and get another CRT-based system? Let's face it, they're often cheaper and the performance is excellent. No, my friends, a purchase of this type must be quickly followed up by an AV stand worthy to showcase this new "investment".
StudioTech is no stranger to Audioholics, and we were able to take a closer look at their DP-2 line of AV component racks. This stand works well in a corner, but also looks great when placed against a flat wall. When we took a quick peek at the specs it surprised us in that it seemed to be very "roomy" for equipment but maintained a low profile that didn't dominate the room.
First Impressions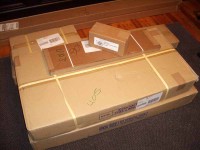 The Studiotech DP-2 arrived in six boxes. Each was manageable, but the combined weight would have been a nightmarish 105 pounds (because of its bulk). Instead, each of the six packages were easy to get into my reference room so that I could access the instructions and get started… Yes, I try to use the instructions so that I can add that commentary to the review as well. Each package opened up easily and had sufficient padding that absolutely nothing shifted or was damaged during transit – and that's saying a lot in my experience. The DP-2 can come in either Black or Rosewood: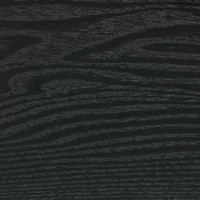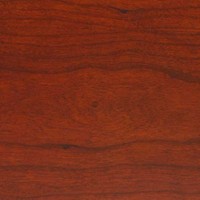 Black and Rosewood are the veneer options.
We selected the Rosewood as it photographs much better than black in my opinion, but both finishes seem to be very good choices and will fit almost any decorating style. You can actually order wood samples from StudioTech ($5 for all three finishes they manufacture) before you buy.
Assembly and Build Quality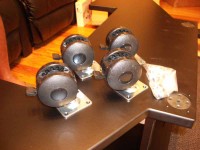 The DP-2 system is made with a hardwood veneer finish over 3/4-inch MDF and weighs a good bit when assembled. The combination of veneered wood, glass and metal makes for a very strong system that doesn't get intimidated when you place heavier products on the shelves. I like this, having used many other "over-the-counter" pieces of furniture that do better holding up stuffed animals than AV equipment. StudioTech seems to understand that equipment has weight and that weight needs to be supported.
Assembling this furniture was simple, but you'll need some room. Essentially you want to flip the unit upside down for most of the initial assembly. Start with the top laid upside down on a soft surface (so you don't scratch it) and insert the dowels and threaded connectors. Next come the metal support tubes which hold the wood pillars in place. It's a tight fit, but one that feels very secure in the end. The metal support bars go into place along with the vertical pillars and the back of the unit quickly follows. Next comes the bottom and, if selected, the optional locking casters – which I highly recommend if you ever plan to move the unit away from the wall. The casters are well-built and solid. They also make the unit sit a full 3.5" off the floor, so it's understandable if you'd rather go with the stock "lowrider" configuration. For me, the flexibility seemed well worth it. If you have pile carpet you can probably forego casters, but for hardwood or consumers who constantly tweak, it's a godsend.
Once the unit's frame is assembled I flipped it over and attached the glass. StudioTech allows you to extend the glass forward an extra inch to give greater depth – with my equipment and connectivity this was a great opportunity and I gladly utilized the outermost screw hole when securing the glass to the back of the unit. The sides of the glass are simply supported by the wood pillars – securely and with no movement that I could detect.
Confused about what AV Gear to buy or how to set it up? Join our Exclusive Audioholics E-Book Membership Program!