Sanus LT25 Tilting Flat Panel Wall Mount Review
Sanus LT25 Tilting Flat Panel Wall Mount Review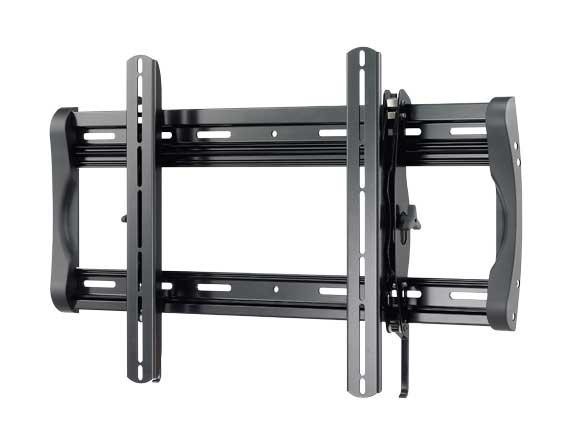 Sanus LT25 Tilting Flat Panel Wall Mount
TV Diagonal Min/Max: 30" - 60"
Product Width: 30" (76.2 cm)
Product Height: 18.25" (46.36 cm)
Product Depth: 3" (7.62 cm)
Product Weight: 12 lbs (5.45 kg)
Product Depth Max: 3" (7.62 cm)
Product Depth Min: 3" (7.62 cm)
TV Size Range: 30" - 60"
Maximum TV Weight: 175 lb (79.55 kg)
Mounting Pattern: Universal
Tilt: +8 degrees -10 degrees
Roll: +/- 2 degrees
Pros
Well-built
One-handed tilt adjustment
ProSet level (roll) adjustment
ClickStand stand-off mode
Introduction
Flat panel mounts are common, but there are a lot of challenges associated with putting your plasma or LCD TV up on a wall. For one, those "super-thin" mounts are great, but most people don't realize that you need recessed power and low voltage connection plates in order to utilize them. Then there are those who need a mount that tilts, so that the TV is at the proper trajectory in situations where the set may be elevated - perhaps above a fireplace or simply to clear a piece of AV furniture. Another common problem is that, with most flat panel TV mounts, you have to get the mount absolutely level or your television will look crooked... permanently. Sanus addresses several of these issues with the LT25 Tilting Flat Panel Wall Mount.

Confused about what AV Gear to buy or how to set it up? Join our Exclusive Audioholics E-Book Membership Program!
Recent Forum Posts:
tn001d posts on August 25, 2010 17:54
$200 for a wall mount? Are you serious. The highest rated wall mount on amazon is $30 and i got it. Its holding my 46'' just fine on the wall and its tilitable has a built in leveler. Have fun wasting your money..
Bismarck posts on August 24, 2010 00:05
I couldn't agree more with the review. As an installer, I get a chance to use a lot of different wall mounts and Sanus makes some great products. Sure, even a really cheap mount will hold up a TV, but it is worth the extra money for a good mount like this one.

Whenever I have to mount on brick I try to use this wall mount because making sure the TV is level is not as easy as mounting on drywall, but with this wall mount i can get the TV level 100% of the time.

great review and a great wall mount


However, i will say not all of their mounts are perfect. Their new full-motion mounts for large TV's have a number of problems.
Post Reply