Premier Ships Short Throw Projector Wall Mounts
Premier Ships Short Throw Projector Wall Mounts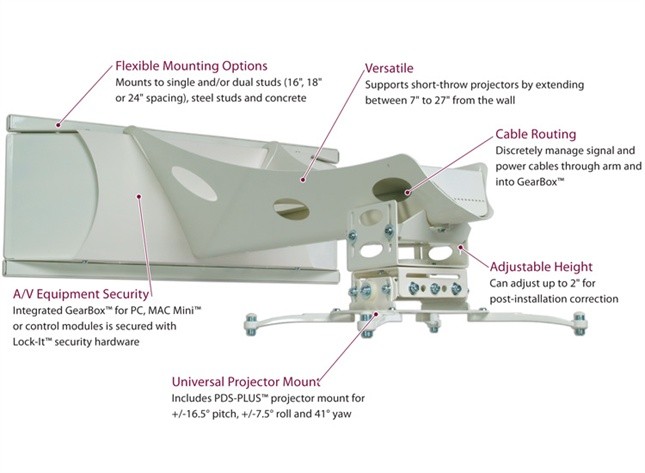 Premier Mounts UNI-STA and UNI-EXT
Premier Mounts is now shipping their new universal short throw projector wall mounts. Available in white or black and with high-quality audio options, these cost-effective, advanced mounting products simplify the installation process for modernizing and upgrading classrooms, training facilities, conference rooms and boardrooms.
Premier Mounts' projector wall mounts, the UNI-STA and UNI-EXT (with extension arm), are easy to install thanks to their 24-inch mounting pattern and mounting hardware pack for any type of wall. The base for all mount is the GearBox to manage and secure A/V equipment. As an option, these projector wall mounts may be configured with a complete, high-quality audio system. Designed with two 100 Watt speakers and a 50 Watt amplifier, the UNI-STA+Audio and UNI-EXT+Audio are great mounting options for all short-throw projectors on the market.
The UNI-STA+Audio and UNI-EXT+Audio are some of the newest Premier Mounts products introduced at InfoComm 2010 and are the first in the marketplace to integrate a powerful audio system. The audio features include:
Two 100 Watt two-way speakers with a 5.25-inch woofer and one-inch directional tweeters;

A 50 Watt power amplifier residing in the integrated GearBox enclosure;

Four inputs, including separate line-level mic input; and

Dynamic sound range distributes the audio evenly throughout a classroom.

These mounts are available for purchase through all authorized Premier Mounts dealers and international distributors. Upgrade options include audio (UNI-AUDIO), an extension arm (STA-EXT) and/or an equipment management plate (UNI-EMP).
For more information on Premier Mounts, including pricing and shipping dates for these and other innovative mounting products, contact customer service at (800) 368-9700. Or download the Premier Mounts 2010 digital catalog at http://www.premiermounts.com/catalog/catalog.asp.
About Premier Mounts
A global leader in developing and delivering innovative mounting solutions, Premier Mounts has been at the forefront of the A/V industry for more than 30 years. Pioneering the modern concept of universal A/V mounting hardware and developing a magnitude of industry firsts, Premier Mounts has opened new opportunities to installing A/V technology in businesses, schools, hospitality and residential settings. With extensive in-house design and fabrication capabilities of its Premier Custom division, Premier Mounts is able to address the most challenging A/V installation scenarios. Today, Premier Mounts' employees around the world are committed to achieving the company's core value of "creating positive customer experiences". For more information on Premier Mounts, please visit www.mounts.com.
Recent Forum Posts: